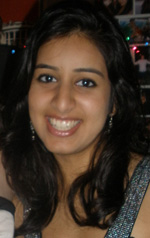 by Komal Thakkar – George Washington University – Star Contributor

Working at an art studio every summer definitely gets your creative juices flowing. Just like everyone else over the past couple of years, our theme for summer art camp has been going green.  We've created some incredible projects out of recycled household items and art supplies. One of my favorite crafts is making bangles out of completely recycled items in less than fifteen minutes. Bangles are one of my favorite items to shop for in India, and I totally doubled my collection this summer. As the season changes, bangles are the perfect accessory for any colorful spring outfit.  Follow these simple steps to make your own!
1.      Begin by saving the cardboard rolls that masking tape, duct tape, and any sort of tape comes wrapped around. Once you have a few, you are ready to begin.
2.      *Be very careful when working with scissors because cutting through the cardboard can be tough* Take a roll, and slip it onto your wrist. If it fits then you're ready to begin decorating. If not, you'll have to adjust the size by cutting out a small amount of the cardboard. Then take some hot glue, and place it on the sides that were just cut. Stick them together, and hold them until they are secure. You now have a fitted bangle.
3.      Find some scrap fabric, sequins, rhinestones, beads, and glitter. Remember that the purpose of this project is to use recycled objects, so cut up some old shirts, handkerchiefs, jeans, bandanas, and any other article of old clothing that you don't wear anymore.
4.      Take the scrap fabric and cut out a large rectangular piece that can be used to cover both the inside and outside of the bangle and will cover the entire circumference. Begin hot gluing it to the cardboard bangle. A bead of hot glue every centimeter or so will be fine.
5.      If there's not enough fabric, just grab another scrap and continue gluing it on where you left off. Remember, this is your creation. The more prints you use makes it that much more exciting.
6.      Once it has been hot glued and you have waited a minute for it to cool down, you can begin adding embellishments such as sequins, rhinestones, buttons, or anything else you may have lying around the house.
7.      Get creative, have fun, and be careful when using scissors and hot glue!!