by Alisha Ebrahimji – Texas State University
Typical South Asian female expectations: go to college, find a kick-ass job, get married, and populate the world with a family of your own.
Recently, I've been hearing about a number of people venturing out and choosing alternative measures to find "that special someone." By alternative measures, I mean online dating.  There are SO many online sites dedicated to helping young South Asians find their life partner.
As much as the haters want to hate, I think this is a really good thing for the South Asian community to get acquainted with. This puts dating in the hands of the single South Asian bachelor or bachelorette.I did some research and explored some sites other than the obvious, Shaadi.com and it definitely opened up my eyes a bit.
Twomangoes.com is a fun website for South Asians looking for a ripe mango and to share their thoughts and ideas on contemporary issues and events through an online blog. Their Facebook page states they are, "South Asian Dating done right! Cause 'matrimonial' sites just don't cut it anymore!"
Desispark.com, Mastidating.com, Myzamana.com are all some of the top competitors out there right now with all similar things to offer.
Everything has a price. Some of these sites are indeed free, whereas others offer incentives like premium packages where you can choose your subscription plan allowing you to access more features and maybe more information.
Shaadi.com is indeed the largest South Asian dating site, to my knowledge and upon further research, I found that they have a pretty intense search criteria…they don't mess around.
I decided to have a little fun and search for myself to see what I could find…
Okay so I know I'm searching for a groom, check. Age, okay- standard question. Religion, very important question- check. Mother Tongue, check. Caste, there are SO many options here- check. Country, USA please- check. Photo, of course! -double check.
Then from there, they lead you to a more intense list of preferred State, Occupation, Marital status, Education, Occupation, Salary- (AH my head was about to explode!) But I mean, on the flip side- good work Shaadi.com.
Now the real question is…do they work?
Well, here's living proof.
Meet Sarika Mahale.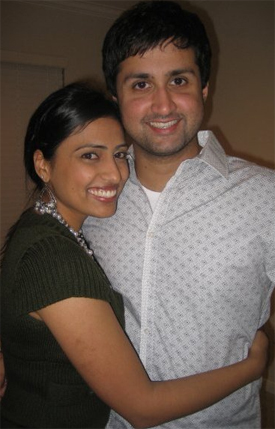 "I feel that in order to have a relationship work successfully, you need to be on the same page when you initially start to talk, which is why I liked the online route. I wasn't afraid to ask any questions, where in the past I would dread asking the "where this is going?" question. When I started talking to my fiancé we decided from the start that if one of us was not feeling something, we would let the other person know right away, and not waste each other's time."
How/ When did you meet?
My fiancé interested me on shaadi.com, at which point I decided to send him an email. We started talking on the phone immediately and decided to meet up after two weeks.
What was your experience with Shaadi?
I thought this was a great way to open more options to meeting someone. I also liked that it cut out all the games that you end up playing in relationships. You can ask any questions, and if you aren't interested, you can back out without feeling bad about anything.
Positives and Negatives about online dating?
I didn't have any negative experiences. I think I was lucky because he was the first person I started talking to, and I was the first person he started talking to. We had profiles up for maybe 2 weeks prior to meeting. The only negative was that initially we were hesitant to tell people how we met because several people laughed or made comments about going the online route.
Positives- You don't waste time getting to know someone. I feel like people are a lot more honest about what they want and their feelings, and cut out any games.
Advice you have for others who are skeptical about online dating?
Have an open mind; online dating is usually looked upon as someone being desperate because they don't have the ability to meet someone on their own.  This is not true at all, you are just giving yourself more options to meet someone that you can actually develop a relationship with.