by Sailaja Joshi – Harvard University
It was early December. A Monday and I was frantically working on a presentation for the following day. I was defending my thesis (no big deal).
And then I received a text message from my friend, "Mindy is going to be at Brattle Street Theater, FYI". Now I perhaps may not have normally paid attention to this text, especially since I had barely started my defense presentation, but this text really got me excited. Just the night before, I had been speaking with our wonderful editor, Aditi, about doing a review of Mindy Kaling's new book. How rad would it be if I could get an interview with her to go along side this?
That's when I swept into action. The event itself was completely sold out so I called the bookstore that was hosting the event. They kept me on hold for awhile and then, after telling them about Brown Girl Magazine and how we basically were Mindy's demographic, I begged them to give me a press pass. Or at least a standing pass, something, anything.
To no avail. They were really sold out and the marketing rep for the bookstore was kind enough to tell me that, if I got there early enough perhaps I could get a standby ticket.
Standby I thought? Oh, I'll for sure standby for this!
And so I went to the Brattle Street Theater. Computer in hand, outfit set, at exactly 3.23pm. Mindy was not sent to take stage until 6pm, and the doors would open around 5. I sat, in the cold, working on my presentation for two hours before other people began to gather for the show. I'm going to spare you the details of how cold it was in Boston, but safe to say, it was cold. At around 5.50pm, things were not looking good for me. Anyone who had a ticket for the show was going in and no one was going to give up that coveted spot.
Around 6.05pm, the marketing rep came to the standby line and informed us that there would be no standby tickets sold, since well, the event was more than at capacity.
Undeterred by this happening, I along with two other girls decided to wait it out. Maybe we could just get in to have Mindy sign our books I asked the marketing rep?
Probably not she said. Mindy was there with family and had to jet off after.
The three of us still waited. Clutching our books, holding pens, hoping to get a glimpse of Mindy as she left, begging her to sign out books.
It was now 7.15pm. Mindy was starting to sign books, and our friends via twitter were telling us that the line was long, really, really long. Our hearts were growing wary, perhaps they were actually freezing especially since I had been waiting for almost 4 hours at this point.
And then there was a light at the end of the tunnel. One of the mangers, taking pity on us cold, poor, unfortunate souls, ran upstairs to check on the line. She came down a few minutes later and ushered us in, letting us into the warmth that is, the Brattle Street Theater.
After waiting in line for another 35 minutes, we could see her. A beautifully decked out Mindy Kaling wearing some amazing Theory boots. We were inches away, and then it happened. It was my turn to have Mindy sign my books.
"HiIworkforBrownGirlMagazineandIwaited3hourstohaveyousignmybook."-I said to Mindy has she signed two copies of her book.
"For real?" she said.
At this point I was actually shocked she responded. After all, this is Mindy Kaling. She directed Will Ferrell for god sake! I nodded my head My new friends and I timidly asked her if she would take a photo with the three of us, which she much obliged. It was there where she said these words, which will forever be engrained in my heart:
"I really like your dress."
Yes, that's right. Mindy Kaling liked my dress (which, incidentally was a kurta top I had picked up in India). After we snapped the photo, we said our goodbyes, but I couldn't believe it. Mindy Kaling liked my outfit.
And that my fellow Brown Girls, is the story of how I met Mindy Kaling and she came to know about a little (awesome) thing called Brown Girl Magazine. I like to think she checks it all the time for our latest words of wisdom!
See my next article for a review of her book!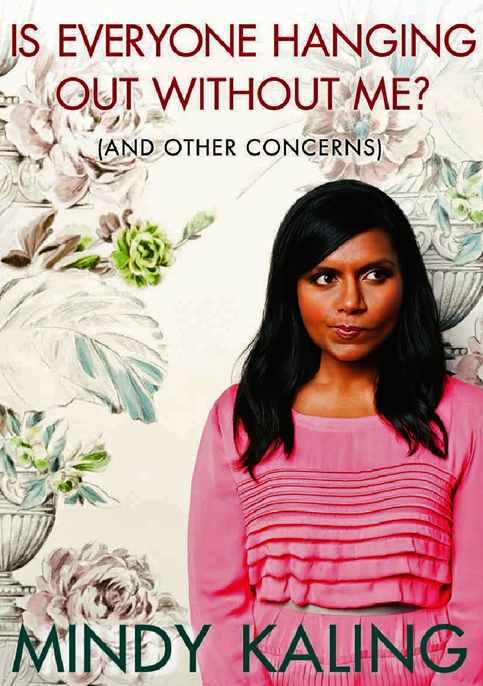 Picture copywrite, Smita Jacob (my new friend and fellow Brown Girl) via http://www.hoggerandco.com/.