by Alisha Ebrahimji – Texas State University
 Sharon Mathai is a 19 year old, South Indian girl from Dallas, Texas who recently took her chances and auditioned for NBC's The Voice. Sharon was born into a family of doctors, but decided to break away from the norm and pave a new path for herself in the music business. Mathai chose to compete on Adam Levine's team after winning the attention of three out of the four judges.
AE: What has the experience been like, working with top artist judges?
M: It's incredible, a dream come true. I can't even believe it sometimes. To even just be in their presence is definitely a blessing. I'm trying my best to reassure every single moment because it's so surreal.
AE: Many of us are so thrilled to see a fellow Brown Girl on TV. What has the support from the South Asian community been like?
M: I think it's blown everyone away, I've been getting tweets from my brown girls…and guys too saying things like, "you're the Jeremy Lin of the music industry." I just want to do well and represent our culture and show everyone that there is talent throughout all cultures.
AE: How have your parents and family been handling the whole thing?
M: They've been good, I think back to high school, freshman year and they wouldn't allow me to wear sleeveless shirts, or skirts and slowly over the years they have opened their minds, especially to this. They are focusing more on the motivations in my heart rather than the things I do and what people in our society will think.
AE: What does music mean to you?
M: Music is everything. It's everywhere, it's part of us, it arises out of every emotion, it's a remedy, music is the language of the heart, as cheesy as that is.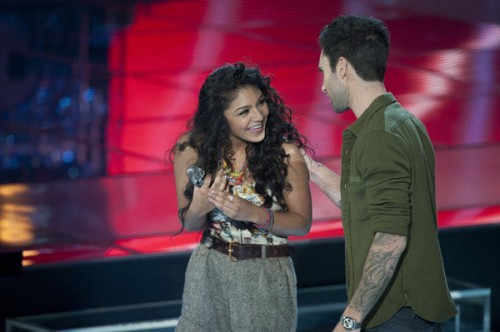 AE: Do you think you will ever go back to school or medicine if you make a name for yourself in music?
M: I really believe I will. That's always been an expectation for myself. The Indian inside of me won't be satisfied until I do.
AE: What made you chose Adele's "Rumour Has It?"
M: It's sassy and fun. I'm not a sassy person but I thought I'd bring something different, something that would move the crowd and get them going.
AE: What made you chose to be on Adam's team?
M: It was honestly, impulsive. I decided to just go with my gut feeling at the time and stop thinking and overanalyzing and just go with it. First instincts are a lot smarter than we give them credit for. I thought Adam and I aligned really well in what he wants and I believe I have that.
AE: What advice do you have for South Asian girls, like you, wanting to pursue a career in music?
M: If you truly believe you have a dream or a talent and you know you have the passion for it, then you need to fight lovingly and gently with your parents and fight for your dreams if you believe you're supposed to.
To keep up with Mathai, watch Mondays at 7 p.m. on NBC. Follow her on Twitter, 'Like' her fan page on Facebook or visit her website  www.mathaimusic.com  for more information.
 Headline photo via Pam Lennard