By Naila Sheikh - Houston, TX
Our most recent Brown Girl sponsor is a published author, grant writer and the CEO of her newest trademark clothing brand 'Red Damask'. Saadia Faruqi, an all-rounded mom of two, seems to juggle it all; a household, family life, community work and her various business ventures.
She holds a Bachelor of Science in Business Administration from the University of Central Florida and a Bachelor of Business Administration from the University of Karachi, in her native country of Pakistan. In 2001, she received the prestigious President's Student Service Award, granted by George W. Bush for volunteerism and student leadership.
'Red Damask' is her latest venture in the fashion industry bringing the best fabrics and designs from around the world to her customers.
What was initially your inspiration to delve into the fashion world and start your own clothing line?
I think it was initially a case of seeing a business opportunity and seizing it. My sister-in-law has a successful boutique in Pakistan, and although she makes mostly Pakistani dresses, she was seeing a lot of demand and interest for kurtis in the United States. Many women of South Asian decent, for example, prefer to wear longer shirts than are typically available in the malls. At the same time they recognize the difference between the low quality fabrics and mediocre machine embroidery on the tops they see here, and the high quality, pure fabrics and hand-work available in Pakistan and elsewhere. So she approached me with a business idea, and being the risk taker that I am, I realized that this may actually be the beginning of a niche market. So I agreed to work with her on creating a totally new, refreshing line of beautiful designs, luxurious fabrics and exclusive looks.
Your website offers custom tailoring and exclusive designs. Would you say, the shopping experience on your website is enhanced with the unique services you provide?
Definitely, our website offers much more than the typical online store. First of all, our designs are exclusive, so we make a limited quantity of each one. That way, our customers can be assured that they are buying something that is truly different, and it's not mass produced in a factory with thousands of other identical items. We also recognize that shopping for clothes online can be a frustrating experience because the sizes are standard but every woman's measurements are different. So we offer a custom tailoring option, whereby you can send us your measurements, and tell us which design you like, and for a small fee we will create it just for you! That's not all though: supposing you like one fabric, and the embroidery or embellishments of another design. You can let us know and as long as those items are available, we can mix and match to your desire. I think this service itself sets us above our competition, and hopefully will result in a lot of happy customers.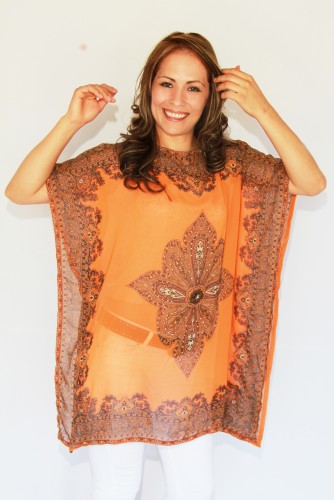 'Red Damask', is quite an original name for your clothing line. What were your inspirations when deciding on a name for your brand?
I wanted the company to have a name that really showcased what we stood for: exclusive, luxurious, almost royal, but at the same time accessible. The naming process was really difficult, because there was a group of two or three of my close "advisors" who have always acted as my sounding board. It took a lot of time to agree on a name but when we finally arrived at it, we all had an ahah! moment… We all thought it fit perfectly. Our aim is that for our customers, Red Damask can be a symbol of what they themselves stand for… beauty, confidence, individuality, and so much more. Also our tag line is 'Be Stunning', which of course says it all.
Your beautiful tops seem to have the right blend of modern western designs and quality international fabrics – what is your thought process behind your creations? Are you looking for the perfect fusion of East & West?
That is in fact the entire purpose of Red Damask: a perfect fusion of East and West. As South Asian women we like having the best of both worlds in most aspects of our lives: food, culture, education, work… you name it, we try to blend it into a concoction that makes sense for us. We want to retain our traditions, remain close to our roots, but we want to soak up the good things we see in our western environment as well. In that we are really unique, I think. But when it comes to clothes, I feel that often we have to compromise. When we wear western clothes we aren't really able to recreate the luxury, beauty and warmth that we get from traditional saris, shalwar kameez or lenghas. We feel that something is missing. That is the whole foundation on which Red Damask has been built. A fusion of western designs with eastern fabrics and embellishments. Our fabrics are pure silks, satins, chiffons and cottons. And we enhance them by hand block printing, hand embroidery, sequins, and so much more. We are inspired not only by the fashionable streets of Paris, New York and Milan, but also by the markets of India, Pakistan and Bangladesh. The result is, I promise, absolutely stunning!
You donate a portion of your sales to Charity of Choice each year as you've stated that you believe in social responsibility. Do you think your generosity & donating spirit is derived from the years of working as a grant writer with non-profit organizations? 
Definitely that plays a role. Working for nonprofits for so long has made me realize the need for corporate sector involvement, regardless of how big or small. I think we can all play a part in helping those less fortunate. My hope is to show other small businesses that it makes not just humanitarian but also monetary sense to give back. But that's not the only reason for my charitable inclinations. As a Muslim, I feel very strongly about this issue, and I and my husband personally give a lot to charity. So it's only natural for me to extend that practice into my professional life.
Many Brown Girls out there are interested in starting their own business or just taking an alternative career path. Any advice you can share?
Brown girls are essentially very strong. They are able to take risks because they have very strong family values and educational backgrounds. They have extended family systems for support, advice and even sometimes finances. They already have huge advantages in starting something new or different. My advice is to be willing to take risks, and really involve your family and spouse. Take successful brown girls as mentors and advisors. That's what I did with Red Damask: I involved family and friends, who ended up giving a lot of constructive criticism along the way. And my company is all the better because of their involvement and support. I also utilized the talents and resources of my extended network from back home, like fabric sellers, workshops, embroiderers, etcetera. which Americans don't have access to. My chief designer there, Ghazala Mufti, has more than 30 years of experience in designing and creating one of a kind clothing. So having people like that to fall back on has helped Red Damask tremendously.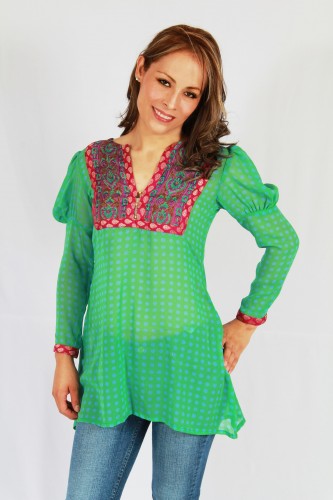 Images courtesy of Red Damask