The following is a guest post by Reena Mumbai. You can read more of her blog at www.reena.me and check out her podcast "The Mumbai Talkies" which is a free download on iTunes.
SPOILER ALERT: If you plan on seeing "Cocktail", I pretty much discuss the plot in 2 sentences. You may want to avoid that paragraph. And, you know, Wikipedia."
Think it's time Bollywood got their own ratings system by now? I do. Gone are the family movies of the past; you have to be super selective about what you can watch it front of your kids, or worse, your parents. Violence aside, I'm talking specifically about the sexual content in Bollywood cinema that has seemingly taken a little blue pill, the effects of which just don't seem to be fading.
Let me put this out there first, since, almost certainly, I will get some comments about how I am being old-fashioned in my views, or how I am jealous of Bollywood actresses; neither could be further from the truth.
I am very glad that movies like Dirty Picture, and Fire, and Chandni Bar have been made. They're important. They tell stories. They open the Indian public's eyes to something beyond the surface. For a while, all we were getting were the Karan Johar pancake mix variety of flick; girl disobeys family by falling in love with some vagabond or miscreant, family comes around, all is well. Throw in some European scenery, a bajillion outfit changes, and a token dance song with a dhol beat, and you've got yourself a surefire hit with the audiences. Western influence cannot be discounted. For better or worse, India started paying attention to the movies being made in the western hemisphere. This didn't exactly equate to more creativity on their part, but a copy-cat mentality of changing up Bollywood cinema. Ubiquity has its cost. Internet, satellite TV, Hollywood, etc; it's all brought a different "look" into the homes of the Indian public. Bollywood heros hit the gym, and, from what I've heard, tikke vi laune shuru kitey". Heroines? Well, they shed their clothes. Not completely, but no more suggestive wet-sari sequences and at-the-last-minute-camera-cuts; the new brand of heroine began showing some serious skin.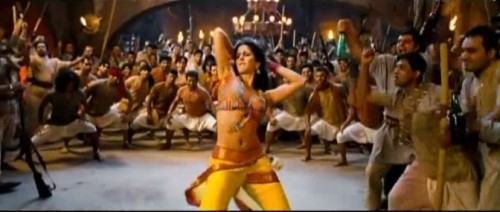 But what many are seeing as a "sexual liberation" for Indian women, I feel, is actually a clever, Gen Y-ass-kissing  guise. What do I feel is actually happening here? Bollywood is capitalizing on an age-old fact; sex sells. Only the truly pernicious thing is, Bollywood, and its heroines, themselves, are spinning the "liberation" excuse to the public. They say it's about time that woman have the FREEDOM to show their sexuality, to portray sex on-screen, to show themselves in scantily clad outfits, and of course, pelvic thrust to songs where men surround them, ogling at their derriers and cleavage.
There is good reason why Bollywood actresses assent to this excuse- because for them, it IS freedom. THEY ARE liberated. They can show their bodies, dance erotically, talk brazenly on-screen, because they are women of POWER. They are in a position unique to just a miniscule percentage of the population. They have financial freedom, ample protection surrounding them, and are, for the most part, educated. What this new "revolution" in Bollywood has done for them is made it EASIER to be unabashed and unapologetic, a right EVERY woman should have. But the reality is, 90% of the Indian female population will never reap the benefits of this "sexual revolution" that Bollywood is trying to impose, without thought, on its country.
Sexification of Bollywood does not equate to forward-thinking. In America, feminism and sexual liberation came about because women fought for their equal rights. Women are given fair and equal opportunities at education here. Education leads to jobs, which leads to a sense of financial independence. And THAT- that brings a woman power. When you have power, you cannot be bullied, intimidated, harassed to the same extent you once were. When you have equal rights, the law punishes those who commit crimes against you; they don't blame you for instigating the harassment because of what you are wearing. In India, women are marginalized, considered tools for reproduction, objects of desire for the purposes of deriving pleasure from. Beyond that, woman are largely not valued.
I am NOT talking about your uncles and grandparents, so please relax. I am talking about the remainder of India. The uneducated population. The population that doesn't live in the flats of Mumbai, or the farm houses of Delhi (though probably them too.) I'm talking about the rest of India, where women are still in peril and hate crimes against them are rampant. Sexualizing actresses and calling "item numbers" harmless fun, is NOT harmless. It's harmful. Malaika Arora Khan is beautiful, but her moves border on vulgar. Let's not even begin to talk about the hip thrusting in "Chikni Chameli". What the fuck was that? Sunny Leone now is coming to Bollywood in the erotic crime thriller Jism 2, and let's face it, it's her ticket to lots of cash, and the box-office will go in droves to see her bare nearly all.
But is no one seeing the hypocrisy here? Bollywood calls it sexual liberation, has actresses show off their bikini-laden bodies, makes them think they are up to par with Hollywood actresses who do the same, and pays no regard to the actual viewership. The women watching, who will be harassed on the buses that take them home from the cinema, what of them? How do they feel? Don't ask the Gucci clad chicks shopping in the malls of Gurgaon. Ask the every-woman. What chance have they in exerting their "freedom" of sexuality and speech. Women are sexually harassed IN BROAD DAYLIGHT, and passers-by don't offer to help. It is not an isolated occurrence; sadly it is a regularity. Unfortunately, in India, there is not only a large economic disparity, there is an educational disparity, an opportunity disparity, and most blood-curdling, a judicial disparity. The police's response to women getting harassed at clubs? It's their fault for being out late where men are drinking.
OF COURSE women SHOULD be allowed to dress any way they want, in a utopian society. And OF COURSE Bollywood should be able to sexify their actresses, but that is not my argument. This society they are appealing to is far from utopian. It is dangerous and careless to try to thrust an entire country, where, for the most part, women are marginalized members, into a modern-day mentality where woman are carefree. Give the Indian women equal rights before encouraging them to be bold and express themselves. Otherwise, they are chastised and vilified.
Shilpa Shetty had an innocent kiss from her friend Richard Gere, and the country was threatening to kill them both. Why? We can put our women on display, but then condemn them for exerting their "sexual liberation"? A few years back, South Indian actress, Khushboo, was brought before the Supreme Court, and endured death threats, for saying that pre-marital sex was a normal and acceptable thing provided condoms were used to prevent disease and unwanted pregnancy. So, basically, hypocrisy prevails as the message is clear- "We want a lady on the streets, but a freak in the bed (and on screen)."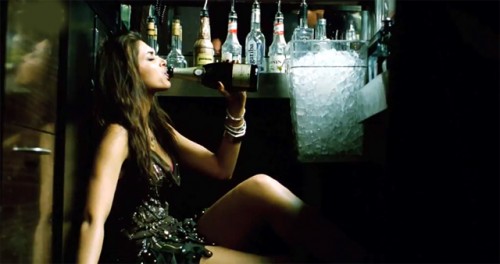 In the 2012 movie, "Cocktail", Deepika Padukone plays the "westernized" "wild" girl, because, you know, all us NRIs are flippant and with scrupulous morals. Saif Ali Khan's character however falls for the wholesome chick from India, and Deepika's character "realizes" she needs to mend her ways and become a wholesome, desi girl, in order to be marriageable. Smell any hypocrisy here??
I don't blame Bollywood actresses. They have a right to show their skin, to act sexual, to be the vixen; but as a woman, as a human being, you are living in a country that the G20 summit named THE WORST COUNTRY TO BE A WOMAN IN, and you have no desire to use your box office power to make a change? You prefer to perpetuate stereotypes?  But it strikes me as ludicrous that the most fortunate (Bollywood actresses) think they are liberating the common woman, when the reality of the population they speak to is bleaker than they can ever realize. Displaying sex, for sales' sake, is tasteless. There is a reason "real" Hollywood actresses have nudity clauses;  because they understand that they should be judged based on acting merit, and sexual content should be pertinent to the story. I'm not saying there is no place or desire for movies like "Jism 2″, but Bollywood fails in offering us variety. It's as if a movie can't be made without a salacious overtone. Make movies about sex and sexuality, but make them real. Take a look at the trailer for the India film, "Gandu", making its way across the film festival circuit, and gaining critical applause. That's grit. That's real.
Don't Barbie-infuse our heroines, let them get gritty and show us real acting. The same goes for the heros. Wouldn't we all love if more actors acted like Aamir Khan? Instead, they all look like Hrithik Roshan. The difference here is, men can show themselves all they want, they won't face the same harassment in India because they are men. They have an unequal share of power.
There is only one solution; if you want a true sexual liberation to be had by women (as all women should have), then you have to empower them. Empowered woman have nothing to fear. The only way to empower them…is to educate them.
That's my solution. Educate every single female born in India (who isn't killed at birth because her vagina wasn't a penis.)
Post-script: I do not blame Bollywood for the harassment of women. I'm saying it's a complex issue, but I don't feel we can ignore Bollywood's gargantuan influence on, and thus, responsibility to, the Indian public.