By Sheela Lal and Komal Thakkar
Click here for Part 1 of Guide to DC Living
Housing
First time living in DC for the summer? A good option is using GW, Georgetown or American universities housing. It's expensive, but convenient and a lot of interns live there, so there is a nice community. Another option is using PadMapper.com, which superimposes Craigslist and other apartment websites on Google Maps, so you have a better idea of where things are located. It's cheaper, but a crapshoot when it comes to roommates.
Events
DC is full of events put on by various organizations. A great place to start is DCLinktank.com and I highly recommend signing up for their weekly mailer. Side note: this is a great way to save on money as most events will provide some snacks or even lunch. However, there aren't as many events during the school year
If you're over 21, there is nothing quite like DC happy hours. Drinks and snacks are affordable and hey, it's a great way to meet up with friends. The best website to find various happy hours around town is DChappyhours.com.
Twitter – DC is a Twitter town. Everything gets transmitted over those 140 characters. My favorite Twitter handles to follow for the city are @nbcwashington (local news), @DCist (local pop culture), @SRWHOfficial (hilarious commentary), @FreeinDCBlog (Self explanatory), @washingtonpost (both local and national news), @GregsListDC (social events in DC), @wxdc (local weather twice a day),  @CapHillStyle (advice from a staffer on the Hill), @DCScene (more DC events). Along with those, I would recommend following organizations and important people in your field.
Visitors
You're just visiting? Here is a quick list of our favorite attractions and activities in the city.
DC By Foot – Want a free walking tour of the city? Go with DC By Foot. I'm assuming it's a lot safer than a Segway tour, which costs upwards of $60.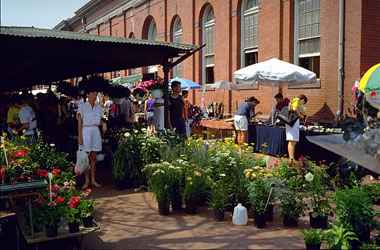 Eastern Market - Head over on weekends for some locally made crafts and farm fresh produce.
Kennedy Center – This is my favorite place in the whole city. If you can't afford tickets, go see a free show at 6 pm everyday on their Millenium Stage. They definitely have their fair share of South Asian artists perform. If you can't make the show, make sure you walk through the Hall of Nations and Hall of States, and then head upstairs to the rooftop.
Lisner Auditorium– It's right in the middle of the GW campus. Lisner auditorium has witnessed the likes of incredible artists and individuals. I've seen Hilary Clinton, Al Gore, Thomas Freidman, and my favorite, Anoushka Shankar, take that stage..
National Arboretum – Who thought such an oasis could exist in the middle of such a bustling metropolis? I certainly didn't until I ventured out there to watch an honors thesis dance performance take place in the arboretum my freshman year. The natural beauty will take your breath away.
National Botanical Gardens – Flowers and greenery may be difficult to come by, so a trip to the beautiful Botanical gardens is a treat. It has served as a wonderful weekend study break. I'll confess it takes me a little longer than the average person to walk through as I usually start picking out all of the flowers I want for my wedding.
Waterfront – Georgetown may be expensive, but it's a great place to spend an afternoon. If you're in the mood to splurge and treat yourself, you're in the right place. If not, take a nice walk along Wisconsin Avenue or go relax by the waterfront. It offers a beautiful view of the Potomac and is a hoppin' spot into the wee hours of the morning.
Travel
Most places in the city are metro rail accessible, and I feel it's easier to navigate than the NYC subway. If you are going to use the metro more than five times, purchase a SmartTrip card. Sadly, the DC bus system is not accessible if you aren't a native or don't have a smartphone. There are very few maps outlining bus routes. I personally have a smartphone, and that has been incredible for using the bus at pretty much all hours of the day. Use Next Bus to find bus arrival times.
Top photo via