By Roshni Uttamsingh
What is Diwali?
Diwali is the festival of lights that celebrates the return of the beloved King of Ayodhya, Ram, to his hometown after a 14-year exile. Ram slays the demon King Ravan before coming home and thus, the theme of good over evil and light over darkness is emphasized. Diwali is one of the most important Indian festivals as it also celebrates the start of the Hindu New Year.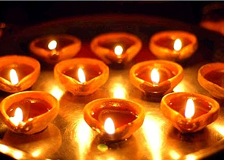 How do people celebrate Diwali?
In India, people clean their houses and prepare sweets to share with family, friends and neighbors. Decorative designs made with colorful powders (rangolis) are made outside the house to welcome the goddess of wealth and prosperity, Laxmi. At night clay oil lamps are lit outside the house to ward away darkness and evil. People light the effigy of Ravan on fire to represent the end of evil.
In the US, Diwali is celebrated on a much smaller scale. With a growing number of Indian people in the US, Americans are becoming familiar with the word Diwali. In 2009, President Obama was the first to take part in the Diwali celebrations at the White House. Most celebrations occur on the weekends since people are working during weekdays. People host parties for family and friends and exchange sweets. Gatherings occur at temples, where skits and dances about Diwali are performed.
This year Diwali is on November 13th, 2012 and I'm excited for all the festivities. Diwali ki shubhkamnaye, which means Happy Diwali to all.