by Antara Mason – Guest Contributor
Antara is the founder of iDesi Generation 1.5, a group specifically designed for Indian and Nepalese adoptees. Through this piece she hopes to discuss International Desi Adoptee culture  and her interactions with other South Asians. This post is a follow up from Antara's "Hi, My Parents are White".

Today I turned 17. We celebrate my birthday on the 2nd and the 3rd. On the second, because it's the 3rd in India. Its fun and all, but… well, can you keep a secret? You can? Good. Here it is:
I hate my birthdays.
Whaaaaat? You just turned 17! I mean, who hates their birthday before they turn 40?!
Haha, point taken! However stop for a second and look at it from my perspective. Exactly 17 years ago, I was with my birth-mom. Shortly after that, I was given up, an incredibly traumatic experience for a newborn. See this from my infantile mind:
I'm living inside someone who has a biological connection with me, all warm and such. Suddenly, I'm born and adjusting to these new surroundings. But I still have my bio-mom, so it's all good. The skin of the person holding me is still familiar, same pheromones and all. Then it's 1 day later, BOOM. All that gone in a flash, I'm alone and unable to show my confusion and bewilderment other than by crying.
…Cool story bro, tell it again. Actually don't. That was horribly depressing.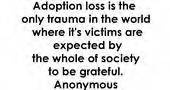 Here's my point, adoption is not all cake and glitter. It's a whole lot of junk and funk. People have a hard time understanding that. They automatically assume that my parents were "incredible for being such saints" and that my brother and I are "soo lucky". That annoys my parents to no end. They have the best comeback, they turn right around and say "oh no! We're lucky to even have them!" I can't even count how many times I've gotten the, "you're soo lucky to be rescued from the slums," line!
Why does this bug me so much? I KNOW I'M LUCKY. How could I not? My life is amazing because I am adopted. But that doesn't ease the pain. One of my closest friends and researcher Sheryl Ryan spelled it out perfectly:
"But there's the catch-22 again if you say so. [that you're not as lucky as you seem for being adopted]. You become the hater…wrong. And birth-parents are supposed to feel thankful for Aps (Adopted Parents) raising their kids… rather than everyone acknowledging the impossible set of circumstances that leads to a child being adopted."
I just want to scream "I'm sorry, I just had my entire identity stolen from me. Forgive me for mourning my stolen life, however crappy it may have been."
I once read a quote that said,"Adoption is the only trauma in which society expects the victims to be grateful for." And it truly is. It is very hard to realize that I still suffer actual, concrete consequences from being given up. I get severe panic attacks during the most random and inconvenient times. My senses are jumped up to a ridiculously high level. My body had to default to survival skills that normally wouldn't have to be used for many, many years. I have psychological issues too, (no surprise there huh?) like the fact that I can be insanely paranoid about being abandoned again. My mom said when I first came home, whenever others held me, I would constantly watch her and cry if she left the room.
Truer words never spoken.
The truth is that luck had nothing to do with this. I was adopted for a reason, luck had nothing to do with it at all. I was given a crazy hand by Fate and now I have to play it to the best of my abilities. My cards consist of Love, Hate, Grief, Insanity, Wondering, Really-Weird-But-Still-Lovable-Parents and a few other cards that I can't exactly identify off of the top of my head. And trust me, this is a poker game you won't wanna miss. Especially with my new card, Lucky 17.
Happy Birthday to me, I'm so glad I can spend it with my loving, caring family. Even if on some days, it hurts.
Yeah, Happy Birthday, Bro.
Thanks.