by Trisha Sakhuja – Follow @x0xTrisha

Growing up in the Sakhuja household, watching TV with my parents and sister has been a very special pass-time. We all enjoy watching various kinds of movies, TV shows, the news, comedy shows, musical/dance shows, and game shows, whether it's Bollywood or Hollywood. We also have very meaningful conversations of what we see on television, and relate it to our society's history and present. I have learned so much about my country, culture, Bollywood, and my parent's life by sitting in front of the TV. So, moral of my mini-spiel, watch TV with your parents because you never know where you'll find a common connection.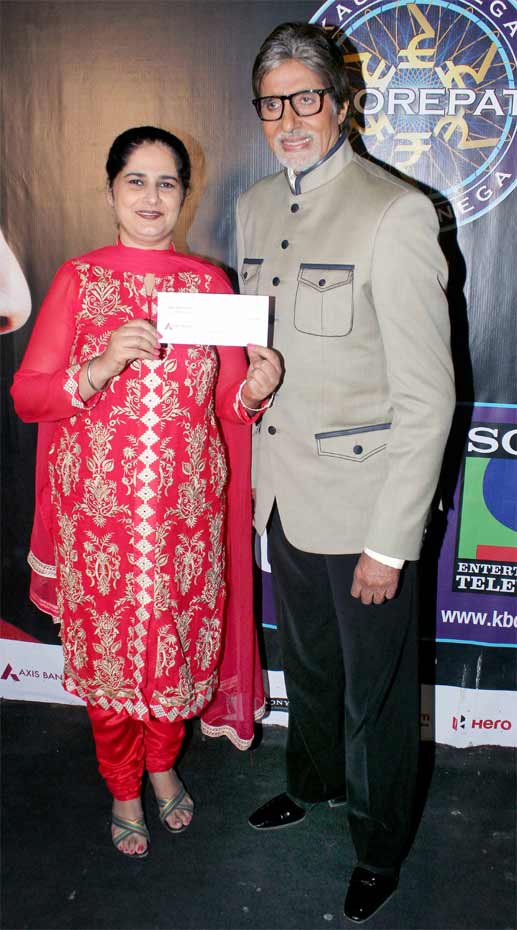 I want to share a special moment that I had with my family during the airing of a show on the Saturday of January 21, 2013. We witnessed  Sumeet Kaur Sawhney, who is the first woman to win 5-crore rupees on Kaun Banega Crorepati (KBC), which airs on SONY Television every weekend. The show's focal point is the legendary Big B himself, Amitabh Bachchan, who recently completed 500 episodes. After watching the iconic Bollywood hero play himself on the game show, I have developed a greater sense of respect and love for him. Not only do I respect him for his legendary acting career, but also for his kind and humble persona. Watching Amitabh Bachchan's real reactions and emotions on live television gives me hope that an enormous amount of fame doesn't necessarily mean you lose touch with reality. He genuinely cares about those on the show by reciprocating very well with their sometimes odd requests and questions.
The show's central theme of education and knowledge, which leads to success, happiness, and dignity, is a reoccurring topic of conversation between the contestants and the host. People from all over India enter to be given the chance to go on the show, regardless of their background, level of education, financial status, caste, gender, creed, or religion. For Sawhney, the 37-year old mother of two, she credited her big win of the  5-crore rupee grand prize to the knowledge she acquired through the years and the support from her husband and family. Since Sawhney's dream of becoming a certified teacher was left unfulfilled, she has dedicated her time to tutoring and mentoring young children in her neighborhood. She has also been avidly involved in spreading religious knowledge at her nearby gurudwara in the state of Punjab.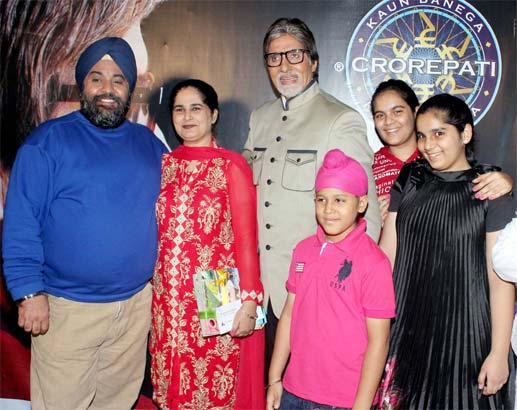 Sawhney has suffered from a life-threatening tumor and depression, but her sheer determination to learn and spread her knowledge was the key to her very-apparent confidence and jackpot winnings. Sawhney says she couldn't believe that she had won till the iconic Amitabh Bachchan hugged her. Watching her fly through each question with great confidence, and still having a  lifeline remaining for the very last question was very exciting and heartwarming. Elated by her victory, the audience, the game-show host, and the contestant's family were proud to see a woman receive the first big check of the season.
KBC truly fulfills the dreams of those who want to move further in life, but need some financial support. It's surprising and sometimes very shocking to see some of the contestants come from the smallest, remote villages of India, but their knowledge and desire to learn is certainly inspiring. Their honest and struggling lives gives us all more reasons to appreciate all that we have, but it also gives us all a much needed reality check. Developing countries, such as India, have many more people yearning to become educated and live a sustainable lifestyle than what we can actually fathom. One of the pillars of this game show's 12-year success is the opportunities it gives to those disenfranchised people seeking a place of their own in society.