by Antara Mason – Follow @AntaraMason

What if I told you that the majority of the chocolate you ate was fueled by the blood, sweat and tears of underpaid children forced to work harder than most of us have ever had to in our entire lives?
Well that's enough to make a girl start crying ON TOP of the raging hormones that make us crave M&M's. This problem was brought to my attention by my good friend Ellice Evans, who gave her Original Oratory speech on Blood Chocolate. So I decided to do some sniffing around of my own, and discovered that most of my chocolate isn't so sweet after all.
The Problem:
Every year, thousands of children are forced to harvest the cacao beans that are the life force behind the chocolate that we eat.
According to the Tropic Post:
"It is believed that children between 5 to 14 years old represent 45 – 50% of the workforce."
These kids are beaten and forced to work 12 hour shifts daily, suffering abuse as punishment. Escape is not an option. If they are caught, the punishment given is severe and life threatening. The worst part of the problem, I believe, is that these children are sold by their parents, who don't know what is happening to them and are lead to believe that their child is earning money and learning skills that could potentially aid them in building a promising future for themselves. Most of these families never see a percentage of what was promised to them, if any money at all. Many of these underage workers use machetes (because giving an 8 year old a foot long blade is a good idea) and pesticides, that are unsafe for humans, as part of their job.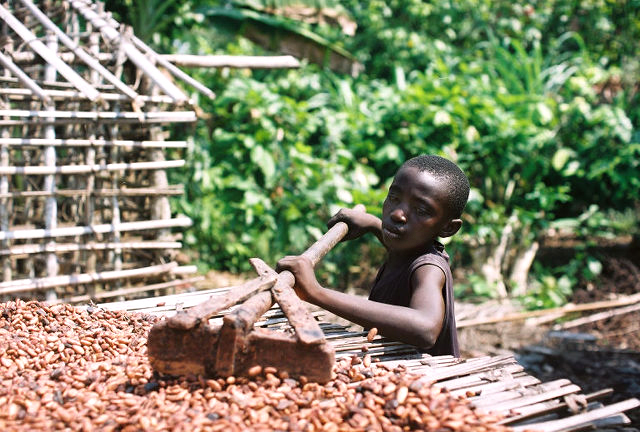 This problem mainly exists in the Ivory Coast region particularly and most of these children are from Mali. However, it doesn't stop here.
Treehugger.com reports:
"Hershey's and M&M Mars alone control two-thirds of the $13 billion U.S. chocolate candy market. The result? An industry marred with child slavery, unsafe working conditions and a cycle of poverty with no end in sight for cocoa farmers. Chocolate companies are not held accountable for sourcing practices, and despite their knowledge about the travesties that occur on cocoa farms, they lack the will to change."
Less than 1% of the chocolate in the world according to Treehugger, is certified not to be blood chocolate. A few laws have been passed in order to stop our companies from supporting Blood Chocolate, but have been unsuccessful. In fact, many of them remain ignorant to the fact that Blood Chocolate even exists. It is brought to their attention and then forgotten just as quickly.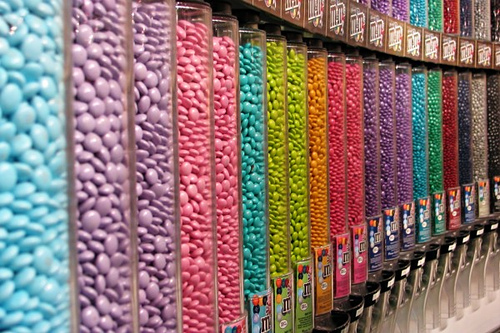 The saddest part? Most of these kids have never actually tried the sweetened candy chocolate.
The Solution:
Aching to wash the bitter taste out of your mouth? Enjoy your chocolate guilt-free by buying only Fair Trade Chocolate. You don't have to give it up! (That would be a stupid suggestion). Look for the Fair Trade stamp/logo on your packages. If it's there, it's not Blood Chocolate. Fair Trade is directly involved with the farms and the farmers, making sure that their chocolate is not fueled by child labor.
Want to do even more? Stage a protest. Write a letter to Mars or Hershey Inc. Tell everyone about this problem that is growing so that it is being exposed. Awareness brings change. Don't stand for this. We as the consumer can demand such changes, if we all band together.
For the sake of the children – don't support Blood Chocolate. 
Sources and Additional Reading:
http://educlaytion.com/2010/07/09/blood-chocolate/
http://www.tropicpost.com/child-slave-labour-and-the-chocolate-industry/
http://www.treehugger.com/green-food/the-bitter-truth-about-chocolate.html
http://money.cnn.com/2008/01/24/news/international/chocolate_bittersweet.fortune/
http://www.inthesetimes.com/article/6108/certifying_blood_chocolate/