by Atiya Hasan – Follow @AtiyaHasan05
In the 19 years since its inception, Pratham has evolved into the largest education focused NGO in India. An organization that began in the slums of Mumbai has now contributed to the passing of India's Right to Education Act (2010) and focused attention on eradicating child labor. Pratham began its legacy with simple preschools for disadvantaged children known as the Bawaldis which were taught by trained women from within the community. Today, Pratham runs programs in 19 of the 28 states in India with the goal, "Every child in school and learning well".
Marie Goradia, President-elect of the Pratham USA-Houston Chapter, says:
"with its limited resources, there was constant innovation at Pratham. Instead of building schools, Pratham focused on education from the preschool level all the way to vocational training for young adults. Pratham listened to the needs of the children and rolled out programs to satisfy the needs. Once Pratham taught the children to read, they needed books. Pratham wrote and published books and translated them into 11 local languages and set up libraries for children who couldn't afford to buy books."
Pratham found a need and chose to fill it. The programs provided by Pratham aim to fill the multi-faceted "cracks" in the Indian educational system that disproportionately affects the country's underprivileged children. Of the 1.2 billion people in India, 210 million of these are children under the age of 18. Of these, less than half of the children aged 6 – 14 years old are literate. One of Pratham's early programs, The Learn To Read program, is targeted towards older children who are out of school and would most likely be sent off to work by their families. It is an 8-week program that teaches children basic reading and math skills by utilizing four senses to accelerate the learning process. This program has been very successful in encouraging girls to stay in school and gain basic education.
While states like Kerala have long boasted of having over 90% literacy rates, Pratham realized the importance of evaluating education quality. This led to the evolution of Annual Status of Education Report (ASER), which in recent years, has been adopted by many other countries. Every year since 2005, ASER surveys over 600,000 children, aged 3 – 16, in the rural districts across the nation. The shocking results revealed that many of the children enrolled in the third grade were unable to read even at a first grade level. This further strengthened Pratham's resolve in the necessity of their programs.
Other programs range from translating books from English into 11 local languages, teaching children and adults computer skills, educational classes for mothers, rescuing children from child labor, vocational training for youths and much more. Pratham's outstanding success and the social change that has resulted from it is made possible by thousands of dedicated volunteers and corporate and individual donors from around the world. Pratham's innovation, efficiency, and transparency in its programs and finances has earned it Charity Navigator's highest four star rating.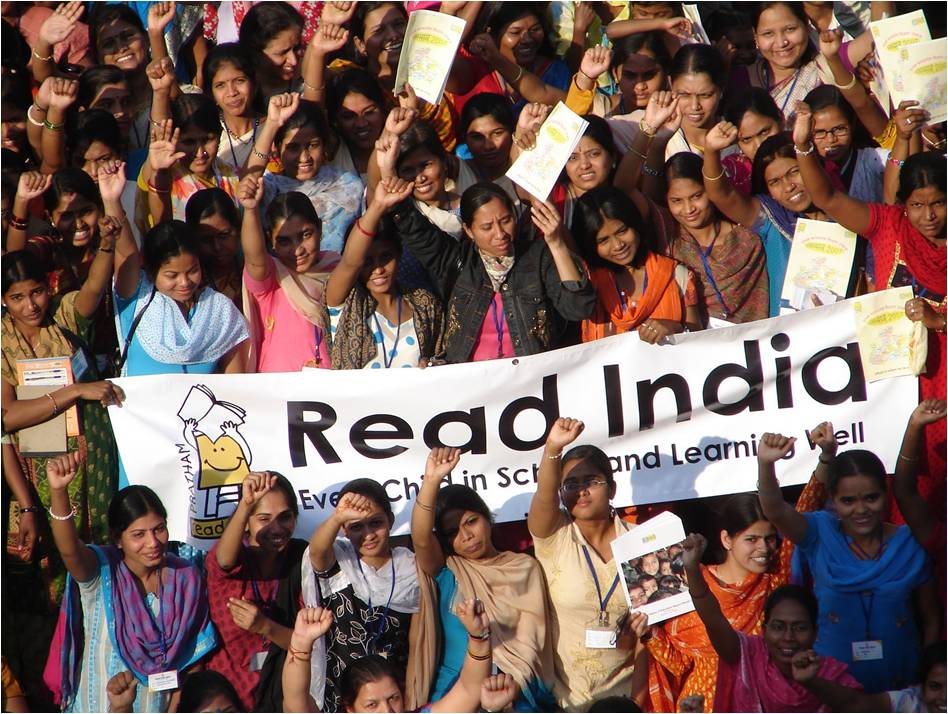 Through the years, Pratham has received several international awards. This past November, the founder of Pratham, Madhav Chavan, was awarded the World Innovation Summit for Education (WISE) . WISE describes itself as the "international, multi-sectoral platform for creative thinking, debate and purposeful action" and has also been referred to as a "Nobel prize for education." Chavan also received $500,000 as award money which he chose to give back into Pratham. In a country where all it takes is $25 to educate a child for a year, it is inconceivable what such an exorbitant amount can make possible. One thing remains for certain, Pratham is a force all its own.
Website: www.PrathamUSA.org
Donate to Pratham