by Sonali Paul – Follow @SonaliWPaul
Do you consider yourself religiously literate? Asking myself this question, I reminisced about my Catholic high school background, my affiliations with the Sikh religion, and my general knowledge on religions by just being American.
I recently stumbled upon Pew Forum's 2010 Religious Knowledge Survey and decided to complete the short questionnaire about how much I really know. Here's a look at how I fared: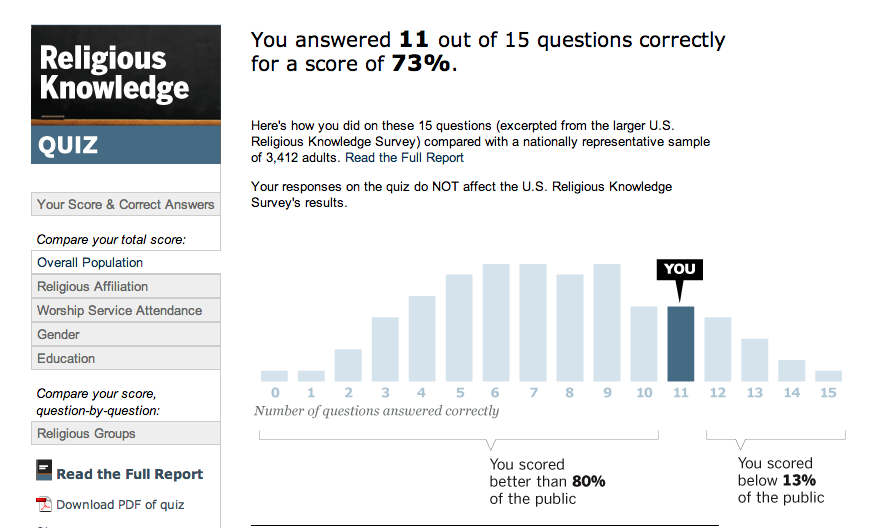 So what does this mean exactly?
Well, the results of my quiz indicate that I know something more about the major world religions than 80% of the American public. In contrast, I still know less than 13% of the public (Pew Forum). What's even more interesting is how I compare on other levels:
1. Religious Affiliation
Scoring a 73% (or 23% above the overall population) places me above most of America's religiously affiliated, with the largest affiliation, Jewish, scoring approximately 15% above the overall population (2010).
Worship Service Attendance
My score, again placing me above 23% of the overall population, also places me 21% above those who say they attend a house of worship on a weekly basis (2010).
This result was a bit surprising to me for the fact that according to Pew Forum, levels of worship attendance all produce individuals with similar religious knowledge.
Gender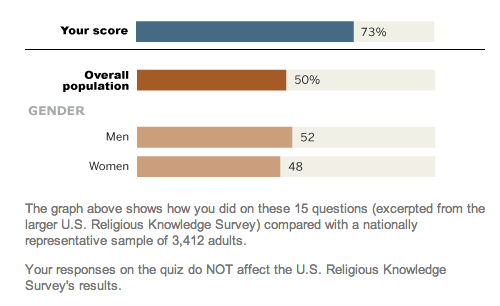 Results of this survey place me 25% above American women, who received survey scores below the average, placing 2% under the overall population (2010).
This fact is also surprising to me – why do women seem to know less than American men and even the overall population about religions? With America advocating equal education rights and a place where women can work and succeed alongside men, this data seems to reveal how equal American women are, considering their (still) lower level of religious knowledge.
4. Education
Finally, here is how I compared to Americans' level of religious knowledge with respect to their levels of education.
As a sophomore completing my college bachelor's degree, I found this analysis most interesting. I placed 5% above the most-educated American (Post-graduate training) who themselves placed 18% above the overall population's level of religious knowledge (2010).
You might be asking, so what does this overall analysis mean to me?
I encourage anyone reading this post to take the survey to find out how religiously literate you really are. You can find the survey, which only takes about five minutes of your time, here.
Finding out how religiously literate, or illiterate, you are is important in today's society as it turns out that only 50% of the population seems to be somewhat knowledgeable (Pew Forum). During much of the new millennium in America, religious adversity, phobia, and misinterpretation has become popular among people's daily lives. Thus, striving to become more religiously knowledgeable would be not only in America's best interest, but it just might be your benefit to do so as well. In my opinion, being more literate can prevent most religious attacks – as anti-religious attacks and messages seem to stem from much misunderstanding about the religion under attack.
Images: Banner