by Sonali Paul – Follow @SonaliWPaul
Time and time again we hear, or rather, see the messages people put out about what they really think about a certain person, religion, or even cultures. Most recently these hate messages have surfaced all over the Internet in what is this millennium's medium for mass visibility. Just recently, both the Sikh and female community were put on the spotlight through a Reddit blog message. Reddit.com is a site that claims to be the "front page of internet." A user posted a picture of a Sikh woman that he saw at the airport for viewing and commenting by others. Balpreet Kaur is a student at The Ohio State University. The user intended the picture to be a malicious joke considering the woman in the picture had facial hair. As Kaur was informed of her picture on Reddit by her friends, she responded to it as a twenty-something student who has had to constantly defend her appearance and explain herself. With the grace and strength that is uncommon for most of those who are bullied, Kaur explained that her way of life, specifically choosing not to shear her hair, is merely a reflection of how she chooses to (and is recommended to) live out the teachings of her religion – Sikhism.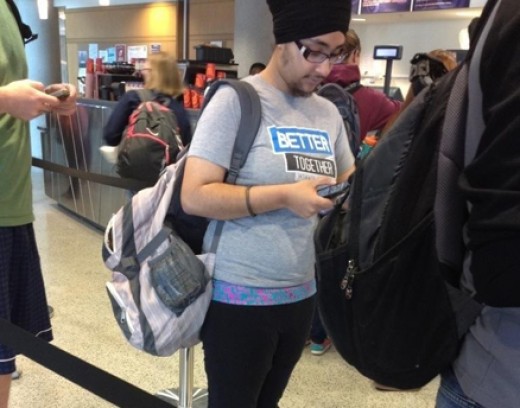 In Sikhism, it is common to see men wearing dastaar, or turbans, according to the commandments of the faith laid out by the last Guru. One of the five commandments instructs followers of Sikhism to keep unshorn hair. In today's society, and as the Sikh Diaspora is in full effect, many Sikhs follow the commandments to their own extents depending on their own circumstances. Thus, Kaur chooses to interpret the Guru's commandments in such a way that allows her to keep unshorn hair, including facial hair. Just as this understanding of Sikhism was not known before the posting of Kaur's picture by her bully, many other components of Sikhism seem to be misunderstood by society today. What's most striking is that just recently, an anonymous blog called Patka Spotting has become the newest medium in poking fun at aspects of Sikh culture.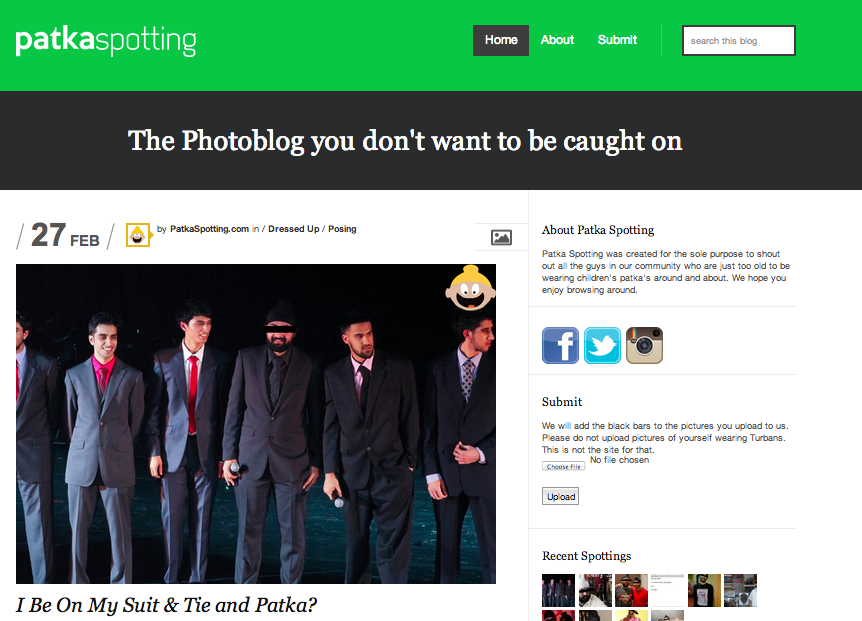 This blog encourages people to upload and submit pictures of young adult men and older men, in patkas, or easy to tie head coverings mainly worn by Sikh children prior to making the transition to displaying a turban as an adult. By providing these pictures, the website claims that it:
was created for the sole purpose to shout out all the guys in our community who are just too old to be wearing children's patkas around and about.
Interestingly enough, this seems to be much more hurtful than helpful. Poking fun at one of the most important rites of passage (moving from patka to turban) in a young Sikh man's life, this website puts shame to those who created it. I am definitely not trying to promote this site but as I first came across it, I was shocked, thinking it must be just another internet joke. Soon, however, I realized that this is a rather cowardly stab into Sikhism's fundamental teachings. During a time in society, especially in America, where Sikhism is coming into light more and more each day, I was conscious (falsely, I now realize) that we, as a society, were moving forward in understanding others as a result of events such as the fatal post-9/11 hate crimes, the Sikh community's request to Attorney General Eric Holder for protection against such crimes, and most notably, the Oak Creek, Wisconsin massacre. Just as Kaur was so gracefully able to exit this bullying scandal, I hope so too will the 1patka-wearing men, and boys, overcome this silly but serious attempt at humiliation.
Image via: Balpreet Kaur