4
min read
by Ravleen Kaur
I woke up on November 11 to my Facebook newsfeed filled with "Happy Diwali" posts and contrasting articles about #KaaliDiwali in Punjab from my South Asian-American peers. Many people have expressed their sentiments on what it's like to be Sikh during this difficult time in Punjab, but I think it is important to clarify in simple terms what is going on in our homeland for non-Sikh audiences in the United States.
The history behind the mistreatment of Sikhs is confusing and under reported. I hope to clear up misconceptions and give a basic understanding of what has happened thus far.
So, why were Sikhs peacefully protesting?
On October 12, in Bargadi Village at Gurdwara Burj Jawahar Singh Wala in Faridkot, Sector 144, 112 angs (pages) were ripped out of the Guru Granth Sahib Ji and scattered in the streets.
This incited peaceful protests from Sikhs because the police force failed to make any arrests. Although Sikhs have always used peaceful protests as the first line of response to violence, police responded with guns, water cannons, tear gas, and unnecessary physical force. Bhai Gurjit Singh and Krishan Bhagwan Singh were killed and 82 others were injured. Sikhs gathered to peacefully ask for answers, but the police caused an unwarranted riot.
What are government leaders saying?
Keep in mind, an election in Punjab is coming up in 2017. Punjab Congress Party President Pratap Singh Bajwa called for an investigation of the Shiromani Akali Dal party (SAD), the current party in power in Punjab. Bajwa claims that the Akali Dal, headed by Prakash Singh Badal, is behind the desecration of Guru Granth Sahib Ji.
"RSS Chief Mohan Bhagwat had made several visits to Punjab this year and held closed door meetings with religious preachers," he said. "Whatever took place in Punjab recently was the outcome of a bid to polarise Punjab. RSS had a direct hand in the events that unfolded."
Bajwa claims that his party will not get involved with the recent Sarbat Khalsa because India is supposed to be secular, but how can one ignore the violence directed at specific religious minorities?
How can one remain secular when the national government is controlled by the Bharatiya Janata Party (BJP), a wing of the extremist Rashtriya Swayamsevak Sangh (RSS) party Bajwa himself speaks of?
What is Sarbat Khalsa?
Sarbat means "whole" and Khalsa is the community of Sikhs who have taken Amrit and have been initiated into the Sikh community of the Pure. Sarbat Khalsa is the Sikh way of democracy and community organizing to deliberate on policy decisions affecting Sikhs.
Historically, Jathedars or ordained leaders, call for Sarbat Khalsa. Recently, however, the whole community took an initiative to address the events in Punjab. The Sarbat Khalsa only passes resolutions if they are in line with the teachings of Guru Granth Sahib Ji and if there is a unanimous vote. Majority rule does not exist.
This year, thirteen resolutions were successfully passed after speeches by various community leaders, most notably Bibi Pritam Kaur who spoke on the equality of rights between Kaurs and Singhs.
What can we do in the United States?
This is a difficult time for Sikhs everywhere. Our minds are tainted with grief and confusion as to why this is happening. Communities should not have to suffer at the hands of their government. The best thing one can do is educate oneself on Sikh history.
Stand up for the truth and spread the word on these current affairs. Talk to your Sikh friends and gather their perspectives on what is happening and what their experiences are. 
One Sikhi, Harleen Kaur, University of Michigan grad and Bonderman Fellow, transcribed thoughts on her blog after recently traveling through Punjab and reflecting on what more young people can do:
"I strongly believe that Punjab will rise, soon and strongly, without hesitation. Yet all great things take time and work and suffering. We often keep compromising with each fall, saying that we will make things work, and it's not until we're at the bottom of the well that we see that we should've fought harder to stay above ground.

In order to move forward though, we need to stop repeating the mistakes of those who have oppressed us. Including women in these conversations is essential. Sikhi is a faith that actively preaches gender equality and the significance of females, yet the involvement and acknowledgement of women has been close to zero. There is also a need for the empowerment of youth, as they will be the ones to carry the movement forward into the next generation.

Most importantly, though, I believe in the power of [the] diaspora. Most commentaries on the notion of diaspora talk about the pain of a community splintering and trying to create new hyphenated identities, but through the last few days, I saw its renewed strength.

Sikhs do not just belong to Punjab anymore. We belong to Kuala Lumpur, which holds the largest gurdwara in Southeast Asia, boasting a community of nearly 800,000. We belong to Canada, where Punjabi is now the third-most spoken language in its Parliament. We belong to the U.S. and the U.K., we belong to Kenya and Chile. Sikhs have grown and spread and put down roots in many more places than Punjab. And uniting these communities, including all of its voices, will strengthen our fight for our homeland."
If you are a young Sikh and want to get involved, attend local Sarbat Khalsa meetings in the United States and join the North American Delegation. With activism, awareness, and holding the government accountable, we need to make sure this does not happen again.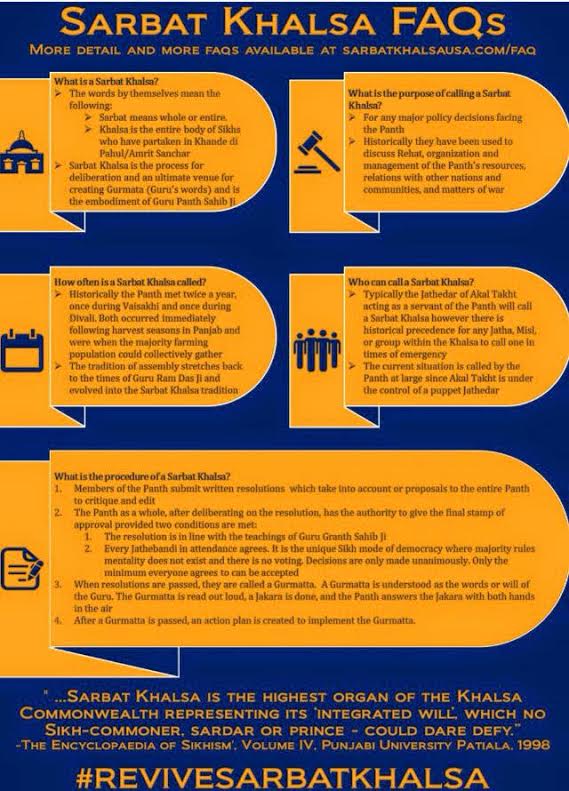 ---
Ravleen Kaur is a student at The Ohio State University studying public affairs and public health. Her hobbies include drinking over-sweetened coffee and performing bhangra in public spaces. She is currently planning to run away from her home state in the Deep South and eventually work in the public health field.