4
min read
by Ravleen Kaur
Vaisakhi (sometimes known as Baisakhi) is the day that marks the creation of the Khalsa, the Sikh community. The Khalsa was created by the Sikhs' tenth Guru, Guru Gobind Singh Ji on April 14, 1699, in Anandpur Sahib, a city in current-day Punjab. Anandpur Sahib is known as "the holy city of bliss," a fitting name if you ask me.
My parents told me the story of Vaisakhi constantly throughout my childhood—most frequently when I would recite my Japji Sahib prayer during Sunday school or after listening to my mother read Kirtan Sohila during the evenings.
The story goes like this: Guru Gobind Singh Ji called all Sikhs in present-day India to convene at Anandpur Sahib. At this large gathering, he asked the crowd for five people (men or women) to come forward if they were willing to give up their lives to defend Sikhi. He punctuated his request by drawing his sword – maybe implying he was looking for someone to give their heads on the spot. Eventually, five men answered the call and followed Guru Ji into his tent. Guru Ji then emerged from the tent with the five men all dressed in blue. These five men became known as the "Panj Piyaare" or the Five Beloved Ones. The Panj Piyaare were the first Sikhs to be formally initiated into the Khalsa by taking amrit.
This initiation was called the "pahul." Guru Gobind Singh Ji and Mata Sundri Ji, his wife, jointly made the sweetened water (amrit.) The amrit was sprinkled on the Panj Piyaare, thus initiating them. The Panj Piyaare were all men, but women in most Sikh communities are invited to depict them as a part of Nagar Kirtan, which is a processional in which Sikhs sing shabds, or religious hymns, and walk through their communities and neighborhoods. There has been much debate on whether or not women are allowed to be a part of this symbolism because the original Panj Piyaare were all men; however, many Sikhs, especially those in North America, believe the only requirement to be a part of this is to be an Amritdhari, or someone who has taken amrit. Many argue that, as Sikhs in the 21st century, we must understand the social climate from centuries ago. The chances of women even being present at a public gathering back then were slim.
Growing up, I never had the privilege of regularly attending gurdwara, the Sikh house of worship, going to Sikh camps, or participating in Nagar Kirtans. My family left New York when I was just eight years old, so my memories of Vaisakhi and the Sikh Day Parade have mostly been erased. My Louisiana gurdwara was an hour-long drive away, and to make matters worse, I willingly shipped myself off to boarding school in a small town six hours away from any gurdwara. For the last four and a half years, I've experienced Vaisakhi vicariously through others.
What I did notice was how the strength of the Sikh community, mainly in numbers, affects how they celebrate Vaisakhi. My gurdwara didn't manage to get a Nagar Kirtan approved for the streets of New Orleans until my senior year of high school. But when they did, they took the floats down to Jackson Square and used it as a great opportunity to teach bystanders. They also held an Akhand Paatth, a three-day continuous reading of the 1,430-page Guru Granth Sahib Ji.
I now go to school in Columbus, Ohio, and Vaisakhi is celebrated kind of differently here. On the day of Vaisakhi, there was a two-hour diwan at night, and more kirtan on the following Sunday. A diwan is when people congregate in the main hall to listen to kirtan, the singing of hymns, and katha, story-telling and sermons. The Columbus gurdwara did not have a Nagar Kirtan, but both gurdwaras ended the services with langar, a community meal.
Celebrations in larger cities with larger Sikh populations are far more lengthy and awe-inspiring in scope. For example, my Sikh friend at Ohio State, Harliv, is from the DMV area. She described her Vaisakhi experiences as something totally different than I had ever experienced. Very early in the morning of Vaisakhi day, there is Amrit Sanchaar. Whoever chooses to take Amrit attends this ceremony and becomes initiated as an Amritdhari, thus bound to follow the Sikh Rehat Maryada, or code of conduct. Then, there is a morning diwan and an evening diwan (kind of like the one in Columbus!) The Sunday after, they have another diwan with more than 500 attendees.
Before the 11:30am diwan starts, though, Harliv's gurdwara has a Nagar Kirtan that goes around the gurdwara grounds. Then, children showcase gatka, a type of martial arts practiced by both men and women to be used to defend oneself and others (regardless of faith or other labels) in times of danger. The diwan then starts with 30 minutes allotted to young Sikhs to perform kirtan, often playing tabla and the harmonium while they sing the shabds. After that, the regular Bhai Sahib, or keeper of the gurdwara, resumes with a longer kirtan program. The service is, of course, ended with langar. Langar is the unique Sikh concept of an open community kitchen. Sevadaars, or volunteers, toil in the kitchen all day to prepare this vegetarian meal. Langar, however, isn't just exclusive to Vaisakhi celebrations. Anyone can go to a gurdwara at any time and receive a free meal.
So, as you can see, the celebrations can vary from community to community. I haven't attended a Nagar Kirtan in 12 years. I haven't played the harmonium in 13 years. And I surely haven't seen live gatka before in my life. While I pine to be more involved in a large Sikh community, I have to remind myself that at the end of the day, my seva and paatth (prayer) are what really matter. I try not to get caught up in searching for belonging in a community, but it's still a search that'll probably never stop.
Having experienced the New York, Louisiana, and Columbus Sikh communities, I can say this, though: the celebrations may vary in terms of timing and events, but the core purpose of this celebration remains the same. We are here to celebrate the creation of a Sikh community that transcends all other labels. This was the day Guru Ji made us official so the pride and service-oriented spirit are the same throughout all of these gurdwaras. And I have to remind myself: that's what really matters.
---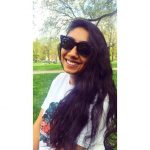 Ravleen Kaur is a student at The Ohio State University studying public affairs and public health. Her hobbies include drinking over-sweetened coffee and performing bhangra in public spaces. She is currently planning to run away from her home state in the Deep South and eventually work in the public health field.