4
min read
by Ravleen Kaur
If you've been scrolling through Twitter lately, you may have noticed your Sikh friends tweeting and retweeting tweets about a 1984 genocide and pictures of an empty, eerie Golden Temple. If you're Canadian, you may have heard about the uproar when the Liberal Party in Ontario decided to vote against recognizing the Sikh massacres of 1984 as an official genocide. And maybe you've never heard of these two and would like a perspective on it.
1984 Sikh Genocide: Refusal of Liberal party to acknowledge this hate crime.

Sign the petition: https://t.co/UmXSgMxpE8

— riya (@riyaraixo) June 3, 2016
Genocide, (noun); the deliberate and systematic killing of a large group of people, especially those of a particular ethnic, national, or religious group.
Genocide is a human rights violation.
So what prompted these human rights violations against Sikhs in 1984?
Indira Gandhi was the mastermind behind Operation Bluestar in which army tanks and troops stormed the holiest Sikh site, Sri Harimandir Sahib (the Golden Temple), on the very busy day of Guru Arjan Dev Ji's martyrdom anniversary. Because of this, she was assassinated by her two bodyguards four months later, prompting genocidal killings against Sikhs, as reported by Professor Simran Jeet Singh in TIME. Gandhi's bodyguards were Sikhs. They were hurt and angry at her politically motivated massacre of thousands of innocent Sikhs at the Golden Temple. They murdered her, and the next day the entire country used it as an excuse to kill thousands of innocent Sikhs.
According to the Huffington Post, "independent and reputable sources estimate a minimum of 10,000 casualties…a senior police officer in Punjab assessed the number of casualties as closer to 20,000."
Popular Bollywood actors like Amitabh Bachchan reportedly said, "Khoon ka badla khoon se lenge!" ("We will avenge blood with blood!"), further inciting attacks against Sikhs. According to personal accounts, the Punjab police and non-Sikhs began marking Sikh households and businesses to be looted and set on fire. They targeted men in paghs and little boys in patkas;  they kept a lookout for people wearing karras on their wrists – all symbols of being a Sikh. TIME reported in the days following the first spark of outrage in November: "Frenzied mobs of young Hindu thugs, thirsting for revenge, burned Sikh-owned stores to the ground, dragged Sikhs out of their homes, cars and trains, then clubbed them to death or set them aflame before raging off in search of other victims." And in other cases, Sikhs were sheltered and protected by Hindu and Muslim families.
Fast forward to present-day, and there are still elderly men and women who talk about their horrifying experiences surrounding 1984. Movies like Hawayein (banned in Punjab and New Delhi) chronicle the events of Sikh men having tires shoved through their heads, little boys letting down their hair to be disguised as non-Sikh girls, and Sikh women being raped. Even mundane activities, such as riding a bike through the streets in the day, turned into haunting memories.
Today, the governments in Canada and the United States still have made no strides in recognizing the genocide or pushing for the current Bharatiya Janata Party (BJP)-controlled central government to recognize its wrong-doings in 1984. Ensaaf, an organization dedicated to promoting human rights, justice, and accountability in India, and the Human Rights Watch have penned a letter to President Obama asking him to urge the Indian government to prosecute those involved in the 1984 massacres. Canada's NDP Deputy Jagmeet Singh brought forth a motion to recognize the massacres of 1984 as a Sikh genocide. The Canadian Liberals, including four Sikh MPs, voted against Singh's motion.
So, why am I writing about this?
I want diasporic South Asians to understand that, when you hear a distraught Sikh tweeting, posting on Facebook, and simply just talking about 1984, understand that we are tired, we are still upset, and we would appreciate your ears so you can understand what happened to our families. Listen to and learn from our personal stories instead of feeding into what the media presents. The media focuses on the extremists and militants, just a small fraction of Sikhs. The media won't tell you about the suffering of innocent Sikhs.
In the diaspora, it is important to unite against any perpetration of violence towards our families in India. Yes, South Asians are heavily discriminated against in the United States and Canada, but we cannot forget that the Indian government is also responsible for systematic discrimination. And more alarmingly, that mentality of discrimination and bias is carrying over to our governments and communities here. Important Indian political figures will have South Asians abroad hating and invalidating the experiences of the true victims just so they can advance their own political agendas.
If the entire world believed in "khoon ka badla khoon," we would all be dead. Instead, let's unite during this 1984 genocide anniversary and educate others on what happened so the cycle of misunderstanding, extreme hatred, and general disregard towards Sikhs can be suppressed here, with our generation. Perhaps, our generation will grow up to take hold of important political positions, finally recognize the massacres in 1984 as an official genocide, and not continue to brush it under the rug. Recognizing this genocide will restore justice to and humanize an oft-wronged religious minority.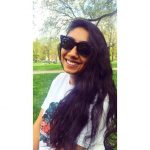 Ravleen Kaur is a student at The Ohio State University studying public affairs and public health. Her hobbies include drinking over-sweetened coffee and performing bhangra in public spaces. She is currently planning to run away from her home state in the Deep South and eventually work in the public health field.