3
min read
by Ravleen Kaur – Follow @rippinrav
The Miss USA pageant, formerly owned by our now President Donald Trump, was held on May 14, 2017, for the 66th year in a row. In a world that holds white European beauty standards high, it was surprising but empowering to see that four out of five of the last standing Miss USA contestants were women of color.
Keeping up with the pageant from my Twitter feed, I was incredibly excited that a black woman, Kara McCullough of Washington D.C., was crowned as Miss USA and that a 19-year-old of South Asian heritage, Chhavi Verg of New Jersey, had made it as runner-up. But when the tweets started flowing in, it turned out that the South Carolina State University-educated government scientist just isn't as woke as we hoped she would be.
Miss USA, we need to talk.
"I'm definitely going to say it's a privilege." Listen to your new #MissUSA talk about healthcare in the USA. pic.twitter.com/CzPBeaTYHO

— Miss USA (@MissUSA) May 15, 2017
Yes, you heard that right. Miss USA thinks that health care is "definitely a privilege" and that "for one to have health care, you need to have jobs." Per that statement, Miss USA is saying that only able-bodied workers deserve health care – not those who are underemployed, underinsured, disabled, or too sick or elderly to work and receive employer-based insurance.
Here's the thing, Miss USA: you're a government employee, and the government is required to give you health insurance. Not every employer provides its employees with health insurance benefits. Not every full-time employee makes enough to pay premiums for a decent insurance package each month. So no, jobs do not guarantee health coverage.
But the cringe-worthy answers don't stop there. Miss USA doesn't know the definition of feminism.
The new Miss USA thinks healthcare is a privilege. Oh, and she might not know what feminism is. pic.twitter.com/kSgILUdfo2

— AJ+ (@ajplus) May 16, 2017
She thinks that being a feminist is not caring about men and perpetuating a myth that women don't have the same opportunities in the workplace as men. For the record, you may be thinking of misandry.
Newsflash Miss USA: you work in a field where women are underrepresented. Women are frequently discouraged from going into science, technology, engineering, and mathematics (STEM) fields because it's been considered a man's work for so long. Often times, women are seen as a liability to companies and organizations because they may get married and move away or get pregnant, and god forbid, need maternity leave!
Instead, Miss USA wants to be known as an equal-ist. Little does she know that the true definition of feminism is "the theory of the political, economic and social equality of the sexes." The patriarchy disadvantages men and women, but in different ways. For example, the patriarchy robs men of the freedom to express themselves emotionally, to stay at home instead of breadwinning, and to seek help for mental illness without being branded a "weak man." Throw in the word intersectional and you have a theory that not only wants equality of the sexes in every aspect of life, but a theory that realizes multiple identities – sex, gender, race, socioeconomic background, and disability – are interconnected.
While I understand this is a beauty pageant and not the next senatorial election, I'm disappointed with Miss USA's reasoning against universal health care and misinformation about feminism. Perhaps, we just hold different political views and what is poor reasoning in my eyes is the truth in hers. Perhaps, she really is misinformed about feminism and will change her mind later.
Perhaps, I should just be happy that a woman of color made it as Miss USA and ignore that she's fueling the same systems of oppression that have brought down so many others not as lucky as her.
---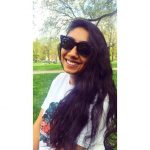 Ravleen Kaur is a student at The Ohio State University studying public affairs and public health. Her hobbies include drinking over-sweetened coffee and performing bhangra in public spaces. She is currently planning to run away from her home state in the Deep South and eventually work in the public health field.