< 1
min read
by Dhara Singh – Follow @BrownGirlMag
you built a fortress of trees
feet in waters, rooted so deep
hair held by the sun its arms that twirl
careless, here this is the grip of the world you sought
views of yesterday were shallow I said,
there were crevasses we missed
but in time passed
even the toughest veils had faded away
---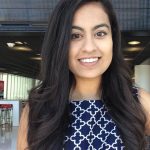 Dhara Singh is currently a private banking analyst at J.P. Morgan. While graduating in May 2016 with a Finance/Supply Chain degree Dhara also finished a minor in African, Middle-Eastern, South Asian Languages and Literatures. When she isn't spending time in the crazy world of business reporting and metrics, Dhara loves to write about everything from the most taboo topics in conservative societies to modern day issues about women empowerment. Ever since she was 7, Dhara has been keeping a journal of all her writing. Her other hobbies include re-reading/watching the Harry Potter movies, exploring the window shops of Brooklyn, and watching shows like Brown Nation, in which currently her favorite character is Balan.