4
min read
I am a healing arts therapist masquerading as a Punjabi hostess with the mostest.
"For art, you need a free soul, you cannot direct your hands. Let them be free and let them do whatever they want and then you will find a balance of what you feel and what you want to draw. I can express what I feel inside, maybe I cannot draw what I want very professionally, but I really take what I have inside of me and put it onto the paper so I show my feelings by drawing." – Mariam (18, Iran)
When they enter the room, the table is set with an inviting tablecloth, with all the seasonings of high-quality art materials, and three different sizes of shiny paintbrushes for them to grab atop a white napkin to hold any messiness that may spill out in this hour. Their hands then move to their place setting – an egg-white canvas they alone get to enjoy. They look around and inhale the aromas around them from the sisters' different creations and techniques. They dig right in. They take a final breath to look at the end result. We conclude with a deep exhale, a cup of tea, and they feast their eyes on the sweetness of being seen and heard in a world that says,
"You are a refugee, and therefore, do not matter."
I am a healing arts therapist masquerading as a Punjabi hostess with the mostest. I have nine years of experience working with vulnerable populations, specializing in PTSD. My journey abroad started in Greece, where I was trained to pull in refugee boats. It continued to the camps, the abandoned buildings and the grassroots organizations, providing my own materials and freely offering support. I have been traveling around Europe, the Balkans and now the Middle East for the past nine months with art supplies in my suitcase and six articles of clothing.
Every day at these agencies, I pull the ingredients together for another creative workshop with new and restocked materials for them to explore new flavors and techniques. The concept of art is scary. The language of "artist," "masterpiece," "profit" and "DaVinci" quickly come to mind. Either this visual or that of the broken materials found in a junk drawer comes to mind. Art is an experience. It is a journey, and through this work, it is honored more than the end result.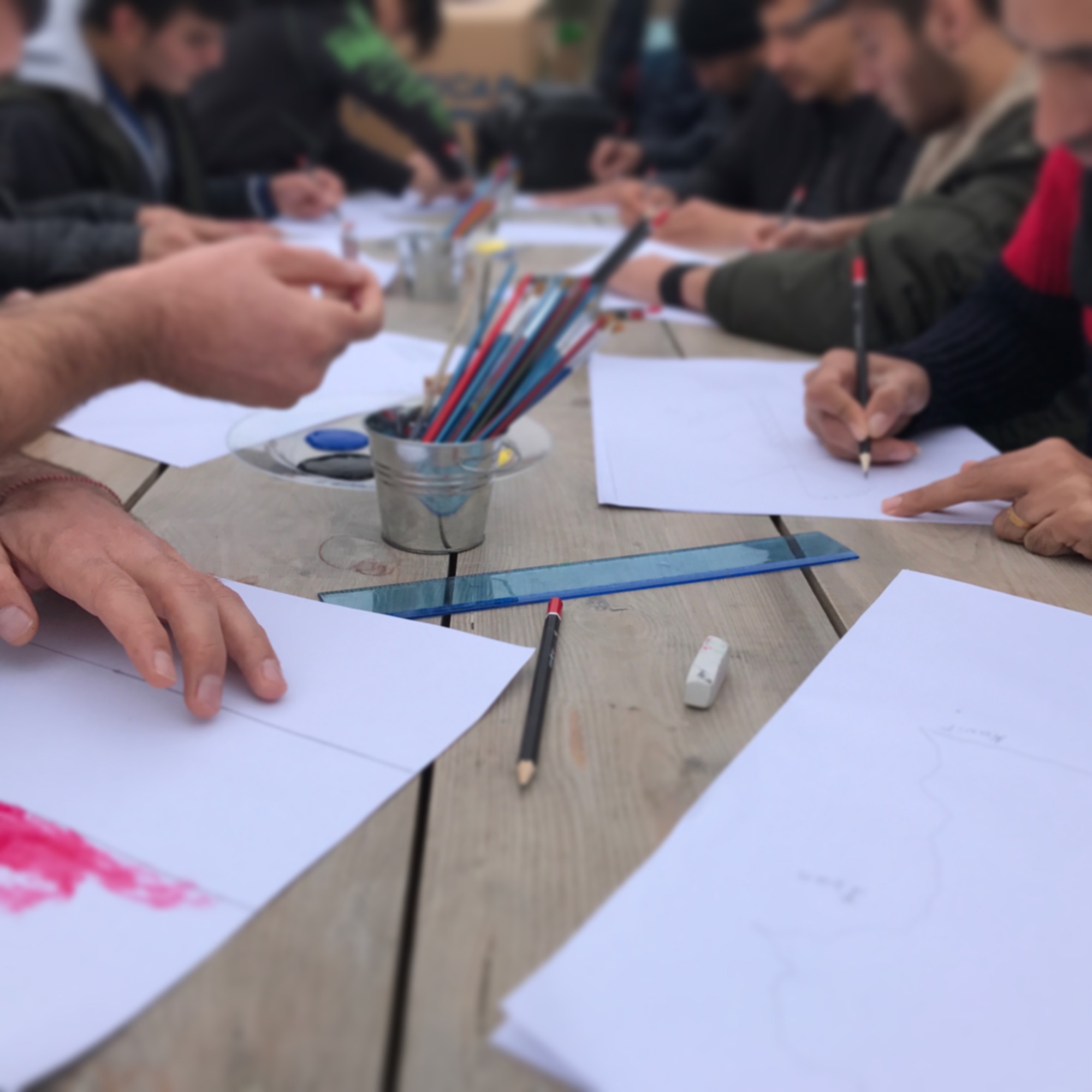 I am giving refugees their sense of dignity back by providing a safe space for choice – choice over materials, choice over directions, choice over vulnerability. When they begin the art, they can go in any direction they feel safe. They can use the materials provided or use anything else that inspires them. It's important to remind them of the freedom present in art so they can begin to think of art in more accessible and engaging ways.
When seated in a circle working on their creations, there is no hierarchy. I am creating the art with them. I am not their teacher. I am not an expert. I am a source of support sitting in community with them, getting up to provide more servings of different elements. When the creations are done, the sharing takes on an excited level. How often can we share our work with our peers in a safe space getting their undivided attention?
As my time at this shelter came to an end, I was wrapping things up with a very excited member of the art workshops. I asked her what role art plays in her life:
"I love it! If someone is scared of doing art, I will tell them. 'You should try it because I was like omg no no I don't like it, but just try only the first time and I am sure you will love it every time. When you draw you will not think about your life and your problems. You will just concentrate how to paint, on your lines, and on what you are trying to draw. It is space for yourself, like a place for yourself alone that you don't need to be with your problems." – Jenan (Syria, 17)
We discuss very open-ended topics, with a focus on five things: building community, normalizing feelings, modeling safety, supporting vulnerability and bringing out their own strengths. This happens organically through the art and the debrief with a trauma-informed lens seeing each person as resilient warriors. The themes came up so naturally with such excitement for each sister to share how it was to create her piece and what it means for her.
In a Hopes and Dreams watercolor workshop, one sister described her painting:
"I want to be an English teacher. When I came here, I knew English. When I was on the island, I saw a lot of volunteers and the people that don't know English. I was helping them with the doctors to translate for them. I know Arabic and English, and learning Greek and French. I will travel to other countries when I get older and help more people with translation." Salma (Palestine, 15)
Prayer and meditation are emphasized within our community. However, meditation shows up in many different ways for different people. These are extended members of our Ummah across the ocean with hopes and dreams just like us.
One blank canvas, a clean set of paints and dignity can transform trauma.
---
The opinions expressed by the guest writer/blogger and those providing comments are theirs alone and do not necessarily reflect the opinions of Brown Girl Magazine, Inc., or any employee thereof. Brown Girl Magazine is not responsible for the accuracy of any of the information supplied by the guest writer/bloggers. This work is the opinion of the blogger. It is not the intention of Brown Girl Magazine to malign any religion, ethnic group, club, organization, company, or individual. If you'd like to submit a guest post, please follow the guidelines we've set forth here.