6
min read
Shortly after moving to NYC about three years ago, I spent a day exploring Flushing, Queens to see my parents' first neighborhood when they moved to the US in 1983. After passing East Asian chain restaurants and supermarkets, I made it to the Ganesh Temple Canteen on Bowne Street, the last vestiges of a more sizable South Asian population of yesteryear. It was here where I saw a flyer for Bharatanatyam classes and the wheels began turning. For years I've had a tumultuous relationship with dance. I began training at six years old, stopped at 12, picked it back up around 16-17, then stopped again by the time I left for college. After seeing the flyer I decided to look into Bharatanatyam classes again.
Bharatanatyam is one of seven traditional dances of India and has a deeply rich and complex history dating back thousands of years. From its origins in Hindu temples in Tamil Nadu to the banning of it during British colonial rule, it has since been elevated to a respected form of art. Every element has meaning, from mudras to drishti bhedas, ragas to talams. Styles like Vazhuvoor, Thanjavur, and Kalakshetra signify the caliber of traditions passed through generations of gurus.
It is common for girls in the diaspora to begin learning young like I did and work towards a performance called an arangetram. Arangetram is a Tamil word which translates to "to ascend the stage" and it is a rigorous 2 to 3-hour debut solo performance showcasing a dancer's full Bharatanatyam repertoire after years of learning. Arangetrams are something I've always felt wary about since they've become a way for families to boast their wealth by spending extravagantly on costumes, a venue, and sometimes a live orchestra. They're also often used as a gauge of how good a dancer is. For many, it ends up becoming something just to check off a list and several stop dancing afterward. It never made sense to me why people stopped after years of training for such a physically and emotionally demanding experience. Having an arangetram had still always been somewhat of a dream of mine, lying dormant in the years I didn't dance.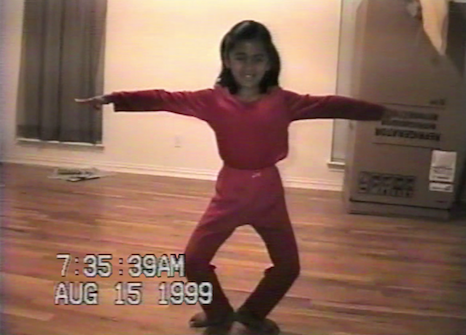 Three years ago when I started to dance again, I never could have envisioned how it would significantly alter the course of my life. I'm now back home in Dallas, six months away from the arangetram I dreamt of having. Literal and metaphorical growth are metabolizing in my system.
Maybe I'm too young to talk about regret, but sometimes the narrative I've constructed for myself around this word feels like it is living and breathing in the same ways I am. I often find myself saying this is something I "should have done when I was a teenager." Even as I say the words I'm aware of how reductive it is of what an arangetram means in the life of a Bharatanatyam dancer. It's become a way for me to kind of insinuate that "what I'm doing is unusual; I'm probably crazy to quit my job for this." I used to think that what I felt was regret in quitting prematurely because that meant my trajectory could have been the standard one. Arangetram at 16, college at 18, graduate and get a job by 22, and so forth. Dance would likely always have been a part of the picture. I wouldn't have built up career momentum in my mid-twenties to give it up and move back with my mom in Dallas, a decidedly unremarkable place to live after living in NYC. I don't think regret is the right word anymore but I'm still navigating how I feel about it happening this way.
When I first quit, it was because I didn't appreciate how fortunate I was to participate in such an important and beautiful part of Indian culture. I resented having to hold aramandi and emote as figures in religious narratives at a point when I started questioning my faith. Every smile and abhinaya on my face felt phony. I also grew up not having very many Indian friends, which made it difficult to be excited about going to practices. My older brother got me into movies and comedy at a young age, which led to both of our "unconventional" career paths for desis and certainly informed my personality in specific ways. I had a handful of random interests (for instance, both metal and punk, diametrically opposing subcultures) and inadvertently found myself fulfilling the trope of a teenager finding ways to be subversive. I was weird, but I'm still very close to almost everyone I grew up with. I think these things, coupled with the fact that my parents saw through much of the nonsense that other suburban Indian parents cared about, made it difficult to keep going. I felt like an outsider in the community and left.
It's funny—so many parents put their children in activities like tennis or basketball and that's how most athletes and artists turn professional as adults. But how often is it that people tend to seriously stick with these activities into adulthood? There's almost nothing I do or am interested in now that I was doing in first grade. At age six, I wouldn't have guessed that I'd somehow find my way back to doing adavus and learning a full margam at age 26.
I've never been particularly exceptional at anything. I played sax and marched in drumline but was never excellent enough for All-Region, made good grades (but not outstanding by Indian Parent Standards), and barely scratched the surface of figure skating. But with dance, I constantly received praise for being one of the top in my age group and how I was gifted, taking after my dad who was a dancer in the '70s (all while juggling his career and getting his Ph.D.), which is still a rarity for men. I had a very tenuous relationship with my father that I never had the chance to reconcile before he died on my 20th birthday. I never saw him dance. And when I quit he never said anything about it or encouraged me to continue.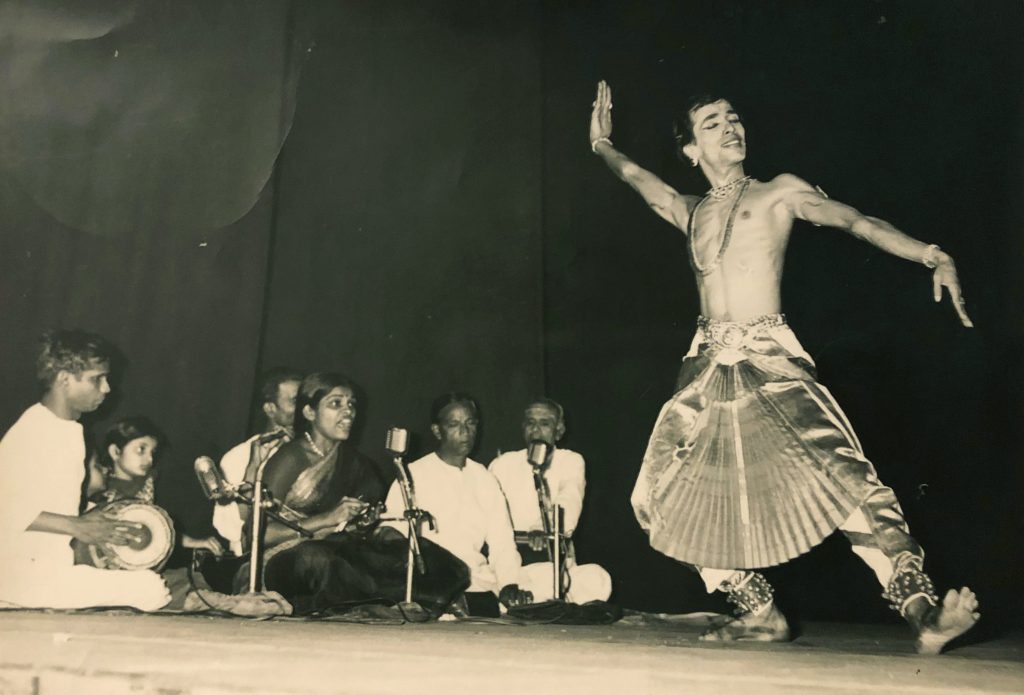 It's known in the ballet world that trying to make it to the top can be incredibly cutthroat and the demands on a dancer are often unhealthy and dangerous. Several dancers leave or are forced out for these reasons. Bharatanatyam does not have any sort of reputation that comes close to this, not in the slightest. But I've noticed almost everything I've read, whether it's Facebook captions of people I know or think pieces of people I don't, seems to espouse unparalleled positivity. Variations of "today is my aranga-versary, the best day of my life!" or "I feel closer to God through dance" are sentiments I frequently see and I have yet to find someone whose story resonates. My identity as an Indian-American through Bharatanatyam was difficult growing up and coming back to it has been challenging at times. But I can finally say that I love it.
I currently practice five days a week and I occasionally dance with groups ranging from five (the most intense workouts are adavus with little kids) to 17 years old. I'm often the oldest but manage to blend in, barely passing for a teenager. Maybe it's precisely because of this that when we're in class, it feels like we are peers and I'm not 10+ years older, that I sometimes find myself intimidated by how talented and fortunate these kids are. Fortunate that many are genuinely so excited to see their friends and practice new choreography together. Many seem to have no inhibitions in visible displays of their brownness, things like long hair pulled back into braids slicked with coconut oil or wearing pottu on their foreheads. Several see the value of Hindu religious stories and can understand the emotions needed to display Krishna's playfulness or Shiva's grandeur, things I wasn't able to do at their age. Still, I can sense reticence in a few others. Not everyone will get to have their arangetrams or will even want to. And many who stop will likely never look back.
My guru has conducted over 100 Bharatanatyam arangetrams and has taught hundreds of students in her career. But I'm the first one to return the way I did. August still feels like a lifetime away and I have so much growing to do, especially in lowering my guard onstage. Being a true artist is not just about mastering technical skills and practicing choreography. It's about losing yourself in what you love and being genuine about it. I really hope more people who want to pick up something, old or new but fear it's too late or that they won't be good enough can find the strength to do it anyway and be disciplined enough to keep going. Especially if that is something that taps into a vulnerable spot from the past. I can't express in words how empowering it will feel.
---
The opinions expressed by the guest writer/blogger and those providing comments are theirs alone and do not necessarily reflect the opinions of Brown Girl Magazine, Inc., or any employee thereof. Brown Girl Magazine is not responsible for the accuracy of any of the information supplied by the guest writer/bloggers. This work is the opinion of the blogger. It is not the intention of Brown Girl Magazine to malign any religion, ethnic group, club, organization, company, or individual. If you'd like to submit a guest post, please follow the guidelines we've set forth here.