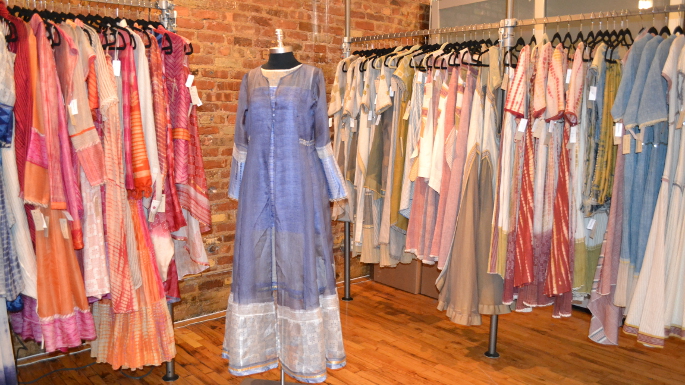 by Shima Begum
In collaboration with Shima Begum
This post was originally published on our partner website India.com:
India-based fashion designer Urvashi Kaur's collections can be seen as pieces of clothing that represent a country's culture, history and landscape. One that draws from the aesthetics of the countries she has visited across the globe.
From Egypt, Turkey, China, Algeria, and of course, India, Kaur takes inspiration from her destinations to later create the art of design.
"My travel destinations, wherever I travel really lead me to explore different cultures, different countries and different people and that has been a basis of my lines," Kaur said. "In fact, more often than not, almost every collection is based on one of the destinations I've traveled to."
Kaur's label is one that is global, dynamic, transitional and contemporary. It attempts to weave different cultures into a modern silhouette for the everyday new-age woman, who can later wear her pieces from day to night, accompanied by Kaur's full-line of accessories.
After a successful launch at the Wills India Fashion Week in New Delhi, India, Kaur showcased her Autumn/Winter collection, titled Shunya, in New York City, in November.
The trunk show, held at the Exclusively.In showroom, captured engineered placements of silhouettes that ranged in the colors fuchsia, orange, and aurora red, blended with natural whites. Kaur made the conscious choice to incorporate Shibori, tie & dye technique that evoked Bandhej tradition and block prints that came to life with mosaic styled geometric patterns.
For Shunya, Kaur said she used Hamza, Hand of Fatima, as a motif of her collection.
"I had travelled to Istanbul, Turkey, and I was really inspired by the blue mosaic in the blue mosque and just in general, the swirling dervishes, and the whole ethereal quality of being there," she said.
The timeless pieces were culturally connected with Angrakha inspired tunics, cowelled shalwars, pleated and flared pants. As for tops, Kaur paired the bottoms with reversible sheer jackets and crop tops.
The use of Maheshwaris, Chanderi, Tassar, Tissue, Matka, Kota and Khadi cotton makes her collection wearable and accessible for everyday use, from one season to the next. Above it all, her fabrics are all organic and hand-loomed.
"I am the stylist's dream designer because literally you could pull out one piece, pick out another, and pair the two together," Kaur said about the versatility of her collection.
Not to mention, Shunya features her newest line of accessories, ones to add to the must-buy list, because they range from totes, clutches, wristlets to jewelry, scarves and shoes.
"I am a complete accessories person," Kaur said. "I believe the silhouette should be versatile enough that you can wear it during the day or the evening, and I believe you should be able to layer and style it with accessories."
In addition to Shunya, her style includes versatility as a major theme in all her hand-work, Kaur said.
She goes on to explain that her designs are not just versatile in terms of styling but are also transeasonal, fit to wear regardless of the weather or climate.
"I am able to reach out, the same clothing, to somebody who comes from India who wants to wear it in a more Indian way, she can just wear the same dress with a churidhar or a pair of pallazo and have a stole or scarf…and that makes it a completely Indian outfit," Kaur said.
To give an example of her clothing's versatility, Kaur pointed to a blue dress that was attached to a cape-like jacket, made of sheer material, inspired by the traditional anarkali, but on the inside was a sheath, form-fitting dress. If you just remove the jacket, you can wear it completely as a Western outfit, which also comes with the Shibori technique."
She goes on to say that an Indian person can wear it with a churidar and a dupatta.
More than anything, Kaur said her designs can be worn in many ways, depending on the person's individual taste and liking.
"I think no two people wearing the same outfit will look the same," she said. "Their personalities will come out with the way they style it. If you are a classic person, you can wear the classic pair of pants and with an interesting gold, crushed top. It's just something you can easily wear to a cocktail, a dinner, to anything."
Kaur's designs have a global appeal, she said.
"I have a lot of foreigners, Europeans, or Americans who end up buying my clothes because they feel the colors are more muted, a little more subtle," she said. "It's something they are more used to, and some of the silhouettes match perfectly with something they have in their wardrobe so they just end up liking it."
Even though it looks like Kaur's designs were made for the global appeal, with mainstay pieces like dhotti pants, stoles that can be easily draped or sari blouses, her innate inspirations are Indian.
"The idea was that I was always inspired by India. From the dhotti salwars and taking it to a more modern feel and vibe and using fabrics that work with different weathers and different climates…jerseys and cottons and wools and…something that drapes well and looks good…and most important, like I said, something that people can mix and match and wear with other things."
When styling models for shoots and shows, Kaur said she is hands on in her approach.
"I want people to know that although they [the collections] have this very Indian vibe, they can be worn in the real world and they can be worn a certain way," she said. "So we do give a lot of time and thought in how every garment is styled and how it's put out there, because the visual is an important aspect of what the customer understands and later buys."
As a South Asian woman, Kaur said she believes her success comes from pursuing her passions and urges Brown Girls to do the same. With more collections to come, Kaur promises to give us the modern, cultural twist to Indian fashion and the versatility of the independent, empowered woman.
To purchase pieces from Kaur's collection, visit the Excusively.in showroom.
For regular fashion updates, follow her on Twitter, Facebook and Instagram.
[divider]
Born in Bangladesh, raised as a true blue New Yorker, Shima Begum aspires to work in the health field. During her free time, she loves reading avidly and finding inspiration that she can share with those who need it through her writing.