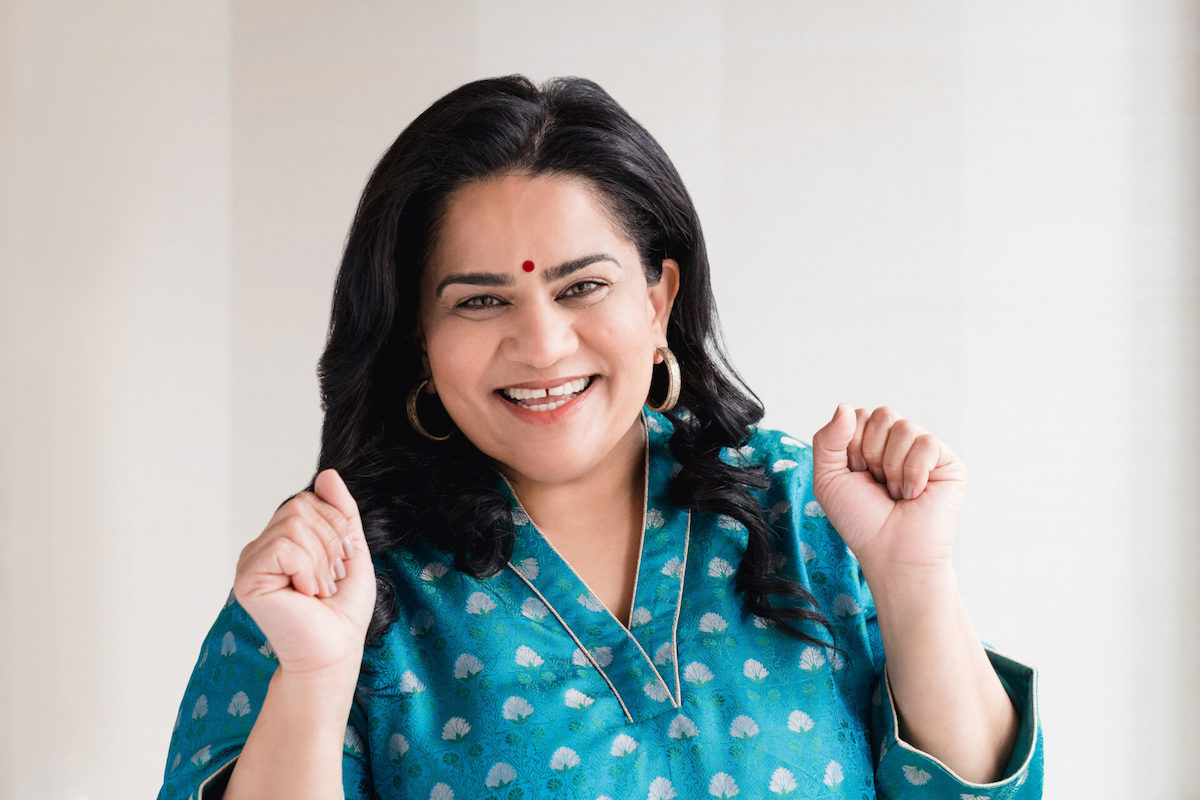 Search "why don't Indians smile in photos?" on Google and you'll find an astounding 6,760,000 results trying to get to the bottom of this age-old question. 
Despite having rich, celebratory cultures, it's no secret that South Asians and the diaspora alike are known for being reserved with their emotions. Expressing ourselves — crying, smiling, laughing, even speaking — out of place is often looked down upon. And Indian-born comedian Zarna Garg has had enough of it.
"Culturally, we've been told 'keep your gaze low. Don't look people in the eye, all in the name of respect,'" Garg pointed out, with her signature fervor, as we chatted.

"And laughing? Forget that. Don't smile, nothing. Don't show any indication of joy. And it's absolutely outrageous!"
A former lawyer, and mother of three living in New York, Garg has been taking the American comedy scene by storm with her unique voice and brand of humor. She believes that brown people, and especially brown women, "have a right to laugh," and she's on a mission to make sure they do. 
Though it's only been four years since Garg took the stage, she's already entertained millions of people across the country, and beyond, through social media, sold out shows, and her critically-acclaimed Amazon special, "One in a Billion." 
She's also appeared on CBS Mornings, The Today Show, and has been featured in Harper's Bazaar and Variety, firmly establishing herself as America's pint-sized Indian auntie, and she's not slowing down.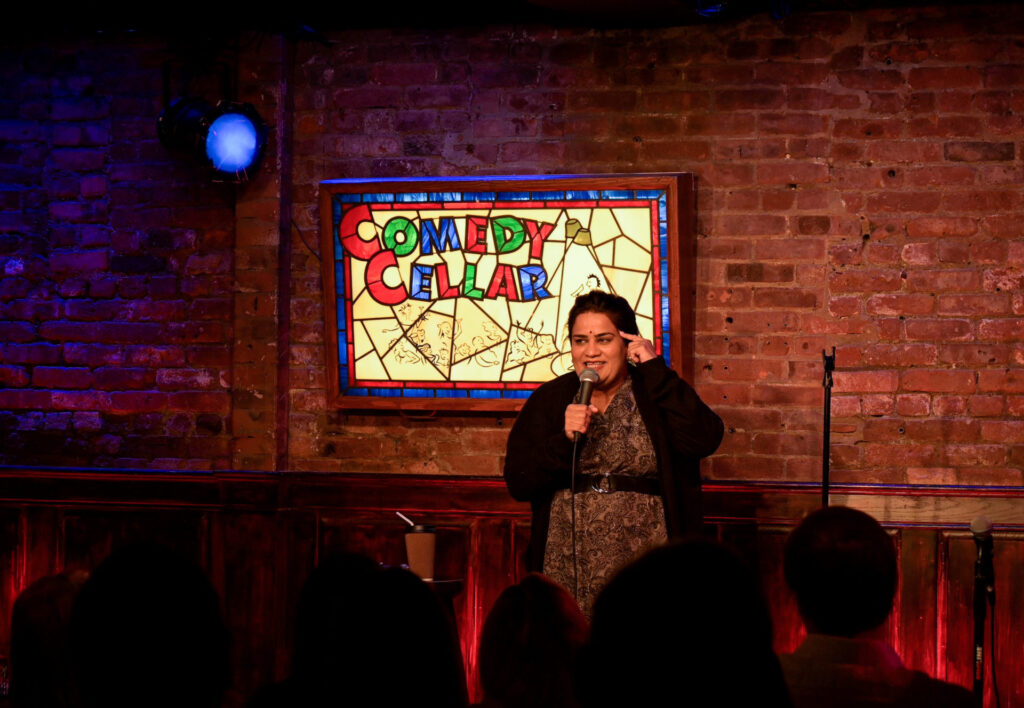 But what the comedian really wants is to get people talking, and not just about herself. On her new podcast, aptly named "The Zarna Garg Show," Garg sits down with her family twice a month to get comfortable with the uncomfortable — discussing, and even laughing, at topics that brown families tend to avoid such as sexuality and parenting styles. 
We at Brown Girl Magazine sat down with Garg to dive deeper into this project, her journey, as well as the impact she hopes to make with it all. 
Space for a "happy brown woman"
After being a lawyer and then a stay-at-home mom for 16 years, Garg found herself in search of new opportunities. She said she made several failed attempts as an entrepreneur and felt stuck. 
"I thought that my time was best spent doing something that no one else was doing; something where I could have a real, unique touch," she shared.
However, despite always being a strong writer — she wrote an award-winning screenplay — a creative career never seemed like a viable option. 
"First of all, when you're a mom, whatever your kid tells you is wrong," she joked, recalling how her daughter was the first to encourage her to try stand-up comedy. 
She scoffed at the suggestion, not understanding how telling jokes could be a real career that made money. It wasn't until she actually set foot in a comedy club that she began to see the possibilities. 
"That first day changed my life," Garg continued. "I was like, what? This is an art form? I realized there was a space for a 'happy brown woman' telling stories. Not heavy-sad stories, but just goofy stories, stupid stories, sexy stories, regular women's stories about our lives — not the stuff Hollywood loves to make about our people." 
Garg also realized there wasn't really anyone else like her in the space. No one was talking about, not just Indian culture, but being a mom, wife and immigrant in a lighthearted way that people could relate with. 
"When I started looking around, I was like, 'No one's doing this. Why isn't anybody doing this?' That set me on a journey of thinking even deeper and harder about our culture; the things we are okay talking about and those we shy away from."
"Namaste, haters"
The taboos Garg uncovered became the foundation of her material. She jokes about marriage, motherhood, in-laws and Indian stereotypes — but not to everyone's delight.
The comedian frequently shares some of the critical direct messages she receives on Instagram. 
View this post on Instagram
And she welcomes these individuals with a smile, saying "Namaste haters."
"I invite my haters to my comment section to get involved and hear the other side. Listen, you might change your mind. You might just see why everybody is getting on board the Auntie Z train."
Garg also reflected on the supportive, yet enraging, messages she's received from South Asian women abroad who watch her videos in secret. 
She explained, "There are people who find my videos funny but don't openly acknowledge it. They're so scared that if their husband finds out that they like a mother-in-law joke or something like that, they'll get in trouble, and it's completely preposterous."
Garg wants to use her platform to raise awareness and start conversations about these issues. She discussed how brown women are often taught to be obedient and respectful to the point where they tolerate abuse, and how the policing of her comedy is merely a small example of these bigger problems. 
"Mother-in-law humor, family humor is older than the hills," she continued. "But, as brown women, we are expected to be the culture police. It's like if your mother-in-law is pouring gasoline over you and lighting you on fire, you're supposed to say 'thank you, thank you mummy ji.' What are you, nuts? When I point these things out, I get trolled, but then, every few months, something really bad happens in India or elsewhere."
Garg considers herself extremely lucky to live in a place where she has the freedom to do and speak as she wants.
"I'm not speaking about you or me. I'm not worried about me. I'm speaking out about all of us — my sisters, my in-laws, the extended family of brown women that we are part of." 
And her voice doesn't stop at just women's issues. Garg's podcast is her latest effort to push the envelope and spark important conversations brown families should be having. 
"I asked myself 'If I'm in a position to open conversations that otherwise have been taboo, how best can I use that power and broadly reach people?' That's what inspired the podcast. I feel like the time has definitely come when [brown people] have to join the rest of the world and have these conversations. Our kids are out there living life. It's not okay for them to be completely unaware and drifting into social situations with no idea what they're talking about. I wanted to come to our community and to our world with the authentic truth." 
In the premiere episode, you get just that. 
Garg's children open up about sex, its role in their individual social circles and age groups, and how they felt their parents handled the topic at home. The discussion is full of bold moments, but also plenty of laughs as is Garg's modus operandi.
On Labor Day weekend, she even hosted live recordings of the podcast in New York City where fans could attend with their loved ones, have a Q&A with the Gargs, and play some games. The event will return in November during the New York Comedy Festival.  
The comedian hopes that her playful approach shows people that having a conversation doesn't have to be scary or intimidating.
"People often misunderstand my videos and stuff. It could look like I'm seriously reprimanding my daughter. I get it! But even that right there generates a first conversation. Even when you fully understand what I'm doing, it's enough to open the door."
View this post on Instagram
People reach out to Garg regularly telling her how one of her videos or tweets encouraged them to call their children or parents to have a conversation and she couldn't be happier. 
More than meets the eye
"I'm as Indian as they come."
Garg joked describing herself, and she is, but there's also much more to her than meets the eye. While, on the surface, her proudly-worn bindi and modest style may have some thinking she's just another "Indian auntie," it couldn't be farther from the truth.
Garg left India at the age of 16 to escape an arranged marriage. She met her husband, Shalabh, in 1997 through Internet dating. She left behind a law career to take a chance on a creative endeavor that was completely unknown to her and she wants to see more people do the same.
"Comedy is a young person's game and I really wish I started at least 10 years before I did. Now, I tell my own kids, and I'm saying this to all [readers]: 'there has never been a better time to take a chance at something new. Do it as a side hustle. Do it as a hobby. Do it as a weekend thing. Whatever it is, just get going. You owe it to yourself to take that shot and see if it's gonna work. Don't be worried about failure, be worried about not trying."
Garg is challenging every brown norm and stereotype, and that includes helping Indians smile. 
"We're very stressed out people. We love stress. I feel honored and blessed to be a catalyst in our community who is bringing joy and openness of culture. I'm not a movie star or anything, but there are times when people see me from a distance and I see a smile on their face. People associate me with humor and joy and I'm so grateful for that."
You can learn more about Zarna Garg's upcoming shows and projects on her website, or follow her on Instagram and TikTok to get involved in the conversation. "The Zarna Garg Show" podcast releases new episodes on the 1st and 15th of every month and is available on YouTube, Spotify, and all other major streaming platforms.