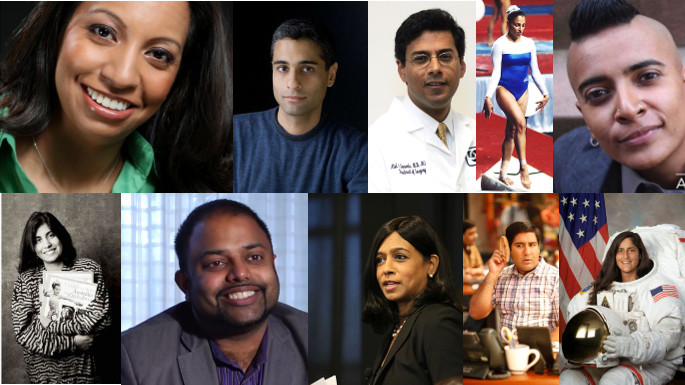 by Nur Kara – Follow @Nurkara28
This post was originally published on our partner website India.com.
We all know that our South Asian motherland produces great minds, yet our American-born South Asians are not at all behind.
Here are 10 noteworthy South Asian Americans, who may not be commonly known, but should be looked up to for their inspiring, innovative and entrepreneurial efforts.
1) Maya Ajmera
Maya Ajmera is the president and CEO of Society for Science and the Public (SSP), and publisher of its award-winning magazine Science News and affiliated media properties, as well as, the founder of the Global Fund for Children (GFC)—a non-profit organization that invests in innovative, community-based organizations working with some of the world's most vulnerable children and youth.
To date, GFC has awarded more than $35 million to more than 600 grassroots organizations in 80 countries, touching the lives of nearly 10 million children.
In addition, Ajmera has served as the inaugural social entrepreneur in residence and visiting professor for the Practice of Public Policy at Duke University, and as the visiting scholar and professorial lecturer at the Paul H. Nitze School of Advanced International Studies at Johns Hopkins.
Among her achievements, Ajmera is also an award-winning children's book author of nearly 20 titles, including "Children from Australia to Zimbabwe," "Faith" and "To Be a Kid."
2) Prashant Bhargava
Born and raised in Southside Chicago, Prashant Bhargava is one of the first South Asians worldwide to emerge from the hip-hop movement as a graffiti artist, and go on to become an award-winning filmmaker and commercial director and designer.
Bhargava studied computer science at Cornell University and theatrical directing at the Barrow Group, and at the Actors Studio MFA program.
He has lectured at New York University, Cornell University, Amherst College, UNC Chapel Hill, Stonybrook University, Indiana University, University of Chicago and Monterrey Center for Higher Learning of Design.
Known for his layered visuals, Bhargava spearheaded over 100 campaigns for HBO, including "The Wire," "Def Poetry Jam," "Rome" and "OZ," and films such as "Born into Brothels," John Frankenhiemer's "Path to War," Mira Nair's "Hysterical Blindness," Raoul Peck's "Lumumba" and Denzel Washington's "Antwone Fisher."
Bhargava has designed effect sequences for Alex Rivera's feature "Sleep Dealer" (Berlin, Sundance) and directed music videos and promos for bands such as Cornershop, Talib Kweli and Missy Elliot.
"Patang" (The Kite) was his feature-length directorial debut and premiered at the Berlin Film Festival and in the main competition at the Tribeca Film Festival. It is the winner of many awards including the Best World Narrative at the Indy Film Festival and Best Director and Best Film at the South Asian International Film Festival's Rising Star Film Awards.
His other projects include short films like, "Sangam," "Ammaji," "Backwaters," "Kashmir," and now "Radhe Radhe: Rites of Holi."
Update: As of Saturday, May 16, 2015 Bhargava passed away after a heart attack in New York City. We are heartbroken to hear the news and send our condolences to his family and friends.
3) Siddharth Kara
Siddharth Kara is a global expert on human trafficking and contemporary slavery.
He is the director of the program on Human Trafficking and Modern Slavery at the Harvard Kennedy School of Government, serving also as an adjunct lecturer, and is a visiting scientist on forced labor at the Harvard School of Public Health.
Kara is the author of "Sex Trafficking: Inside the Business of Modern Slavery," co-winner of the prestigious 2010 Frederick Douglass Award at Yale University for the best non-fiction book on slavery. The book is also currently under development as a feature film.
His second book, "Bonded Labor: Tackling the System of Slavery in South Asia," provides the first comprehensive overview of the system of debt bondage endemic to South Asia.
Since first encountering human trafficking in a Bosnian refugee camp in the 1990s, Kara has traveled to more than 30 countries across six continents to research modern slavery, personally documenting the cases of more than 1,300 former and current slaves of all kinds.
He currently advises the United Nations, the U.S. government, and several other governments on anti-trafficking policy and law.
4) Maya Harris
Maya Harris was appointed as vice president for Democracy, Rights and Justice at the Ford Foundation in 2008. One of the issues she addresses through this position is the problem of child brides.
Prior to joining the Ford Foundation, she served as the executive director of the American Civil Liberties Union (ACLU) of Northern California. In her role as the head of the largest affiliate office of the ACLU, Harris directed and coordinated litigation, media relations, lobbying, and grassroots organizing work.
Born in Champaign-Urbana, Illinois, Harris grew up in the San Francisco Bay Area. She received her Bachelor of Arts from the University of California, Berkeley and her J.D. from Stanford Law School.
While at Stanford, she was active with the East Palo Alto Community Law Project, serving as co-coordinator of the Domestic Violence Clinic and co-chair of the Student Steering Committee. Harris is married to Tony West, the acting Associate Attorney General of the United States.
5) Atul Gawande
Atul Gawande is a surgeon, writer and public health researcher. He practices general and endocrine surgery at Brigham and Women's Hospital in Boston, and is a professor in both the Department of Health Policy and Management at the Harvard School of Public Health and the Department of Surgery at Harvard Medical School.
He is also the executive director of Ariadne Labs, a joint center for health systems innovation, and the chairman of Lifebox, a nonprofit organization making surgery safer globally.
Gawande has been a staff writer for The New Yorker and has written three New York Times bestsellers: "Complications," a finalist for the National Book Award in 2002; "Better," one of the 10 best books of 2007 by Amazon.com and "The Checklist Manifesto."
He has won two National Magazine Awards, AcademyHealth's Impact Award for highest research impact on healthcare, a MacArthur Fellowship, and the Lewis Thomas Award for writing about science. His latest book is "Being Mortal: Medicine and What Matters in the End."
6) Parvesh Cheena
You may recognize this guy as Gupta from NBC's sitcom "Outsourced," but probably know little about him.
Parvesh Cheena is a native of Naperville, Illinois, and a musical theater graduate from the Chicago College of Performing Arts at Roosevelt University. Currently, he co-stars as Dinesh, a programmer at Wallflower on the new NBC comedy "A to Z."
Cheena made his film debut in "Barbershop" and the sequel "Barbershop 2: Back in Business." He also appeared opposite Diane Keaton in "Because I Said So" and is in the latest season of "Arrested Development" on Netflix.
Cheena resides in Los Angeles, where he regularly performs long-form improvisation with the South Asian team, Browntown and serves on the board of the Los Angeles Indian Film Festival.
Paving the way, Cheena may be the first openly gay Indian actor on network television.
7) Sunita Williams
Sunita Williams is a former American astronaut and a United States Navy officer.
She holds the records for longest single space flight by a woman (195 days), highest total spacewalks by a woman (7), and most spacewalk time for a woman (50 hours, 40 minutes). Williams was assigned to the International Space Station as a member of Expedition 14 and 15. In 2012, she served as a flight engineer on Expedition 32 and commander of Expedition 33.
Overall, Williams has logged more than 3,000 flight hours in more than 30 aircraft types.
In September 2007, Williams visited India. She went to the Sabarmati Ashram, founded by Mahatma Gandhi in 1915, and her ancestral village Jhulasan in Gujarat. There, she was awarded the Sardar Vallabhbhai Patel Vishwa Pratibha Award by the World Gujarati Society, becoming the first person of Indian descent, who is not an Indian citizen, to be presented the award.
8) Mohini Bhardwaj
Mohini Bhardwaj is now a retired American gymnast who competed at the 1997 and 2001 World Championships and earned a silver medal at the 2004 Summer Olympics in Athens, Greece.
She is the first Indian-American gymnast, and the second Indian-American athlete overall, to ever earn a medal at the Olympics.
Bhardwaj's mother, Indu, is a Russian from New York who converted to Hinduism and also teaches yoga. Her father is an Indian and is a physician in Cincinnati.
Bhardwaj was raised Hindu and is a vegetarian. Her given name, Mohini, means "the one who mesmerizes" in Hindi. During her gymnastics career and among televised competitions, this fact became a running witticism among commentators and gymnastic fans.
9) D'Lo
D'Lo is an American-Tamil-Sri Lankan transgender, who is a self-made artist. Born and raised in Lancaster, Calif., he received a B.A. in ethnomusicology from UCLA and also graduated from SAE Institute's New York School of Audio Engineering.
D'Lo is a comedian, performer, writer, music producer, spoken word artist and political activist.
He has collaborated with various community organizations such as: Arpana Dance Company based in Southern California, South Asian Artist Collective (SAART), SATAM, Satrang and TeAda Productions. He is a current advisory committee member for Satrang, a South Asian LGBTQIA organization located in Southern California.
Additionally, D'Lo has performed at and facilitated writing workshops extensively across the United States, Canada, United Kingdom, Germany, Sri Lanka and India, having created Coming Out, Coming Home—a writing workshop series that has taken place with South Asian and immigrant queer organizations across the United States.
D'Lo's work has been published in various anthologies and academic journals, such as "Desi Rap: Hip Hop and South Asia America."
10) Maria Ebrahimji
Maria M. Ebrahimji spent 15-years at CNN Worldwide, most recently serving as the executive editorial producer, where she led a team in guest coverage and story planning for special events and breaking news programming.
Ebrahimji also served as vice chair on CNN's Diversity Council for several years, working to shape diversity strategy in the areas of marketplace, content, workplace and workforce.
In 2011, she co-edited and published "I Speak for Myself: American Women on Being Muslim"—a collection of essays written by 40 American-born Muslim women under 40.
Since then, she has co-founded I Speak for Myself, Inc.—a book and multimedia enterprise that focuses on publishing self-narrative collections on interfaith and intercultural issues.
She is also an advisor to the International Museum of Women's online exhibition, "Muslima: Muslim Women's Art and Voices," and is an advisor and panelist for the Aspen Institute's Inclusive America project.
Additionally, Ebrahimji recently began a two-year research project with the University of California's Humanities Research Institute entitled "Sharia'h Revoiced."
She was born in Westminster, Maryland as the eldest daughter of Indian-East African immigrants. 
---
Nur Kara is a medley of Indian ancestry and East African heritage, though also carry the labels of "female," "Ismaili Muslim," and "first-generation American." Being part of refugee history and having lived through these various lenses inspires her to similarly share in others' stories. A self-coined "skeptiste," she questions the uncommonly questioned.