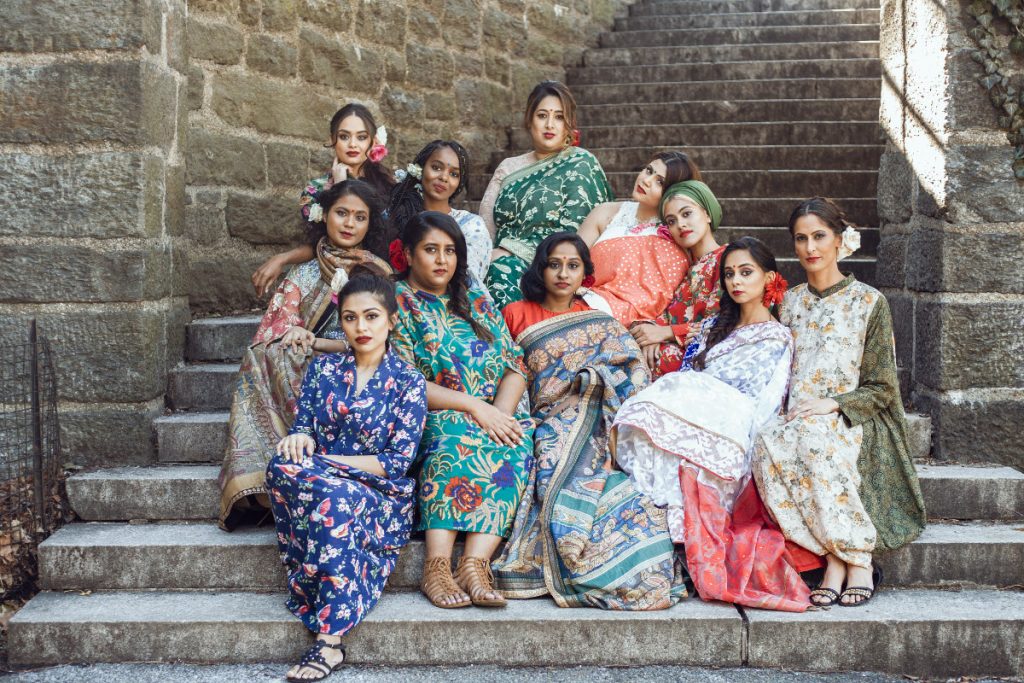 Splashed all over the pages of every magazine and media outlet, and every brand's social media is a very clear picture of socially accepted definitions of beauty. It is no secret that there are very real aspects that are severely limiting our perceptions of what constitutes being beautiful. Some of the biggest barriers are reinforced by society at large and these barriers bleed into almost every industry, particularly in fashion and beauty. These hurdles include size, color, hair, height, face structure, shape, posture, and the list goes on. In a world that is so obsessed with aesthetics, and the "perfect face," "perfect body," etc. there is a dearth of diversity and representation. To the extent that even public figures, professional models, and actors, are often published after intense Photoshop edits. There is much more to beauty than fair skin, a size zero frame, and an angled jawline.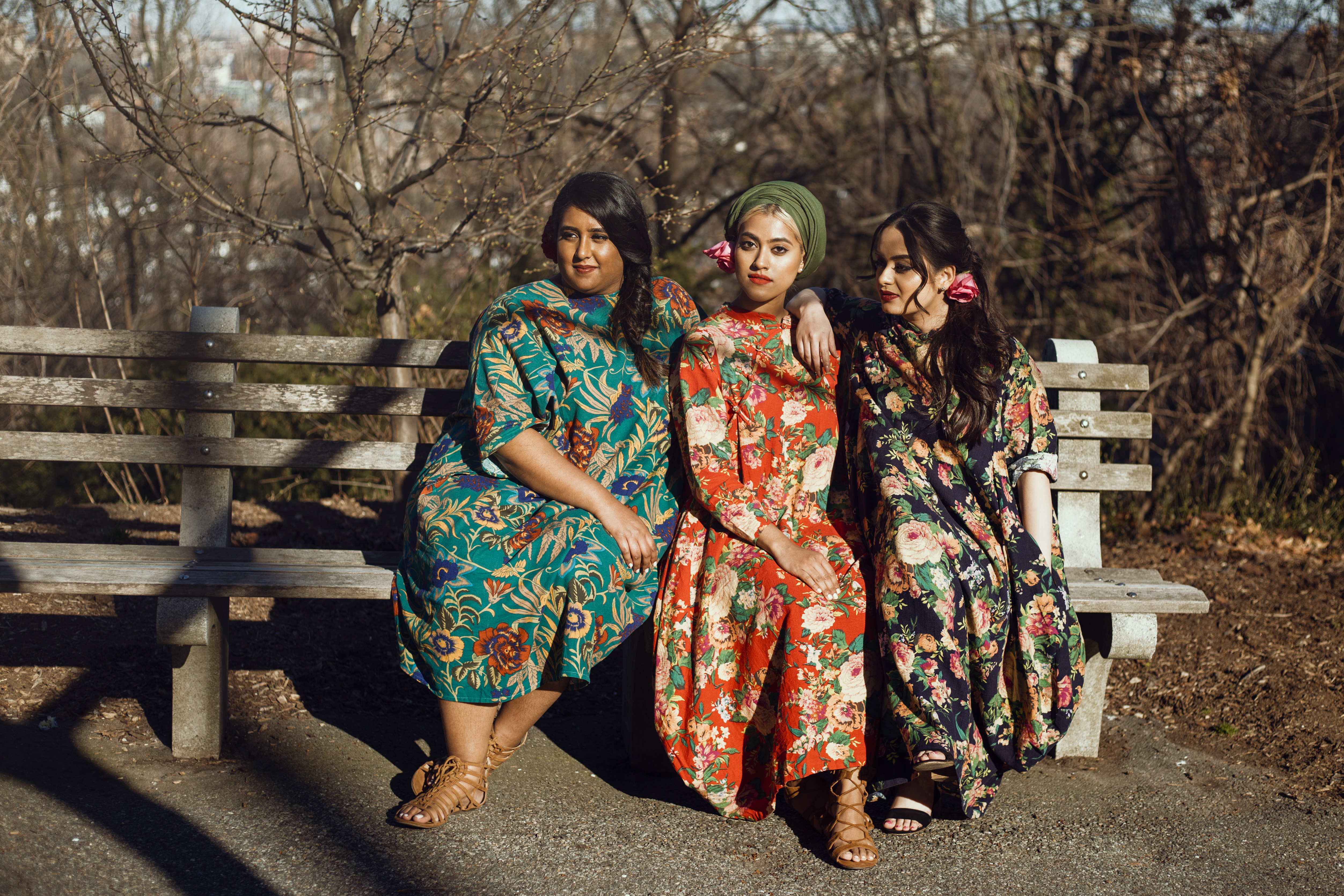 To challenge these preconceived notions and to show the world that beauty does not have a type, Brown Girl Magazine formed a partnership with the designer Ayush Kejriwal, who has publicly spoken out regarding this issue and is consistently pro-women (ALL types of women) in his rhetoric. Kejriwal contends, that there is "immense pressure for women to adhere to society's perception of beauty."
He continues to say, "Beauty is confidence and happiness. What we feel is what we portray, and therefore, it is when a woman finds confidence and joy within, that she feels and radiates beauty."
This "inclusivity and breaking the barriers campaign" will help legitimize every shape, size, color, and whatever else is stopping the everyday girl from owning her fashionista status.
When asked why he was interested in partnering with Brown Girl Magazine on this project, Kejriwal eloquently speaks of the responsibility and accountability he feels towards the subject of beauty:
"I have always believed that social media gives us the power to influence people, and as brands and influencers, it is our responsibility to empower people instead of feeding on their insecurities. My brand aesthetic is to make my audience feel good about themselves. When this idea was pitched to me, it resonated with what my brand stands for, and my deep belief that beauty does not discriminate. It was one more way to reach an audience to empower them."
Brown Girl Magazine's objective is to impart the everyday girl-next-door with the confidence and the courage to find her beauty within herself, know that she is deserving of just as much as any other girl, to wear whatever she wants, and be whomever she wants to be, despite society's constrained and absurd standards of beauty.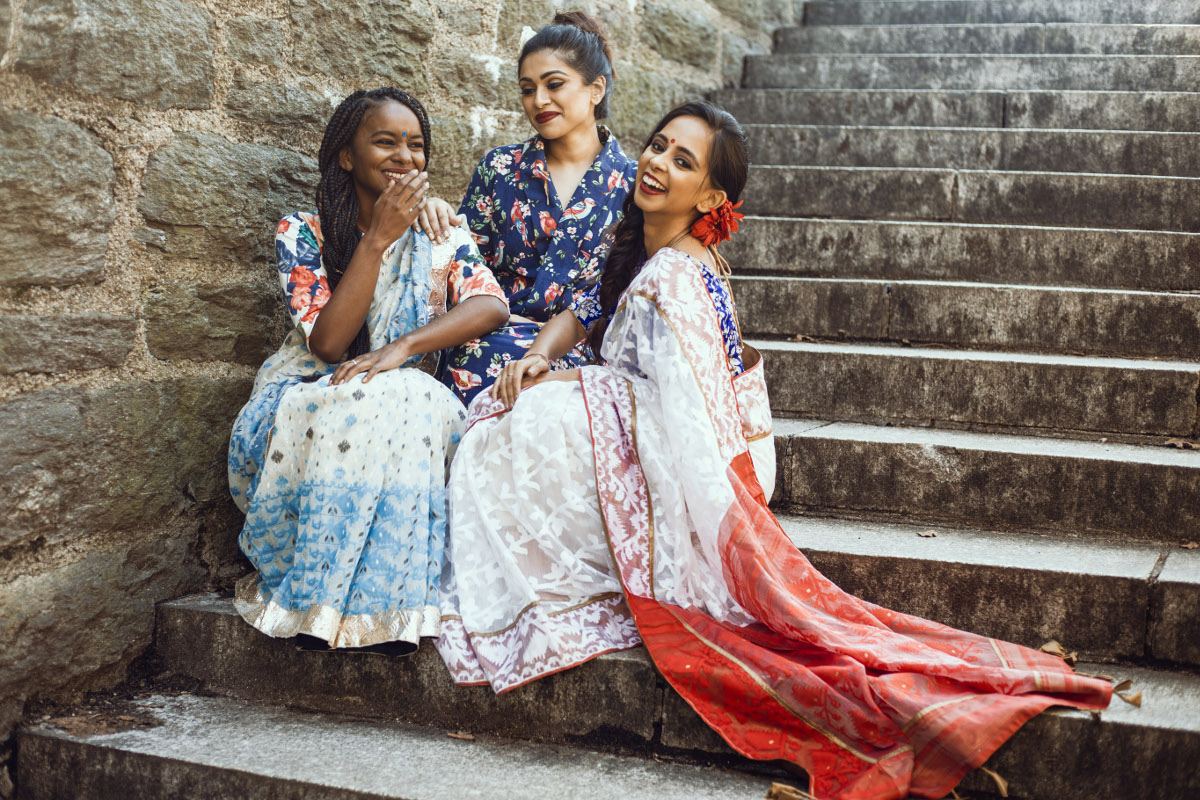 Pooja Rudra, who served as the photographer said,
"I am deeply grateful to be working on a project that embraces reality and every woman for who she is and not who she should be. With this project, I hope that women everywhere can break free from these unattainable and preposterous shackles that are placed on what defines her beauty and her worthiness of love and acceptance."
Moreover, it is crucial for today's impressionable youth to see this type of diversity being embraced in a public forum such as this to develop a more holistic view of beauty as they are growing into their sense of self-worth and individuality. Brown Girl Magazine's CEO and Co-Founder, Trisha Sakhuja-Walia wholeheartedly believes and supports the vision of this photoshoot because it truly encompasses the mission of the online publication to highlight and support real women.
"It makes my heart so full to work alongside women who aren't afraid to break archaic beauty standards and stand in front of the camera with full confidence in who they are, regardless of how they may be perceived. Here's hoping more publications take notice of the honest work we are doing and try emulating the same."
---

"This collaborative shoot between Ayush Kejriwal and Brown Girl Magazine spoke to me in many lengths. In several instances, culture and religion are separated, and rightfully so. That is not to say, however, that culture and religion cannot coexist in a unit, or rather in a person or an identity. One of my ongoing goals as a fashion blogger is to represent the idea that my religion and culture both coexist in me beautifully and peacefully to create immense parts of who I am. I am grateful to be able to express that through fashion, just as I am grateful that this shoot allowed me to continue doing this. I felt empowered throughout the entirety of the shoot knowing that all parts of me were accepted. I was able to showcase being a proud, Muslim, Bengali woman while remaining effortlessly bold and beautiful.
Ayush Kejriwal's designs are fitting for women who want to express themselves in any way. In my case, I was able to wear one of his maxi dresses, that spoke volumes with its rich colors, prints, and textures, as do all of his designs. This shoot only reaffirmed to me that it is always possible for me to portray the power of my culture while remaining modest and true to who I am. Being true to your identity brings an inner peace that is also exuded from the raw and earthy feels of Ayush Kejriwal's designs. Furthermore, as we continued to model for this shoot in a group setting, I found myself surrounded by South Asian women from various regions, who pursue different passions in their own ways. We were all equally represented in this shoot and my respect and love for one did not overcome my respect and love for the next. We all worked off of each other's energies and allowed it to enhance our own individuality. It was pleasantly astounding, to say the least. For me, this inclusivity shoot was exactly what it aspired to be and more." — Syeda Hasan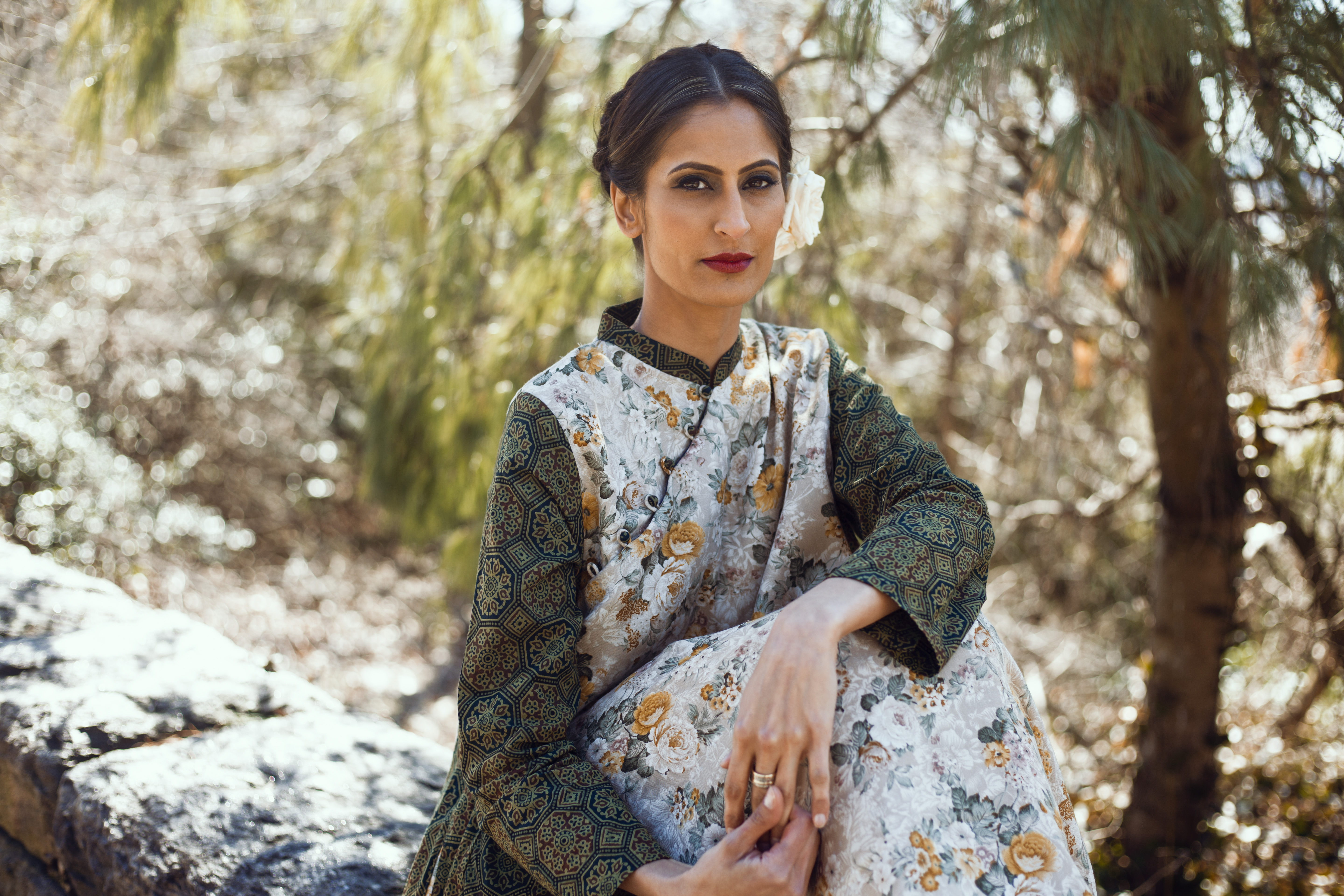 "While growing up, the fashion world was extremely exclusive and intolerant of diversity in types of women represented. I myself experienced the effects of that demeaning dialogue —"you are too tall, too dark, your nose isn't symmetrical." This shoot emphasized inclusivity and acceptance of all types of beautiful women. It resonated with me, as a woman ambassador, to be part of a project that emphasizes clothes being showcased in your own natural form. I feel we have a massive responsibility to showcase and project our values and beliefs through our work and the projects we choose to collaborate with represent a part of us. I take pride in choosing concepts that align with my values and this shoot was definitely one that I can proudly stand behind. Maybe it was the designs, or the textures or the intricate yet elegant combination of modern style infused with the vintage concept — it felt nostalgic and it evoked inspiration. The shoot gave me an opportunity to appreciate the woman I have become without having to compromise who I used to be. It transcended the connection to a bigger purpose- representation without discrimination." — Punita Mangat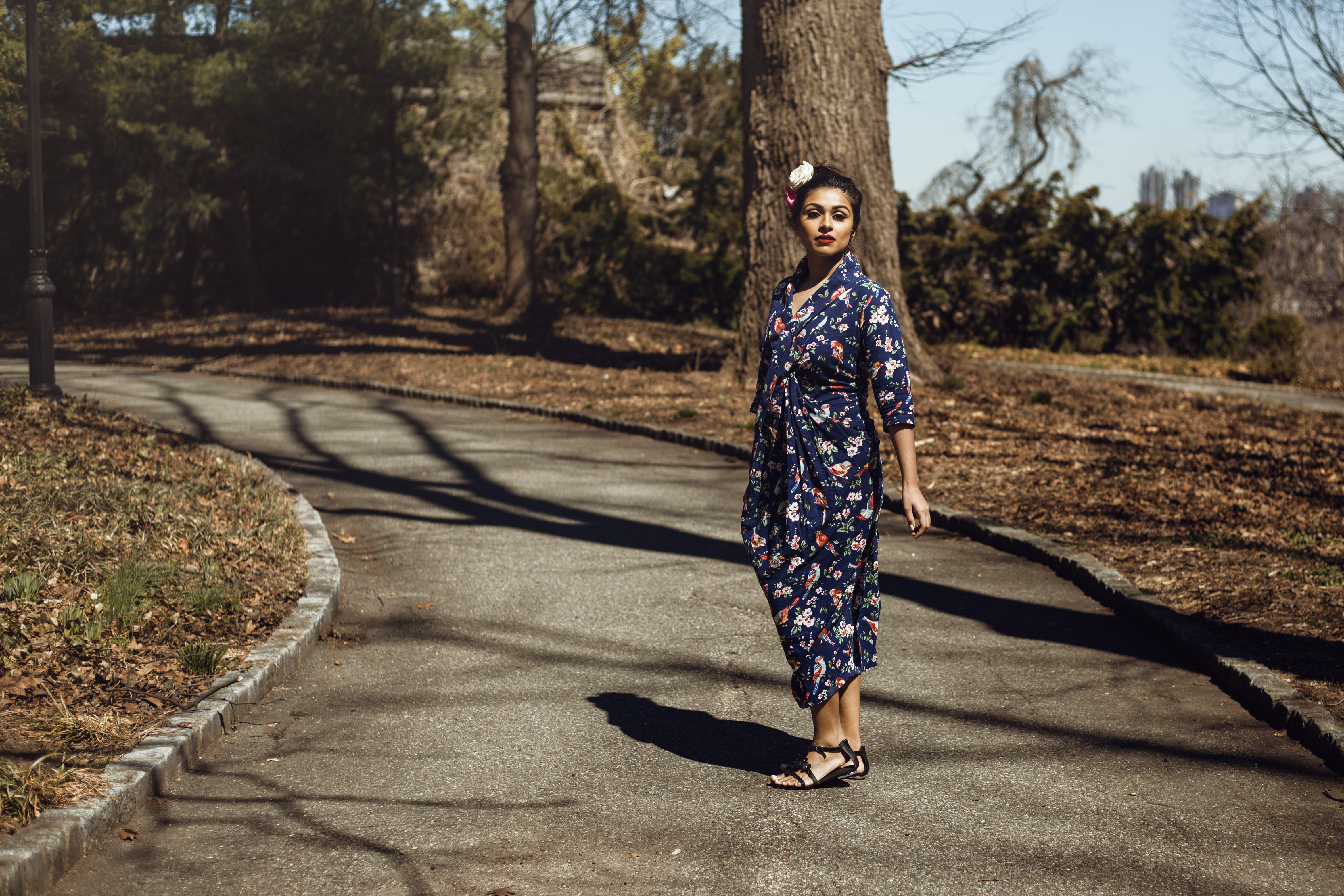 "At any given point in my life, I have always been 'too' something. Too fat, too skinny, too dark, too pale, too short, too tall, always 'too' something and never just right enough. In a world where media dictates so much of how we 'should' be, I am exhausted. I am sick of feeling less than. I am tired of having to compare. I am fed up of doubting myself and telling myself that if I was just 'a little' more of this or that, I would be more accepted; more successful. I am drained from scrolling and swiping and taking in the trillions of tiny illuminated conglomerations of so-called 'perfect' pixels always just a finger tap away. I am done. I have had enough. In a world where we are conditioned to think WE are never enough, I am here to embark on my personal journey to teach myself I am not just simply enough, but I am 'more than.' I am just right; in all my imperfections, in all my flaws, in all my glory. And I hope and pray, I can begin to convince you that you are too." — Priya Mukhopadyay
"When you are 5'10 and curvy it's natural to feel like a giant standing amongst the average petite desi girl. It's taken me years to embrace my body and feel comfortable in my own skin. I'm now proud of how tall I stand, my uniqueness and the way my body curves.
Being part of the body inclusivity campaign with Brown Girl Magazine and designer Ayush Kejriwal was more than just wearing a beautiful garment. I was empowered and proud to stand amongst women who had different stories to tell, came from different backgrounds and were various sizes and colors. It made for an unforgettable moment when we all came together to share our stories.
As I draped the intricate saree from Ayush Kejriwal's collection, I was reminded of all the reasons why a saree to me is the most flattering garment in a South Asian trousseau. With its ability to be worn hundreds of ways, it clings and falls effortlessly. Its charm is that it's one size, inclusive to all, allowing every woman that adorns it to feel feminine, graceful and beautiful.
My hope is to see more designers take this approach of inclusivity, that women of all different shapes, sizes, and colors are represented so we can truly see the beauty of this diverse world we live in." — Nisha Vedi Pawar

"I am so excited and to be part of this wonderful project to celebrate and highlight diversity among South Asian women. As a multicultural South Asian woman, I cannot explain enough how much it means to me to be part of this project by Brown Girl Magazine and I want to thank them for asking me to be a part of this! Women come in all shades and sizes and I love the direction that publications such as Brown Girl Magazine are taking to reflect the beauty and uniqueness to include all women. Being a part of this photoshoot and project was such a fulfilling experience for me, I am very proud of my cultures and anytime I can express that through the media and inspire and empower others is really a fulfilling experience." — Sunita V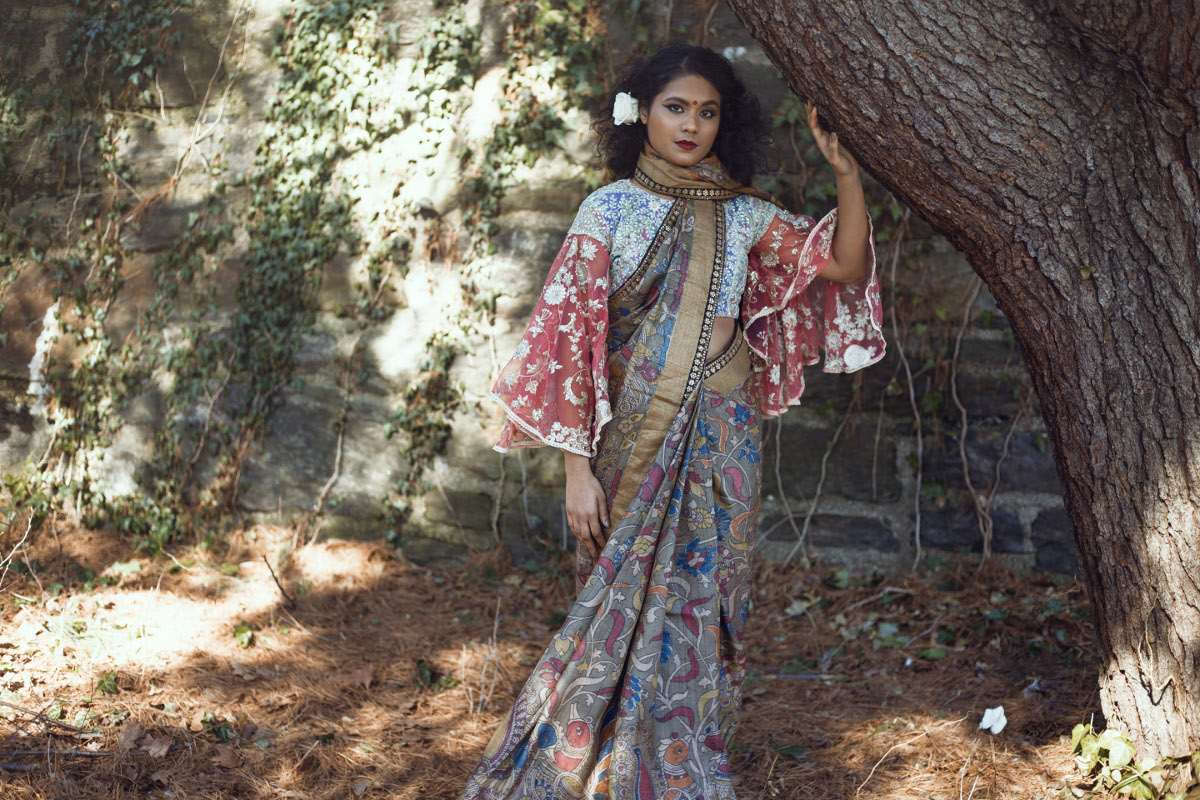 "I used to pay to get my hair straightened and if I didn't have enough money to go to the salon I would sit in a chair and make my mom flatiron it. I wished I had blue eyes. I hated my love handles. My eyeshadow was never pigmented enough. I would put sunscreen on while I was in class because I didn't want the sun to shine through the windows and make me darker. The only thing I had going for me was that I was slightly taller than the average girl.
Then one day, I was too lazy to straighten my hair and I realized everyone loved my curly hair. I also realized my melanin is a blessing and finally looked in the mirror believing I was beautiful. The absence of people like me in magazines, on the runway, in the media made it difficult for me to understand my own beauty. We need more of us photographed and on billboards. We need to praise ourselves." — Suswana Choudhury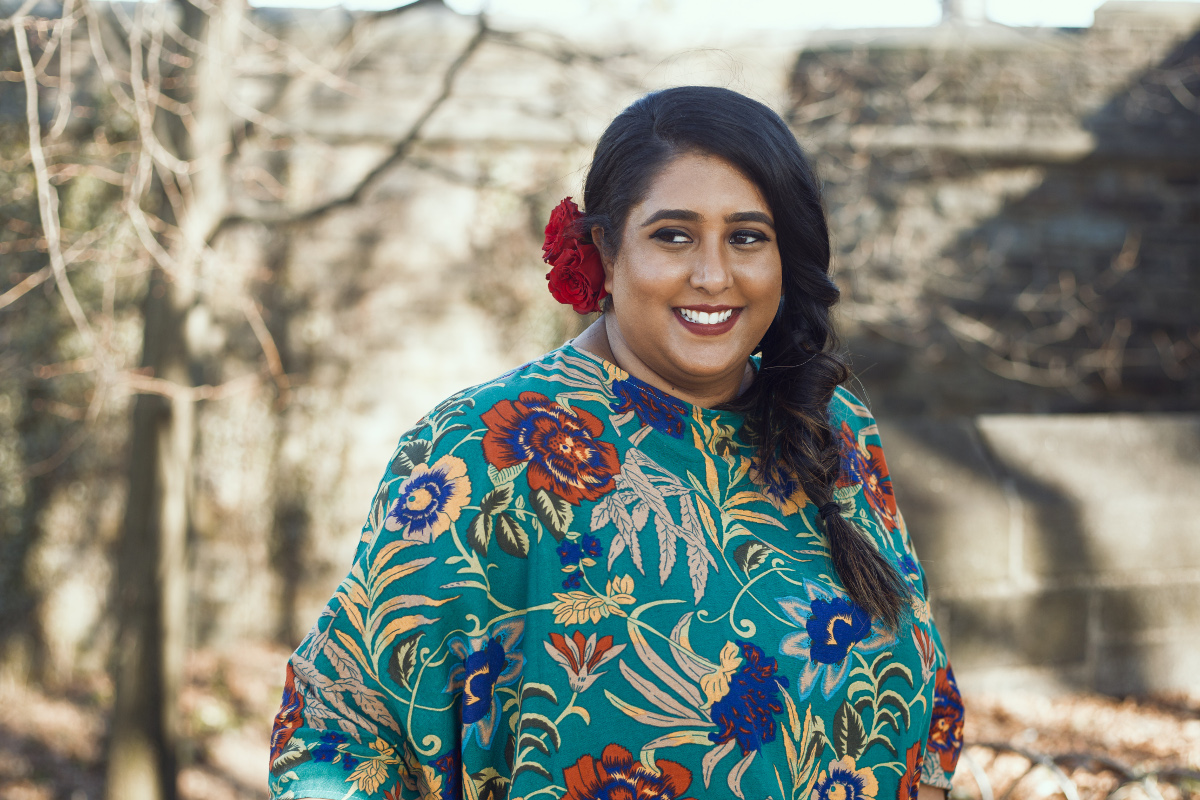 "I love the concept of this photoshoot because it displays the diversity of skin colors and body types in the South Asian community. Growing up, my skin was darker; I was bigger and taller than most of my friends. I could not relate to any model in the South Asian community. I would often look at mainstream media but found no one that looked like me. Society has had some unrealistic beauty standards and I've been a victim of body shaming for a long time.
When first asked to be part of this project, I was hesitant only because I was not as comfortable in my skin than I thought I was. After some thought, I realized this was the best way to represent other women who looked like me and probably feel the same way. It has been truly a rewarding experience to be part of this project. This photo shoot represents what real women look like. I hope this project can inspire women to accept themselves, and be comfortable in their own skin. Our collaboration with Ayush Kejriwal is a positive contribution to media and the right step forward for all women of all sizes and colors." — Christine Varickamackal

"I've been an avid fashion lover since childhood, but it has always felt like an unattainable dream that I could only admire from a distance. From childhood, my surroundings conditioned me to think only a specific type of beauty is allowed to dress up and wear nice clothes. Women who are 5'7" and taller or are size two or smaller are the only ones entitled to be celebrated and have the opportunity to look their best and wear whatever they want.
You scroll their social media, flip through magazines or browse through TV channels — media constantly reinforces only one type of beauty. The South Asian community and our culture are built on this very facet.
I think most people don't realize how impactful and dissuading physical judgment really is. Media's representation of women and what is considered beautiful is an issue that scars gravely into the psyche of the woman, causing far more psychological damage that spills over into other aspects of our lives apart from the fashion industry.
Ayush Kejriwal has cemented his brand to be that of a fighter. He is a pioneer in advocating for acceptance of inclusivity in fashion and the natural diversity of womankind. Collaborating with Ayush is one of the loudest statements that we as women could've made, with our concept echoing in the media and fashion industries. South Asian fashion is one that is lagging when it comes to being inclusive. This idea of showing women from all walks of life is non-existent in Indian fashion. Starting from couture brands down to the local shopkeeper who dismisses a woman who doesn't abide by the superficial standards of our society.
This shoot was important to me because I never saw myself in fashion. I was always the curvier girl from childhood. Being teased as a child was only the tip of the iceberg as stepping into womanhood, it became apparent that if I didn't mold myself into what society considers beautiful, I would be a failure in every aspect of my life. I would be robbed of everything that correlates with the idea of happiness. My participation in this shoot was to be a part of a camaraderie that fights for the right of women being celebrated regardless of external physical characteristics." — Nehal Mehra

"Growing up, I always felt too short, too dark, too ordinary for high fashion. All the women I saw wearing my favorite fashion designers were marvelously tall, in fantastic shape, with seriously sharp facial features. All things I would never be.
I stand tall at a whopping 4'11 (I'm a giant, I know), I happen to be one of the darkest skin colors in my Gujarati family, and my button nose and chubby cheeks never exactly screamed model to me, or anyone else for that matter.
While these unrealistic beauty standards in the fashion industry did create an air of majesty and larger-than-life elegance, they also distorted what fashion was meant to do. To me, fashion has never been about putting beautiful clothes on flawless models. Fashion is a form of expression that allows the everyday woman to look and feel her best. It has always been about taking an ordinary day and making it feeling extraordinary.
Being a part of Ayush Kejriwal x Brown Girl Magazine's body inclusivity campaign was refreshing, and quite honestly, a much-needed reminder on what it means to feel beautiful in your own skin and the role that style and fashion can play in the way in which we perceive ourselves.
As I looked around on the day of our photo shoot, I saw beauty in so many different shapes, sizes, and colors. It wasn't about trying to conform to unrealistic beauty standards created by Photoshop or layers of makeup. It was about appreciating beauty in every form. It was about wearing clothing that enhances our natural beauty and reminds us to love ourselves the way we are. And most importantly, it was about loving and appreciating the beauty within ourselves, even when sometimes society tells us we are not enough." — Ashni Mehta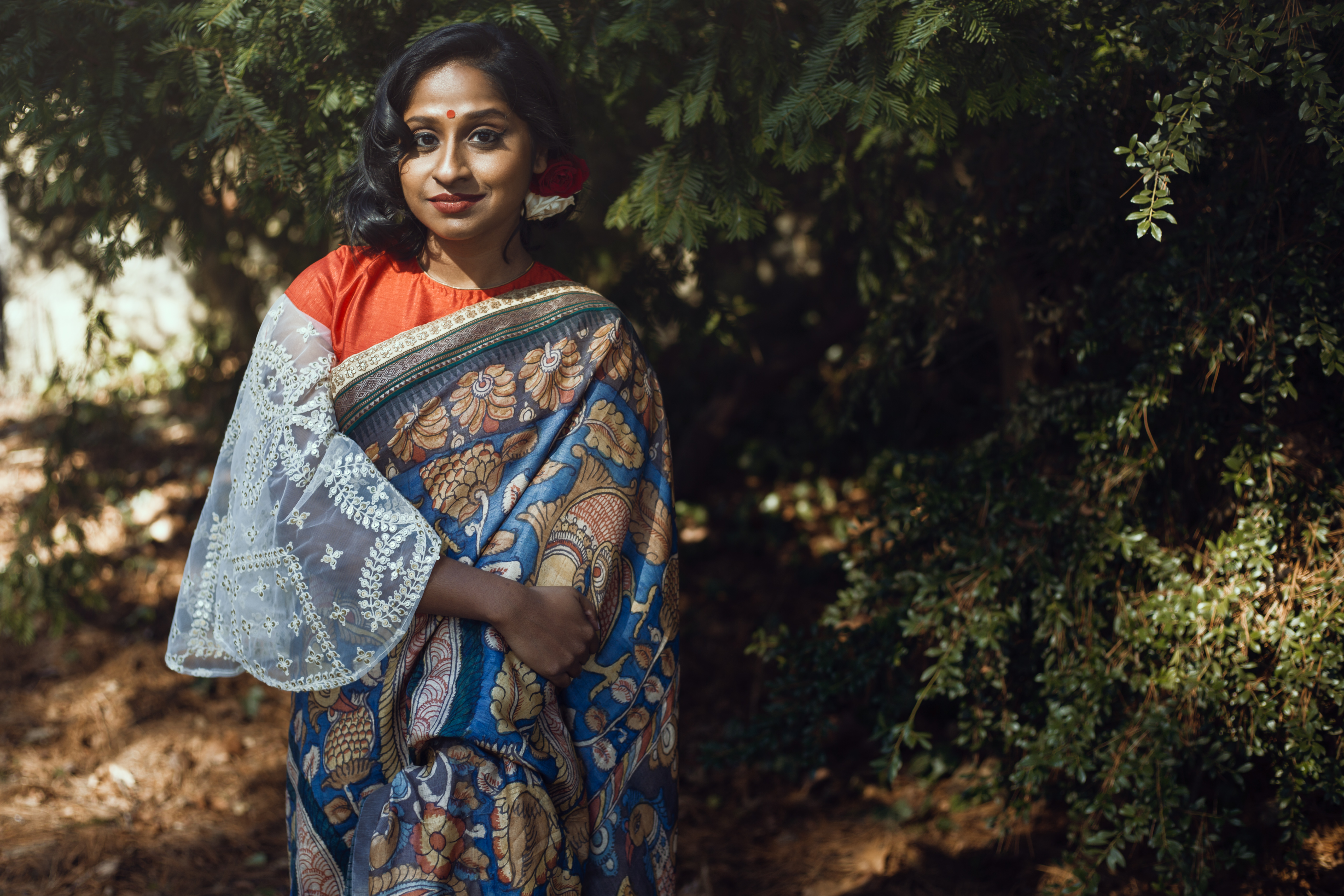 "By any beauty standard, whether European or South Asian, I am not considered 'model' material. From my dark skin to my short stature to my bob, there really is no attribute I have to be considered magazine worthy. As an adult, I've come to embrace my looks and love the woman I've become, However that was a long journey. It probably would have been shorter if I saw women that resemble me in these magazines and runways. I think back to that young girl who struggled with her reflection and it made me think of all the other young girls out there dealing with that right now. If they see me modeling in this shoot, then maybe it'll help on their journey to self-acceptance. I applaud Ayush Kejirwal for wanting to break the mold and push boundaries and striving to make all women feel beautiful, regardless of age, size, and skin color. It was an honor and a privilege to model side by side by these women I love, wearing a designer I admire. So here's to many more!" — Liya Samuel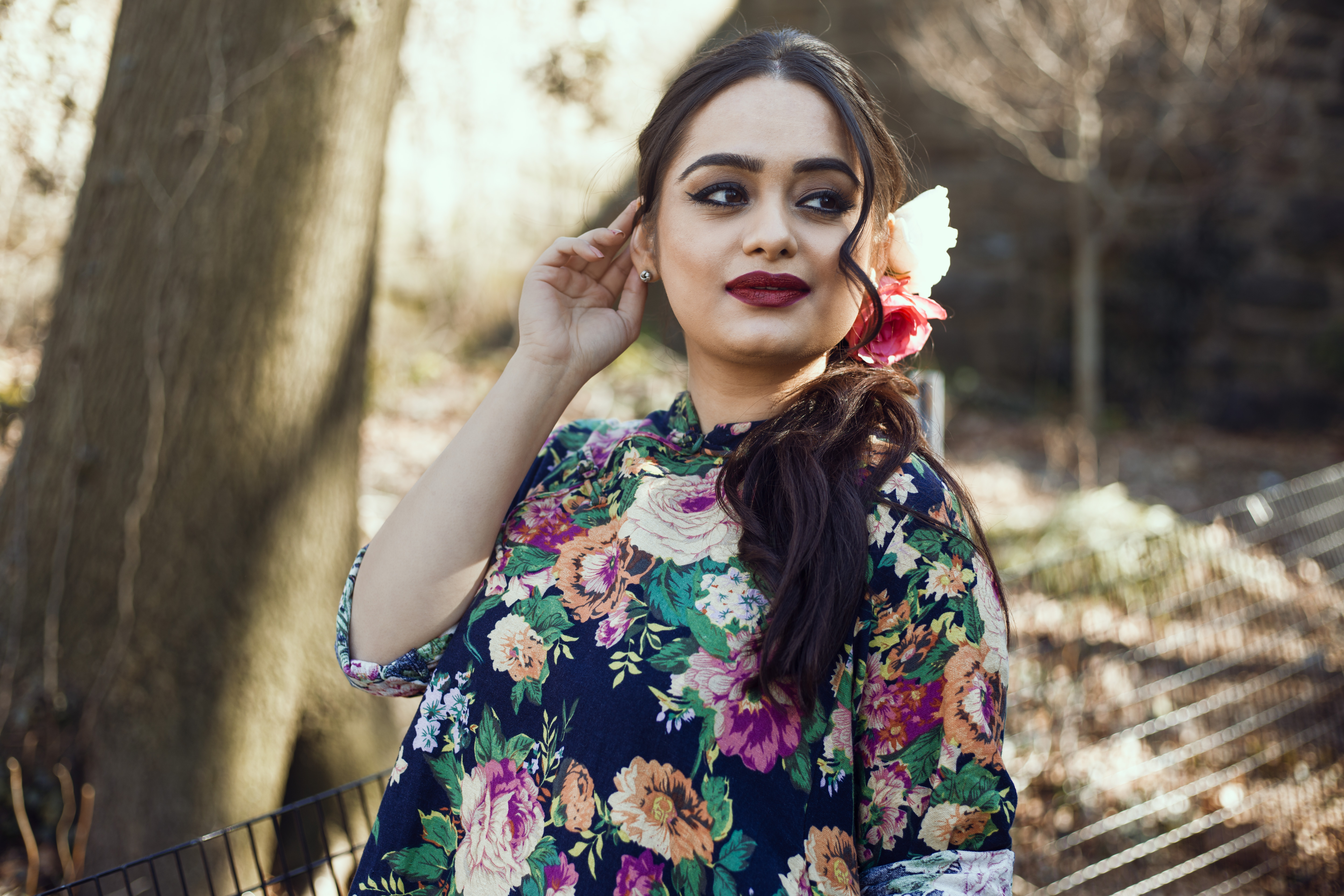 I grew up with a unibrow, had braces for the majority of my high school and college years, was always very hairy, and I am shorter than the average girl. I spent years bleaching my face to hide the dark, thick, black hair on my chin, cheeks, sideburns, and neck, and I would lather layers of makeup to hide the scars from years of teenage acne. I've always been lighter than the average South Asian woman but that meant the hair on my skin was even more visible, so I never imagined I'd feel comfortable in front of a camera.
Not wanting to wear certain clothes because I've gained some weight over the years, or not wanting to take photos showing my teeth, or not showing my side profile to hide my jawline are just some of the new insecurities I've added to the list as an adult. But now that I am well into my late twenties, I wish I could just feel enough and not spend another two decades criticizing myself.
Standing amongst the models we chose for this collaboration with designer Ayush Kejriwal, I honestly felt whole. There's a huge void of 'real' bodies and faces in the fashion industry — millions of brands and ad campaigns in both western and eastern media are spewing lies and propaganda to young women and men by Photoshopping everything we see. They're dictating how we should look, even though it's fake, and they've been successful for centuries, but we say no more.
We want to challenge these preconceived notions. By working on a campaign that highlights inclusivity (body, height, features, color), we want to take a small jab at the 'standard' in the industry to show that everyone is beautiful and we don't have to look for specifics in a person in order for them to fit the bill of the 'ideal model.'" — Trisha Sakhuja-Walia 
---
Project Team:
Content Partner: Brown Girl Magazine (@browngirlmag)
Photographer: Pooja Rudra, PR Photography (@dharpooja)
Hair Artists: Drishty D'Costa (@drishtyempire), Puja Khullar (@pujakayy)