The following post is brought to you by our sponsor, IndiaBoulevard.com— a curated marketplace for Indian fashion. The post below was originally published to IB's blog, and all photos are courtesy of the IB team. 
We think choosing the ideal neckline for your outfit is one of the most difficult decisions you'll come across. Whether it's for a lehenga, saree, gown, or anarkali,  the design would depend largely on personal preferences, body style, and your overall outfit cut.
Take a look at twelve different types of necklines that have been incorporated into IndiaBoulevard's beautiful collection – and pick the one that suits you the best !
This classic  can never go wrong. It is a flattering choice for any body type. Modify the depth of the V-cut depending on your personal preference. Style it with either a choker or a  V-shaped necklace that falls above the cut.
Simply throw a sheer cape over the ensemble if you want to wear a deep V-neck but are not comfortable with revealing too much skin.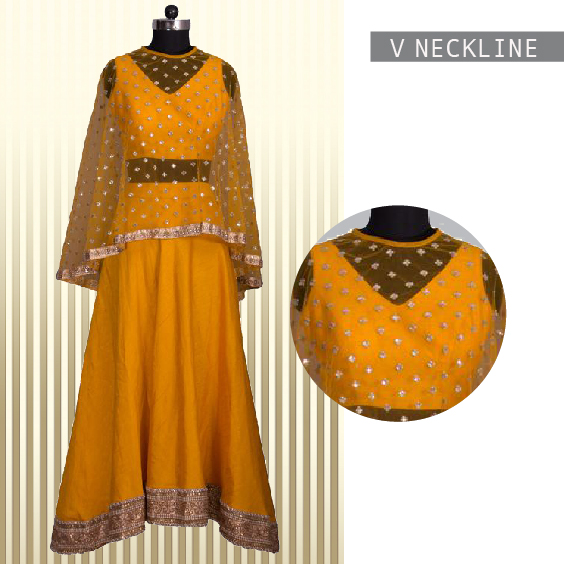 A chic style that looks gorgeous on blouses paired with skirts. A perfect, comfortable combo of the V-cut and a collared neckline. Suitable for all body types and a timeless elegant option.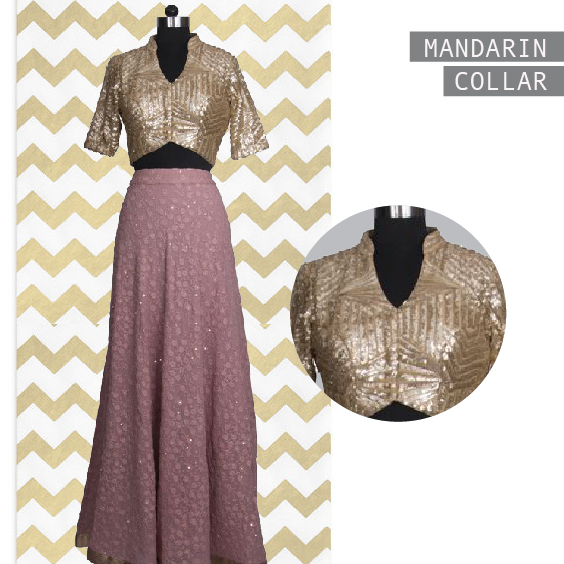 The perfect choice if you have a lean face and/or neck, and a small bust size. The high neck eliminates the need for a necklace but, definitely pair with big jeweled earrings for the final touch.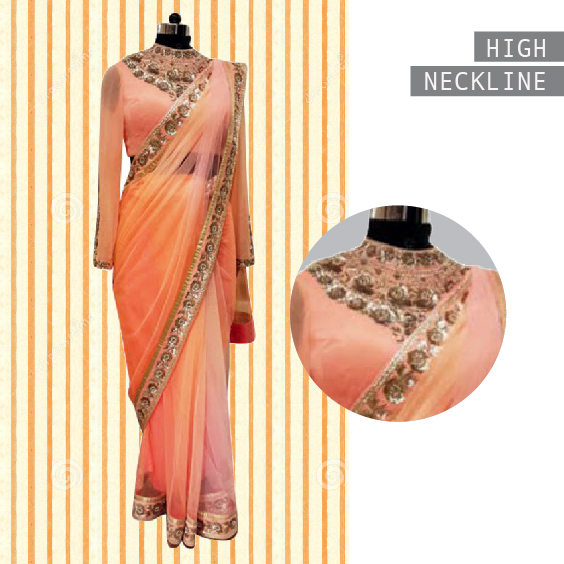 This is best suitable if you have a lean neck. The particular style makes shoulders appears broader. The necklace is optional, especially if the neckline is heavily embroidered or adorned with embellishments.
This type of choice is also most flattering for those with a lean neck. Avoid if you have a very large bust. Complement with big Kundan earrings, and a pendant necklace if the blouse is not already embellished. A very trendy and classy option for all.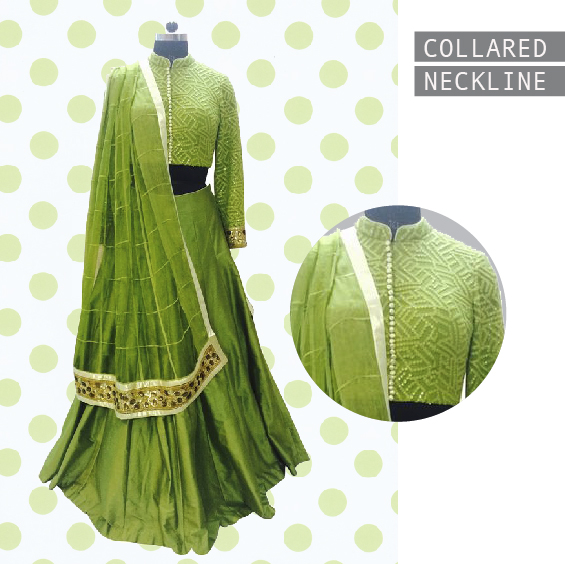 Another go-to that is suitable for all body types. Gives a fancy and stylish look. If desired, add a simple necklace falling above the cut but ensure that it doesn't detract from the keyhole.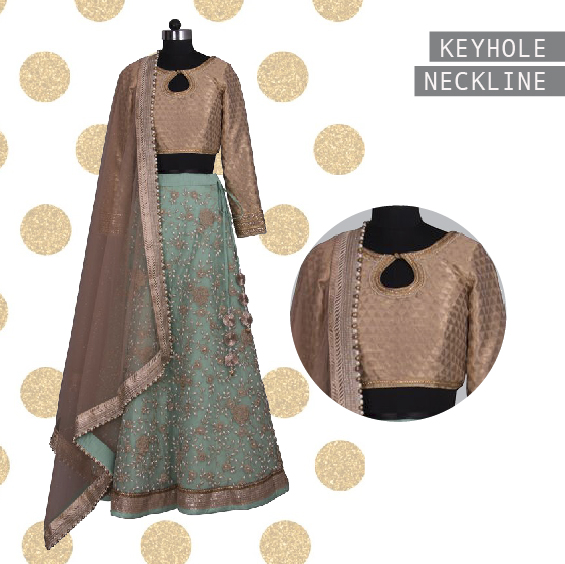 An open and sophisticated cut that helps give a broadened look to the shoulder area. Preferable for women with a larger bust size. An adorned dupatta is a great addition with this type of neckline.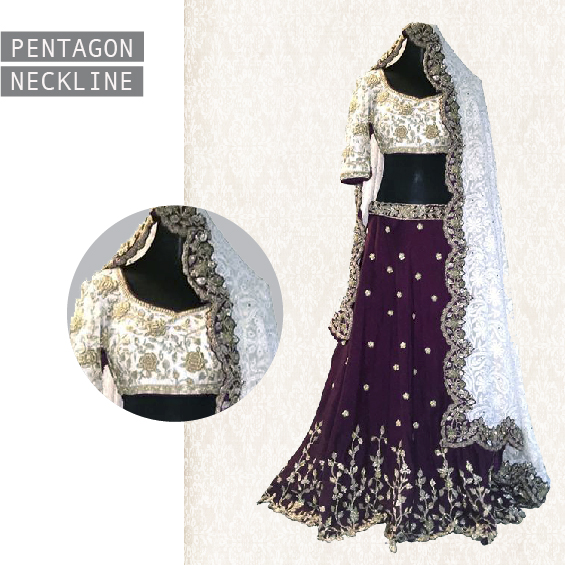 A trendy structure that's great for evening parties. Style with a simple pendant necklace and matching earrings to create the ultimate look. If you want to show off your shoulders, this should be your go-to cut.
The heart-like shape creates a balanced look and an elongated appearance, drawing attention to the neck. Add a choker or a statement necklace, if strapless, for the perfect glam look.
A fashionable style that accentuates the shoulders–flexible and suitable for all body types. A necklace is unnecessary but you can pair it with nice earrings and tie your hair back to complement the whole look.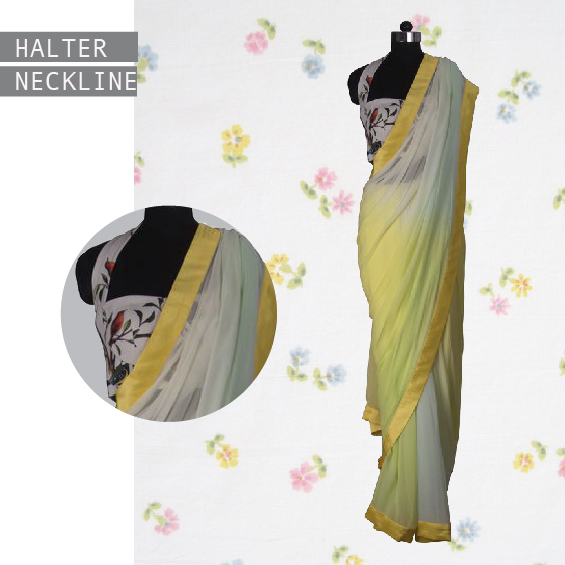 An open concept elegantly revealing the shoulder bones and creating a broadened look. Accessorize with a choker or a pendant falling above the neckline. A nice, sophisticated choice for ladies with a larger bust size.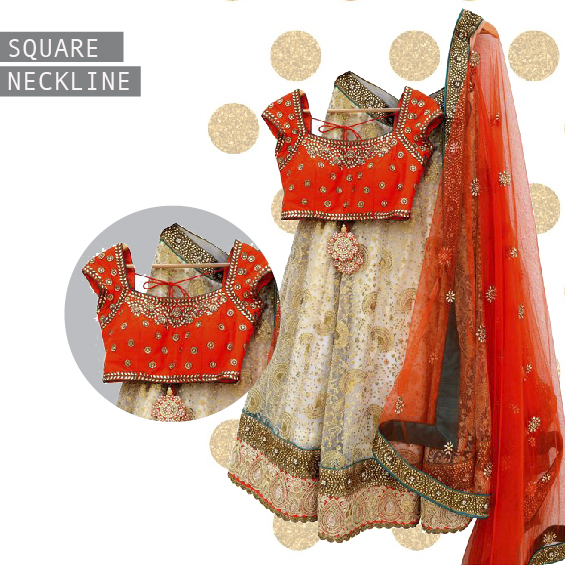 Also called a crew neck, this design is best suitable for ladies with a small bust size and a lean neck. Goes very well with long pendant necklaces. If pairing with a skirt piece, a dupatta is optional.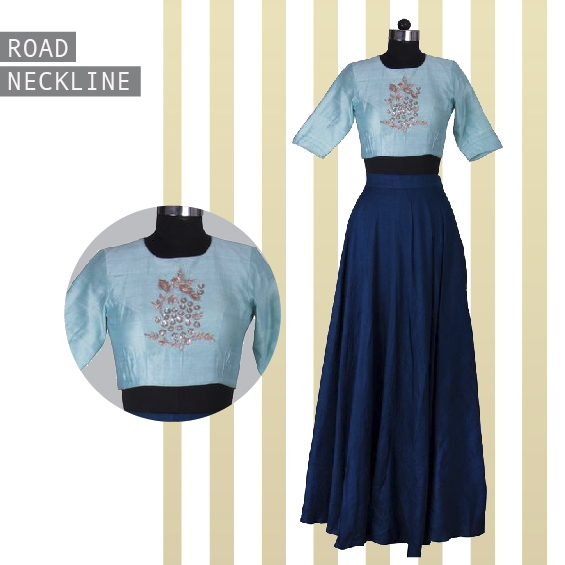 ---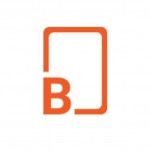 IndiaBoulevard is a curated marketplace for designer fashion. We connect customers from all over the world with a variety of designers, to make custom made outfits. We believe that every individual is unique and has a personal style. Our team combines your style inspirations with your spending preferences to customize the perfect design for you. Our mission is to make designer wear accessible to everyone everywhere.