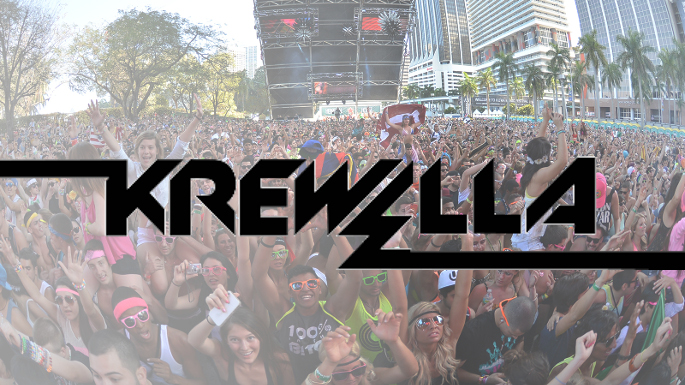 by Jennifer Kadenkavil
This post was originally published on our partner website: India.com.
From their drink of choice to their musical influences, there is a lot to know about the dynamic EDM band Krewella.
1. They hail from the Windy City.
The EDM group's three original members— producer, Kris "Rain Man" Trindl and sister singer-songwriters, Jahan and Yasmine Yousaf, grew up in the North suburbs of Chicago. They lived in a Meatpacking district loft when they first created the group.
Jahan and Kris belonged to the same circle of friends in high school and were both passionate about music, they eventually brought in Yasmine from her indie band to form Krewella in 2007.
2. Jahan and Yasmine are Pakistani girls that know how to party.
Their father is Pakistani while their mother is Lithuanian/German/Polish.
"People are always kind of shocked when we tell them we're from there. I'm not trying to be political or anything, but you can kind of tell what I'm insinuating at. But it's cool, I think it brings something new that people might not have expected. And I love representing where we're from. We're always representing, first and foremost our city of Chicago, but after that we're definitely prideful of where our parents came from," Yasmine said to Time Out Chicago.
3. They like to "Get Wet."
Unlike some EDM acts, Krewella is known for raging with their fans at concerts. The sweatier and grimier the concert, the better the experience, they said. Ideally, Krewella would like to come out of a concert drenched (which typically happens).
"Get Wet," the title of their first LP, is a life philosophy for this talented group.
"Well, we literally take that and put it toward everything possible in life. It could obviously mean something sexual. But it's also, when we're at our shows, we walk out of there sweaty as f**k. Like, there's no other way to describe what we are other than wet. We're drenched. And it kind of represents raging and just going f**king crazy and living passionately. Getting wet, jumping in. It's all about that," Yasmine said.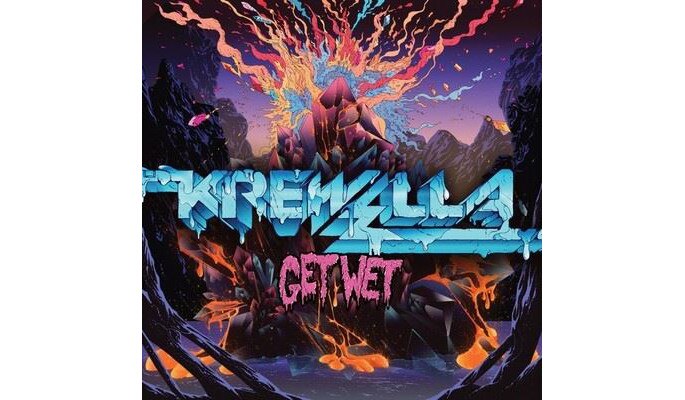 4. Going hard equals whiskey.
Their drink of choice is whiskey, according to Yasmine, "Once you throw whiskey in the mix, it's just over."
5. They can sing live.
Krewella will drop versions of their songs with no vocals, so they can rage while singing live. At the Ultra Music Festival in 2013, Krewella played for an hour and sang 13 songs live, a seriously impressive feat.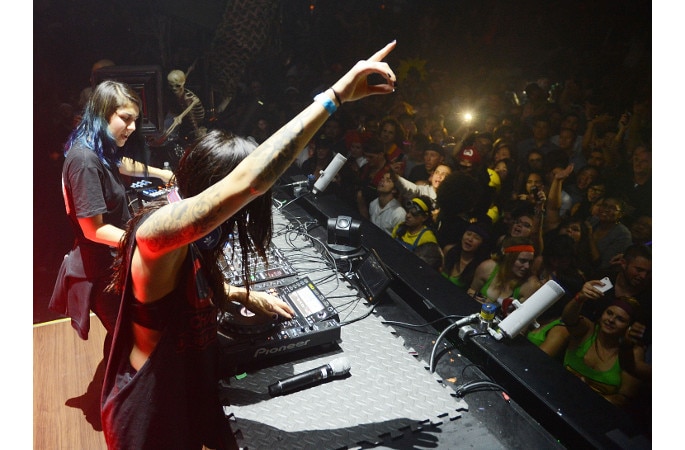 6. Krewella shows love to the Krew all day every day.
If you follow their Tumblr, YouTube channel, Instagram, Facebook or Twitter you know this group constantly shows love to its Krew around the world. Whether it is asking fans for album title suggestions on Twitter, posting Krewlife videos to YouTube or late night rants on Tumblr, Yasmine and Jahan never forget that their fans are the ones who propelled them to overnight success.
7. They believe in giving back.
In partnership with EDM apparel brand, Electric Family, Krewella created a collaboration bracelet to benefit Dance for Paralysis, raising over $10 million dollars.
8. Yasmine and Jahan could be walking billboards for L.A. Ink.
Between the both of them, they have 18 tattoos (and counting). The most notable one? The date "6.8.10," which both performers have tattooed on their neck symbolizing the day they gave up schooling and jobs to focus on their music full time.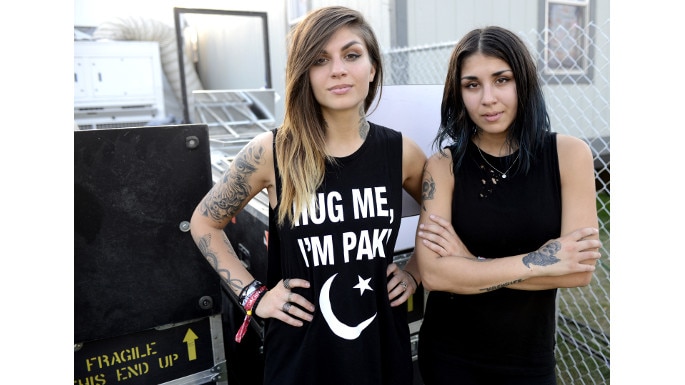 9. Their song "Alive" was Krewella's first top 40 hit on the U.S. Billboard Hot 100.
"Alive" peaked at 32 on the U.S. Billboard Hot 100. The song is the second single from their EP "Play Hard."
10. Krewella's music is shaped by more than just house and dubstep.
The are influenced by the music they heard growing up, including Chromeo, the Faint, System of a Down, The Beatles and ABBA. They also take some cues from the Chicago metal scene.
"It comes from the heaviness in metal, the breakdowns," Trindl said to USA Today. "It's not even about the emotion, it's more about the rage — but not rage like anger, rage like party. Like swaying, going half time, jumping around. The metal background helps make Krewella what it is."
11. In true Desi fashion, many marriage proposals have come their way.
"There are marriage proposals every day pretty much. Most definitely to my sister, she's a dime. But I think the funniest thing was — it was such a little thing but I will never forget it — we played Red Rocks this summer with our dude Savoy. We did a radio interview in Denver before we played, and this caller called in and he was like, 'Yasmine, I have a question for you.' I was like, okay you sound really serious right now, what's up? And he's like, 'I need your blessing to marry your sister tonight.' I'm like, 'You know what? Yes. You have my blessing. I will be the pastor and I will f**king marry you guys.'

So literally at the show, I totally forgot about it, but later this kid comes up to the barrier between the stage area and the audience and he's holding up this ring pop. It was so funny, we made it happen. She made this kid's night. It was really cute. Obviously, they're not married, but it was cute," Yasmine said.
12. They used to have it all in one group.
Unlike most EDM acts, they kept everything in-house with singer-songwriters and a producer within the group. But this September, Kris filed a lawsuit against Jahan and Yasmine for forcing him out of the group.
You can read the whole story about Kris' sobriety issues leading to the suit and the Yousaf sisters' response. Basically, it's not looking pretty, especially since there's $5 million on the line.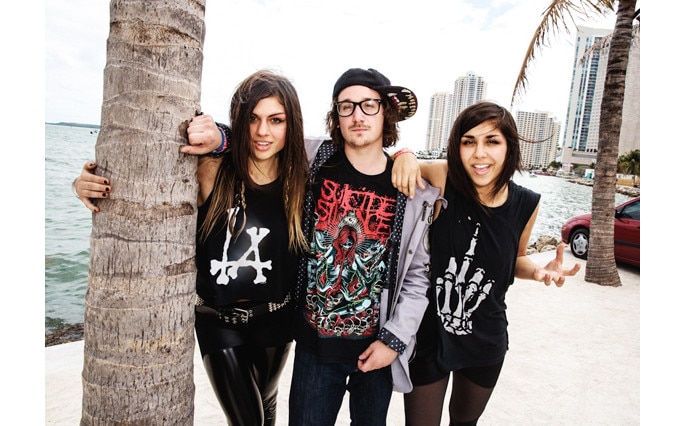 13. Jahan and Yasmine know how to lay low.
When they are not on tour, they live in L.A. with their cousins from Pakistan. They trade a night of getting wet for a night in, cooking a Pakistani meal and watching Bollywood movies.
14. They let the haters hate.
When they signed with Columbia records, fans went wild on social media accusing the group of selling out. Krewella quickly shut down the haters and let their true fans know that their style and sound is here to stay.
Jahan writes on the groups' Tumblr:
"When Columbia Records discovered us in winter 2012, we already had a fully executed yet unreleased Play Hard EP, and a budding online presence. We didn't need to follow a star-making model because we created ourselves. We had music, artistic vision, image- an entire brand that we had been marinating. What was going to take our project to the next level was a magnifying glass over our work to share with millions more, and capital to reinvest into the art."
You tell them, Jahan.
15. You can catch them on tour in November.
Their next performance in the U.S. will be on November 1 in Salt Lake City, UT. Hope you are ready to get wet.
---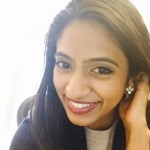 Jennifer Kadenkavil is a native New Yorker, Boston University graduate and avid paperback hoarder. She currently works in mobile marketing and writes lifestyle and beauty articles for publications like India.com.