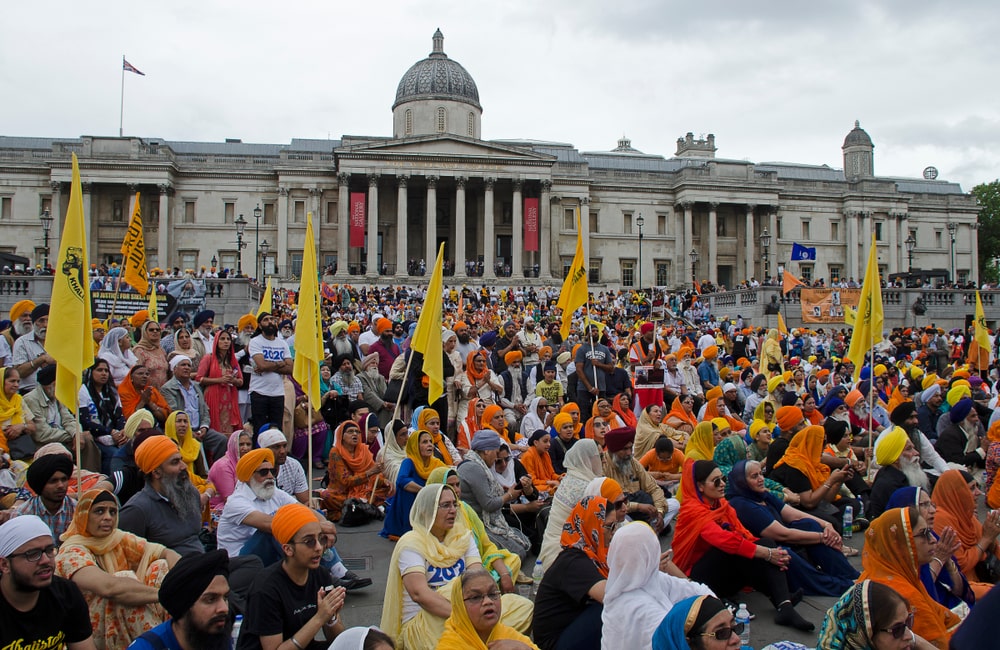 By Seerat Saini, Afshan Nasseri & Saran Kaur
I've grown up only hearing about this genocide from inside the Sikh community: stories of painful memories, acts of terror, and people still missing. When Afshan shared with me that she has just recently learned of this genocide from a post I had re-shared—it reinforced to me that our community's cries for justice have been an echo chamber of pain. Why haven't we been able to ask allies to stand with us and carry our pleas beyond our community? Why hasn't the United Nations recognized this as a human rights violation? Afshan and I wanted to write an article and compile actionable items to help tell the truth about what happened and advocate for justice.
In June of 1984, Indira Gandhi, the prime minister of India, ordered an organized military attack on Darbar Sahib (Golden Temple) in Amritsar, Punjab—the holiest religious site for Sikhs. This military operation resulted in the death of thousands of civilians, leaving Sikhs furious as innocent worshippers were killed and historic buildings and records were destroyed.
Months later in October of 1984, Indira Gandhi was killed by her two Sikh bodyguards. Her death triggered a genocide throughout the country, with the epicenter being India's capital New Delhi. Mobs took to the streets seeking revenge and unleashing violence on all Sikhs. Their stores were burned to the ground, and they were dragged out of their homes and killed. Eyewitness accounts report that law enforcement and government officials partook in the killings by provoking violence and providing mobs with weapons.
View this post on Instagram
In December 2018, Congress leader Sajjan Kumar was sentenced to life for his role in the Sikh genocide–but the Indian government hasn't recognized the events as a "human rights violation," let alone taken responsibility for the genocide. The government purposefully labels these tragic events as "riots" to take away from the legitimacy of the genocide–as the word "riot" implies it was not premeditated and carried out by the government itself. If you Google "Sikh genocide", Wikipedia redirects you to the anti-Sikh riots." This verbal erasure allows the Indian government to be free of paying reparations and taking any responsibility. 
As of January 2020, the Supreme Court accepted the recommendations of a special investigation team, headed by retired Judge Justice SN Dhingra., to reopen cases. It has probed 186 cases of the 1984 anti-Sikh "riots," and promised to take appropriate action — but so far, no more arrests have been made. Many are doubtful that the team will make any progress towards justice.  
Sikhs were burned, raped, and murdered with impunity–with their suffering minimized to such an extreme degree. The politically motivated ignorance of the Indian government validates Hindu nationalism and the oppression of religious minorities in India. This allows the government to write their version of history.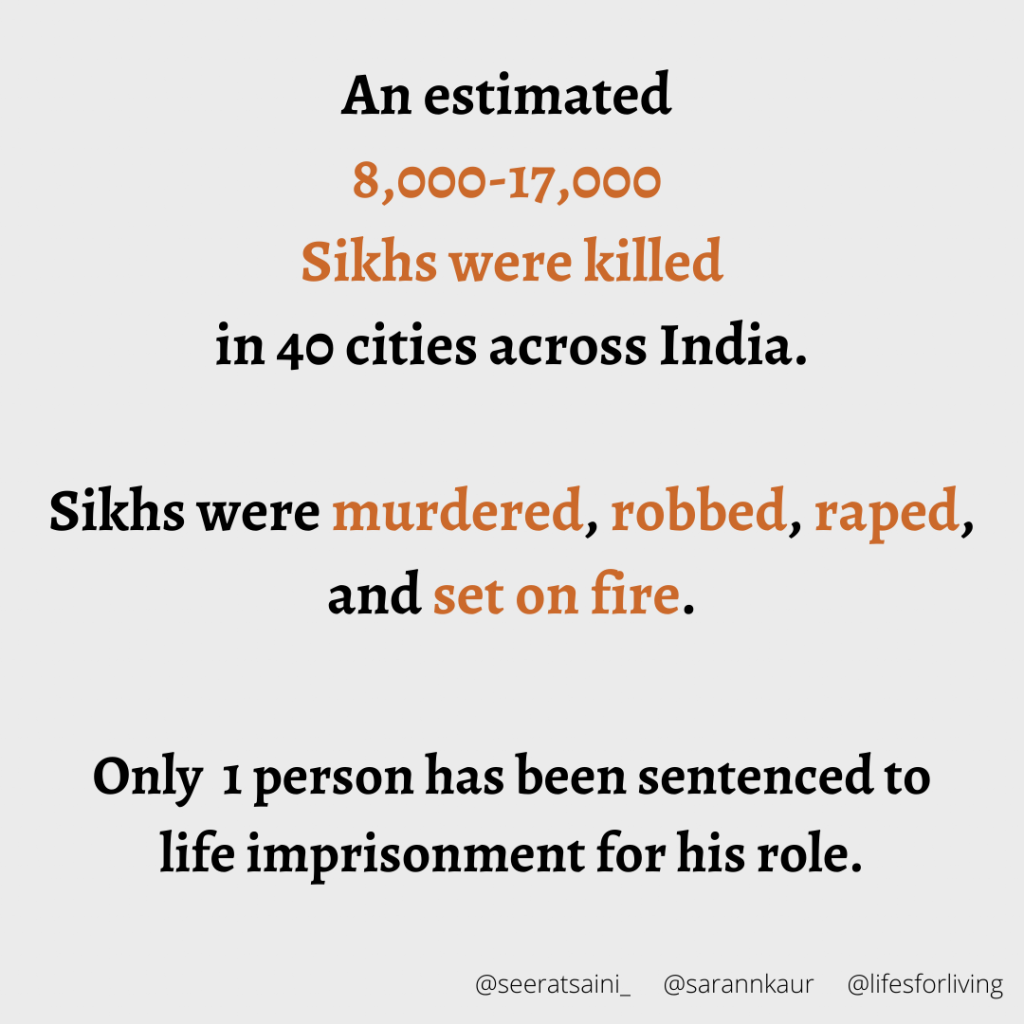 So if the Indian government won't recognize the genocide–can we ask the world's nations to offer solace?  In April 2017, the Ontario Legislature passed a motion recognizing the Sikh genocide, but the Indian government lobbied against it and called for its repeal. In 2020, Bill 177 was enforced by Jagmeet Singh, recognizing the first seven days of November as Sikh Genocide Awareness Week. In the United States, three months after a "1984 Sikh Genocide Memorial" was installed at Otis Library in Connecticut, it was removed as requested by the Indian government. 
So how can we help?
SIGN PETITIONS:
"We are calling on the New York City Council, New York State Assembly & Senate as well as the United States Congress & Senate to bring forth a motion that recognizes the horrific acts of 1984 by the Indian Government as a Genocide. We are also asking for an annual moment of silence to honor the lives lost due to that genocide!" 
Hasan Minhaj and his show Patriot Act have an immense reach and a powerful team able to fearlessly research and raise awareness for important topics.
DONATE TO:
Khalsa Aid Foundation

to support families whose sons were murdered in the genocide.

Sikhi Awareness Foundation

to support their "Gurmat Education Program" that educates young Sikh children about their history, providing them with a deeper sense of community across 33 villages in Punjab.  
LEARN MORE BY WATCHING:
The Wire's 1984 Anti-Sikh Massacre:
"The following stories are of the families of those few individuals who dedicated and sacrificed their lives to stand up to the injustice they had witnessed and promote freedom and equality."
Peawea Films' Hunting Sikhs
"The year 1984 saw the worst pogroms against Sikhs after Prime Minister Indira Gandhi was assassinated by her Sikh bodyguards on the morning of October 31. Officially, 2,733 Sikhs were killed in Delhi alone; but the real death toll across India is believed to be double that. Rajiv Gandhi justified the massacre by saying, 'When a big tree falls, earth shakes.'" 
TALK ABOUT IT. 
Share this article and its content with your friends and family. Ask them if they know that this genocide happened, why it wasn't discussed in school, and how this affects other minorities in India to this day.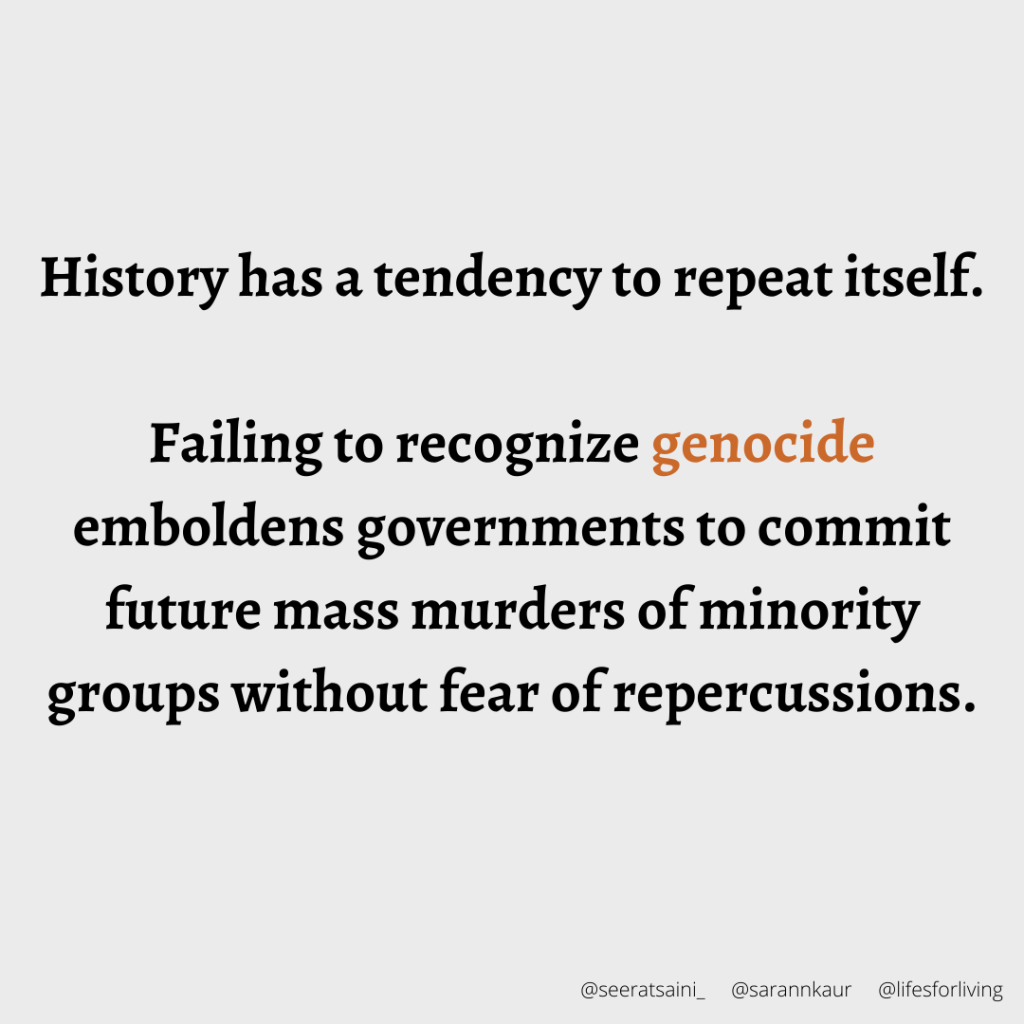 Sharing this story helps pursue justice and protects all religious and racial minorities. History has a tendency to repeat itself and failing to recognize genocide emboldens governments to commit future mass murders of minority groups without fear of repercussions. It's time we take a stand and it's time India takes responsibility. 
The following post was published originally to SeeratSaini.com and republished here with permission.