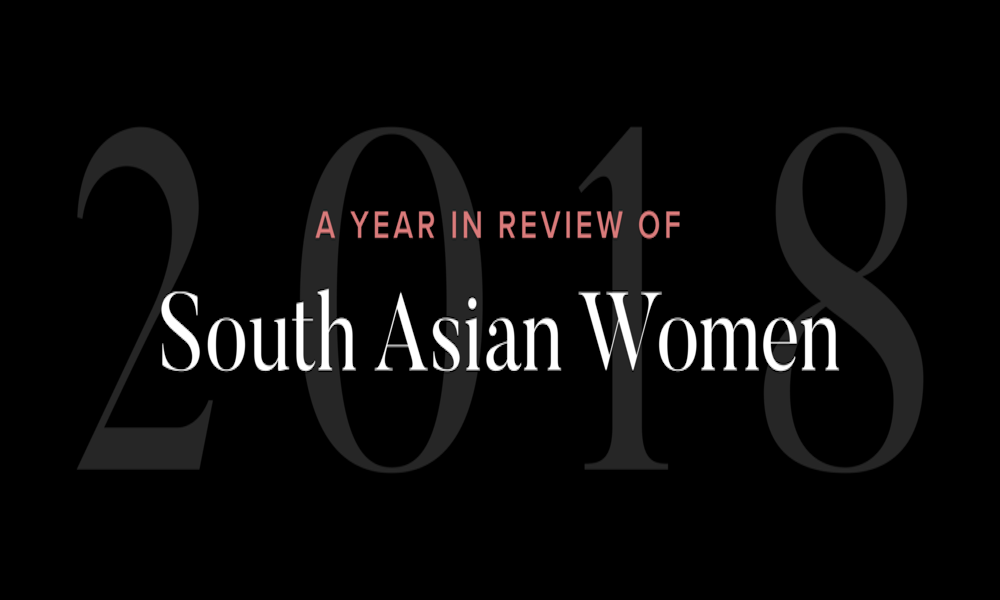 This post was originally posted on Shakti Collaborative and republished here with permission. 
What a year it's been – full of highs, lows, and craziness in between. But in our conversations this past year, one thing was incredibly clear: 2018 was an amazing year for South Asian women. As the year comes to a close, we wanted to take a moment to bring together many of these groundbreaking achievements and celebrate our collective badassery. From women across multiple countries and as young as 14 to 40+, we're highlighting some of our favorite, most inspiring moments of the year – in no particular order:
Championing Representation and Challenging Stereotypes
Pushing Creativity Forward and Sharing Our Unique Voices
Inspiring Social Change for a Better World
Making Strides in the Business World
Testing Endurance, Grit and our Physical Strength
Innovating in Science and Technology
Sharing Strength through Courage and Honesty
Padma Lakshmi shared a heart-wrenching narrative about how she was raped when she was 16, a sign of strength around the time of the Ford/Kavanaugh hearings
Singer Vidya Vox shared a beautifully honest video of her life story, opening up about her struggles with mental health, abusive father and more
Facing cancer, Chef Fatima Ali penned a Note to Self of the personal reflections of a woman who still has so much to offer to the world
So there you have it, our inaugural Year in Review of South Asian women. This list is by no means exhaustive – we know there are so many more amazing women out there who have achieved incredible things this year and that many of the achievements above transcend categories. Please feel free to share with us any other awesome moments we didn't include on this list – we love supporting our tribe.
And if we may, we'll add one more that's not on the list above: the launch of Shakti Collaborative in October. We're so humbled by the raw, courageous and inspiring stories of the many South Asian women we've worked with and thank you all for your continued support. Because of you, we're able to see the impact we can have by inspiring more openness, truth, and love in the South Asian community. Cheers to a great 2019 – we can't wait to share what we have in store.
---
The opinions expressed by the guest writer/blogger and those providing comments are theirs alone and do not necessarily reflect the opinions of Brown Girl Magazine, Inc., or any employee thereof. Brown Girl Magazine is not responsible for the accuracy of any of the information supplied by the guest writer/bloggers. This work is the opinion of the blogger. It is not the intention of Brown Girl Magazine to malign any religion, ethnic group, club, organization, company, or individual. If you'd like to submit a guest post, please follow the guidelines we've set forth here.