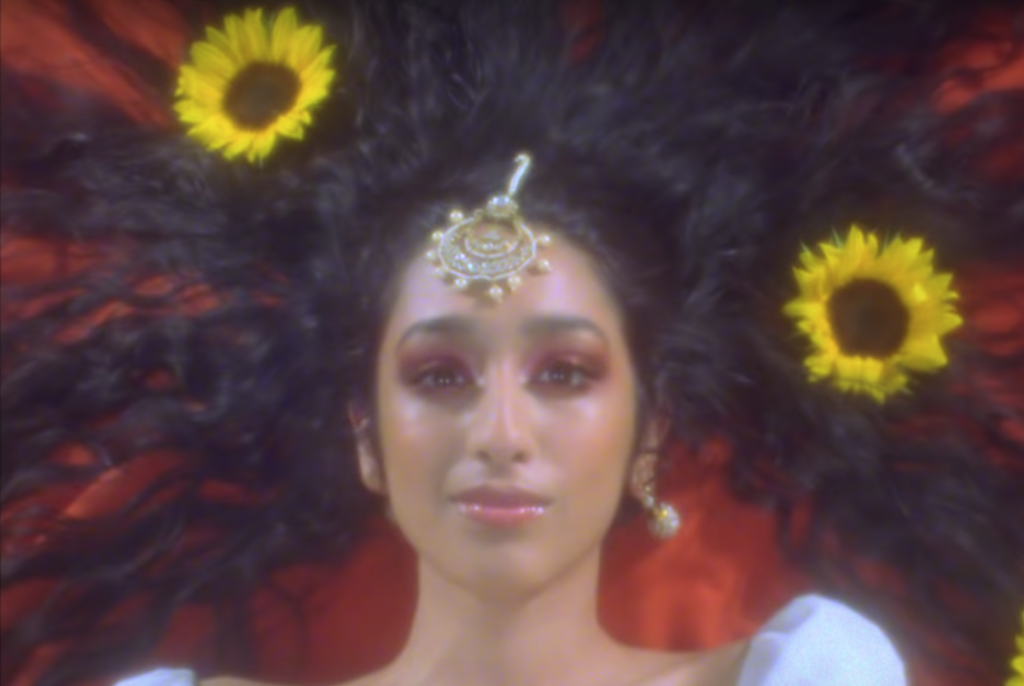 Here's the deal. As someone who considers music a basic life necessity, similar to food, water, air, and shelter (you get the idea), I spend A LOT of my time listening to and looking for South Asian female vocalists. The Urban Desi industry that has erupted over the last 25-30 years has paved the way for many artists, but the representation of women is still BLEEK!
But I always say don't talk about it, be about it! Here is a list of 22 female South Asian vocalists you may not know about, but it's time you do — especially in the new year!
1. Baltimore has got more to offer than crab cakes!
Meet Beya Likhari, a Baltimore native and all-around dope woman. Beya is a singer-songwriter that bridges Punjabi and Bollywood nuances with a Hip Hop/R&B vibe. Having opened for the likes of Majid Jordan and released three EPs, you do NOT want to sleep on her.
2. Electro-Activism
Meet Madame Gandhi, and trust me when I say there are few things in this life I love more than a girl with a koka (nose piercing) and an Afrobeats vibe.
This drummer and vocalist is disrupting the game, known for running the London marathon while free-bleeding to dismantle the stigma around menstruation, being a tour drummer for M.I.A and working at Interscope records. Kiran is the is the true definition of a #Slashie, and she's the epitome of a woman who can and did do it all, making it to the Forbes 30 Under 30 list.
3. The Six just keeps on giving…
https://www.instagram.com/p/BrJPmY9Hwz-/
The Six has been doling out South Asian artists left and right! You may recognize Simar, an English-Punjabi singer based in Toronto, from Fateh's album "To Whom it May Concern." I've got a girl crush on her and so should you.
Drake, you listening?
4. The best book you'll ever read.
Aside from the fact that her moniker is the best thing ever, Her Kitab (real name Mishal Khawaja), a Toronto-raised Pakistani vocalist, has become an international sensation. Catch her on Season 11 of Coke Studio to get a taste of her eclectic selection and soothing sound.
5. Your very own slice of sunshine!
https://www.instagram.com/p/BhLHpOJhHfP/
Meet Samica: This California-based beauty has collabed with Youtube OGs like AJ Rafael and UK artist, Raxstar. Her voice gives me goosebumps and she's major #curlyhairgoals.
6. Move over Dixi Chicks, there is a new girl in town.
Singer, songwriter, dancer and pediatric physician, Dixi is a triple threat powerhouse who is also a classic sangeet singer with JashnATL. She just released her single "Need Nobody" ft. Raxstar.
7. Brought to you by the gods.
Meet Rianjali and prepare for endless waves of awe. Based in New Jersey, she has worked on projects as a lyricist and vocalist with the likes of A.R. Rahman, and she is a skilled guitarist and music teacher. WARNING: Her voice evokes an emotional response! You're not in heaven but let's pretend, shall we? EP coming soon!
8. Wake up. It's time.
Self proclaimed "azaadi pop fairy," Kohinoorgasm is a Los Angeles gem who will draw you in with her intersectional representation and commitment to culture. Prepare for a visual
and phonetic pop experience.
9. DIY Chill
https://www.instagram.com/p/BrVfy19B3Pv/
Meet Diaspoura: This South Carolina-based ethereal artist represents her voice as political platform and can take you on a journey with her electronic wavy vibes. Time to get out of sync and chill.
10. Time to let your hair down and dance!
https://www.youtube.com/watch?v=4qMJgWx8C9w
Meet Rhea Raj, this NYC pop singer is on her way to the big leagues! Seen in American Idol's farewell season, Rhea has received global love on her various pop covers, now promoting her single "Intertwine" you're going to want to keep your eyes ( and ears) on this one!
11. Your new "Feel Good" Favorite
https://www.instagram.com/p/BgFjZHsAhK5
Gurl Music's whimsical and fluid voice will leave you wanting more. This Punjabi-American and Baltimore-based singer-songwriter revels in the freedom of being her and so should you. For all you fans of Rakhi Mutta's "Anarkali," you can find her original "My Body" featured. Rumor has it she's got an EP dropping soon!
12. The most beautiful of collisions
Meet Anjali, "Confluence DC" participant and singer songwriter. Anjali fuses her love for both Eastern and Western music, resulting in the most beautiful of collisions. She recently did an amazing Bollywood medley mashup with percussion extraordinaire Gurpreet Birk.
13. The Curry Queen (No, actually!)
Meet Horsepowar, Complex's First We Feast's "Curry Shop" host and rapper straight out of Vancouver. Not only does she stay spittin' bars, Horsepowar is all honesty and no room for excuses, focused on deconstructing societal notions. This theatre-trained hostess with the mostess just relocated to NYC. Girl, the Big Apple welcomes you and lord knows you got me feeling like a "Bold Woman."
14. Honey, Honey
Raveena Aurora's got me catching feelings in a honey-tinted love. This vocalist is the lovechild of 70's and 90's R&B. Aurora's voice is similar to the mountains — fluid, colorful, mildly hypnotic and all types of female self-love. I'm in a daydream listening to temptation, and I don't wanna wake up.
15. Age is but a number
Meet Riya, the United Kingdom's very own best kept not-so-secret. This Leicester-born and raised fifteen year old vocalist is disrupting the industry after being featured on Bobby Friction's BBC Asia show, her single "No Time" topped the charts.
16. Day of the Girl(s)
Lara Raj, the triple-threat NYC raised, Broadway Dance Center powerhouse is nothing short of the voice of the future. Participant of Michelle Obama's Global Girls Alliance "Day of the Girl," advocating for girls education, Lara is a singing, dancing, acting machine. Having played "Nala" in her school's production of the Lion King, I can not wait to see what this rising star continues to do.
17. East Meets West
Meet Amrit Kaur Lohia, saragi player and soul enthusiast. It's as if she's entering your soul when she sings giving off major Lauryn Hill vibes.
Her rendition of "Change is Gonna Come" by Sam Cooke for the 2015 UN General Assembly event in 2015 and had the entire audience singing along. Lohia takes the beautiful nuances of Punjab from its phulkari embroidery and dedication to classical instruments, and pairs it with the connotative stories of western sounds.  A personal favorite of mine was her TEDx performance of Amrita Pritam's "Ajj Akhaan Waris Shah Nu."  it will give you chills.
18. Tamil Trap
Meet Navz 47 — this Toronto made rapper/singer is making waves with her Tamil Trap vibes, having just returned from the International Youth and Family Planning UN Summit in Kigali. From the flowers in her hair to her lyrics, it's time to get lost in translation.
19. Indian Electronica
https://www.instagram.com/p/Bqz7Da9FLTX/
NYC-based singer, songwriter, composer and violinist, Harini, takes my breath away with her electro-fusion jazzy South-Asian sound. She is everything you've ever wanted to hear both at your wedding, or on a lazy Sunday, laying in bed and listening to music on repeat. Her skills are nothing short of refined, and her warm, friendly demeanor is just as enticing!
20. California Dreamin'
https://www.instagram.com/p/BpuaIBxgTMT/
Meet Aarti: This California-based vocalist reminds me of an unadulterated Christina Aguilera, waiting to take the stage. Her wholesome voice is warm and has a presence of its own. Keep your eyes (and ears!) on this one!
21. Euro-Carnatic
Bensia Don Bosco is a Tamil singer-dancer based in Germany. It's no secret that the South Asian-abroad music industry is populated by North Indians, so Don Bosco is quite a treat! I have a love SO deep for Carnatic music and singers. Let her transport you with her sweet and melodic vibe.
22. Oh So Sweet!
https://www.instagram.com/p/BhnXVjpFrBs/
Meet Amrita Khurana, NY native and Punjabi vocalist. From her suits to her sur, she's about to flow, trust. Musik Therapy's newest addition, we cannot wait to see what she has to offer!