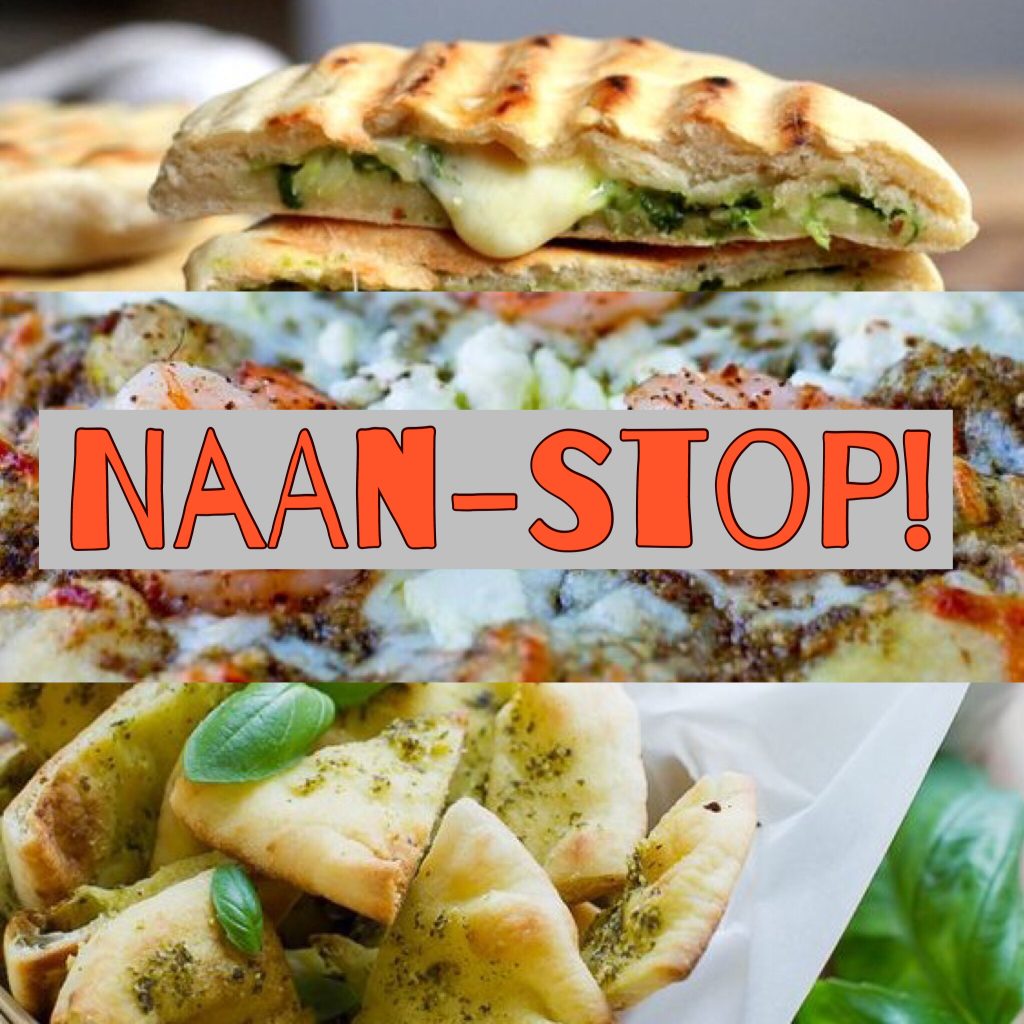 by Soni Satpathy-Singh – Follow @SketchyDesi
My parents always have a surplus of naan after they host one of their many big, phat desi parties.  Too much, yes, I get it. Its hardly a problem. But all that flatbread lyin' 'round and you want me to just heat it up and use it to sop up some subji? I don't think so. There are so many creative uses for leftover or store-bought naan to create bistro fare at home. Here are my favorite recipes for naan stop cooking…and eating.
1.Chicken & Saag Naanini
Makes 2 "naan" paninis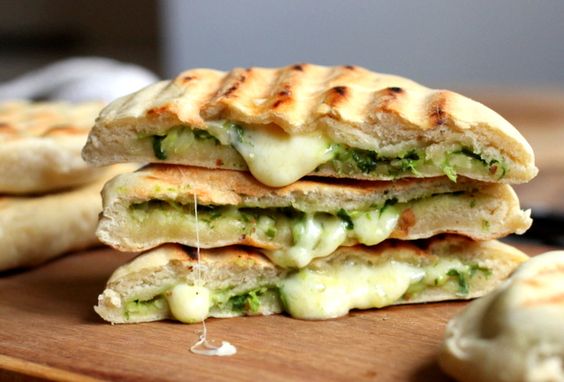 [Photo courtesy: Pinterest.]
Ingredients
Masala Aioli
3 heaping Tablespoons mayonnaise
1 heaping teaspoon freshly minced garlic
1 teaspoon cumin powder
1/2 teaspoon black salt
Juice of 1/4 lemon
Chicken and saag filling
1 tablespoon unsalted butter
1 red onion, thinly sliced
1 chicken breast, thinly sliced
1 teaspoon garam masala powder
1 cup raw spinach
½ teaspoon salt
Freshly ground pepper
Assembly
Unsalted butter for grilling
2 pieces naan
Masala Aioli
Chicken & Saag filling
1/4 cup grated mozzarella cheese
Directions
Place aioli ingredients in a mixing bowl and whisk to combine. Reserve for assembly.
To make the chicken and saag filling: Heat the butter in a skillet over high heat. Once the butter begins to brown, reduce heat/flame to medium. Add onion, stir, and cook until caramelized, about 3 to 5 minutes. Add chicken and garam masala. Cook for 6 to 7 minutes.
Add spinach, stir, and cook until leaves wilt, about 3 minutes. Add salt and pepper. Remove from heat and reserve for assembly.
Construct naaninis by dividing masala aioli between both naan pieces smearing it evenly across. Place chicken-saag filling on one side of the naan; top with the mozzarella and fold over. Repeat with remaining naan and ingredients.
Place stuffed naan in a warmed and buttered Panini press and cook until the cheese has melted and there's a crispy exterior.
2. Shrimp, Mint Chutney, and Goat Cheese Pizza
[Photo courtesy: Pinterest.]
Makes 2 pizzas
Ingredients
Mint Chutney
1 small bunch mint, leaves only
1 ½ tablespoon light brown sugar
1 tablespoon extra-virgin olive oil
1 tablespoon tamarind concentrate
1 teaspoon salt
Shrimp
½ pound unpeeled, large raw shrimp (31/35 count)
1 tablespoon extra-virgin olive oil
½ teaspoon garlic powder
½ teaspoon onion powder
¼ teaspoon chili pepper
¼ teaspoon cumin powder
Pizza Assembly
2 large naan
Mint chutney
Seasoned shrimp
1/4 to 1/2 cup goat cheese (depending how much you want)
Directions
Preheat oven to 375 F.
Place mint, sugar, olive oil, tamarind concentrate, and salt in a blender and blend until smooth. Reserve for assembly.
Place shrimp ingredients in mixing bowl and toss to combine.
To assemble pizza, place the naan on a clean work surface. Use a pastry brush to spread mint chutney on each naan. Distribute seasoned shrimp on the naan equally. Top with goat cheese. Bake for 10 to 12 minutes. Remove from oven and serve with remaining mint chutney.
3. Garlic Naan Chips with Basil Chutney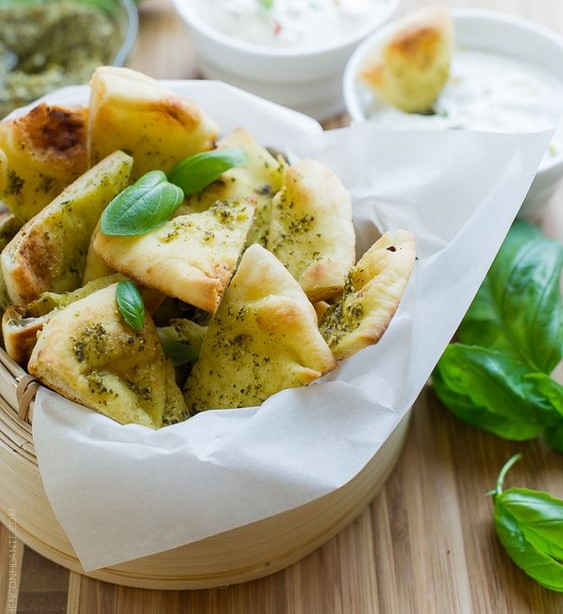 [Photo courtesy: Pinterest.]
Ingredients
4 large naan
2 tablespoons extra virgin olive oil
2 teaspoons garlic powder
2 teaspoons dried oregano
Basil Chutney
1 bunch fresh basil, leaves only
2 tablespoons agave syrup
1 tablespoon tamarind concentrate
1 teaspoon salt
Directions
Preheat oven to 400 F.
Cut each piece of naan into triangles or strips. Toss with olive oil, garlic powder, and dried oregano. Arrange in one layer on a baking sheet and bake for 10 minutes, or until golden brown. Remove from oven and transfer to the serving dish.
To make the chutney, blend basil, agave, tamarind concentrate, and salt until smooth. Transfer to a decorative bowl and serve alongside naan chips.
To see more of Soni's original food articles and comics, visit facebook.com/sketchydesi.
---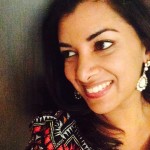 Soni Satpathy-Singh is a recipe developer and content writer who resides in Manhattan. She is either always cooking or eating be it for work or simply because she loves to! She is working on her own comic cookbook as her alter ego "Sketchy Desi." Stay tuned to upcoming posts on Brown Girl Magazine.