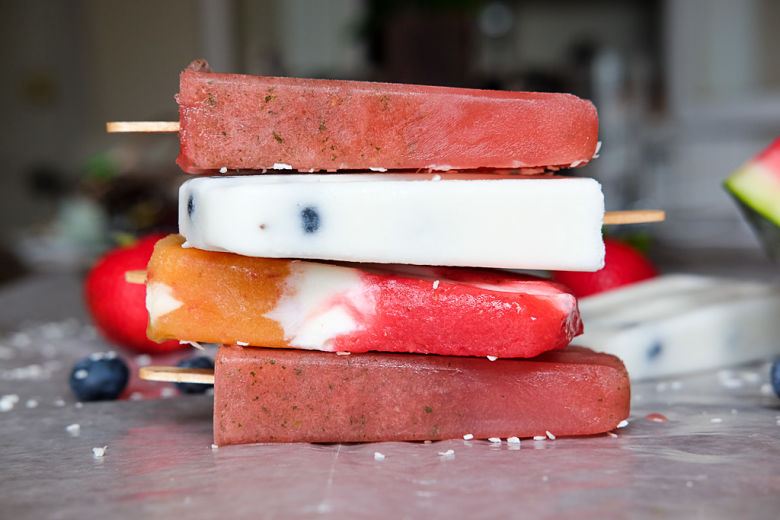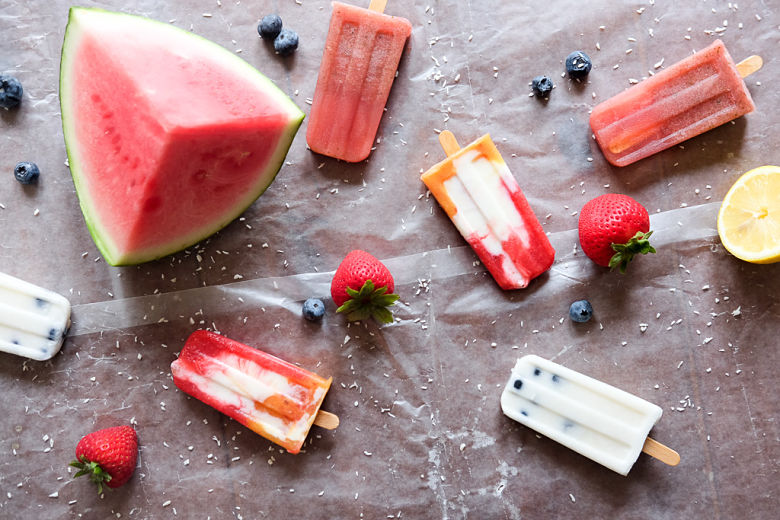 This post was originally posted on Sweet&Masala and republished here with permission. 
I don't know about where you are, but here in Boston, it is starting to get hot and humid. The heat isn't so bad, but when you have that humidity it SUCKS. I feel like I need to take a shower as soon as I step outside.
Anyways. Let's talk about something serious, k. Ready?
POPSICLES!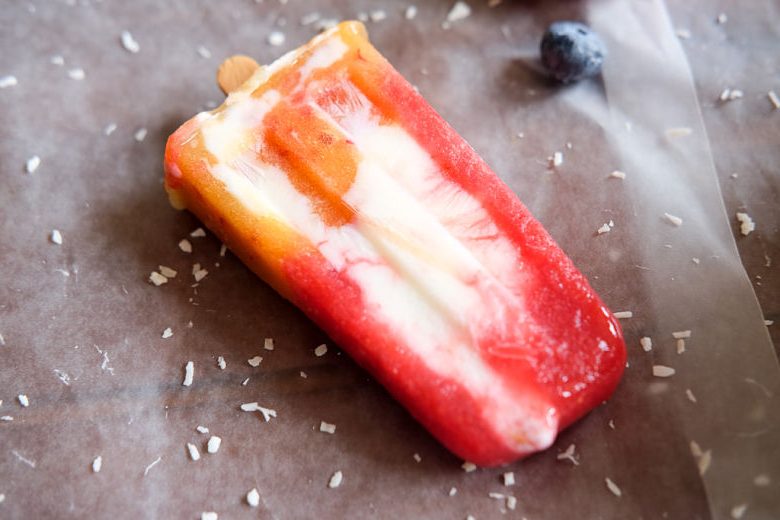 [READ RELATED: Easy Mango Pudding]
Let me backtrack for two seconds and talk about an even more important subject…ICE CREAM. I love ice cream. YEAH. It's pretty simple. The thing about ice cream though is that it's full of fat! I know, I know… You can get dairy-free ice cream and other stuff like it, but personally, if I am going to eat ice cream, I'm just going to eat the real thing.
That leads me to popsicles! Popsicles can be a fun way to get that frozen treat fix without worry about what's in it, especially if you make them at home. You can make them with fresh fruit, purees, yogurt, herbs, etc. Customization is key, and since I'm doing this entire 80/20 thing, I might as well reward myself with some healthy treats! These popsicles were super easy to make and gave me all the sludgy, icy feels when I bit into them. Like I said, playing around with flavors and having fun with these popsicles is half the fun! I bought a popsicle mold off Amazon, here, which came with convenient slits on top for the popsicle sticks.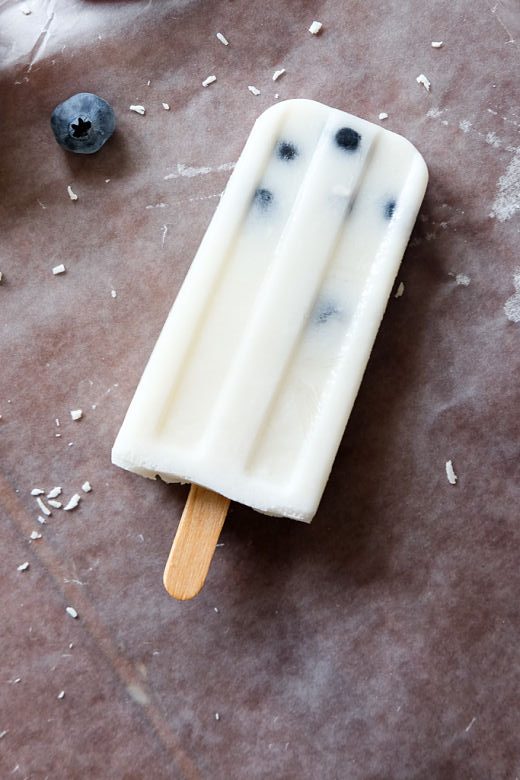 These freeze really well and can be ready to eat by the end of the day if you do them in the morning. I would recommend overnight if you can. My recipes called for some coconut passionfruit water which I found at my local grocery store, but if you can't find it, just use regular coconut water or any flavor you like!
[READ RELATED: Healthy Ice Cream Sandwiches]
These popsicles are a great alternative to the kinds you buy at the store, well, first, you know what's in them + there isn't any refined sugar in them, so you can feel good about what you are eating. Now, I know you def want a popsicle now. Get to making them!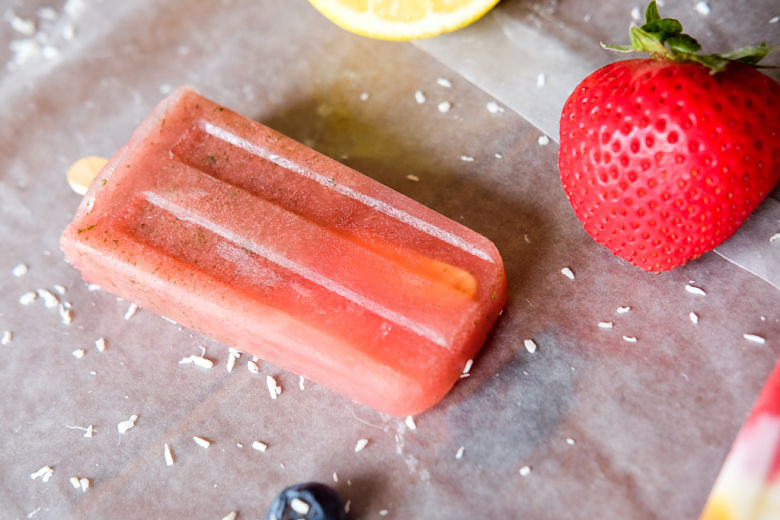 What is your favorite popsicle flavor?
SUMMER POPSICLES
Peach Strawberry Yogurt Popsicles
8 large strawberries pureed
3 peaches pureed
2 tbsp. honey
2 tbsp. vanilla Greek yogurt
Watermelon Mint Popsicles
1 cup watermelon pieces cut
1 tbsp. fresh mint leaves
½ cup coconut passionfruit water
2 tbsp. lime juice
1 tbsp. lime zest
1 tbsp. Honey
Coconut Lemon Blueberry Popsicles
5 lemons juiced
½ can coconut cream
¼ cup coconut passionfruit water
1 tbsp. honey
Handful of blueberries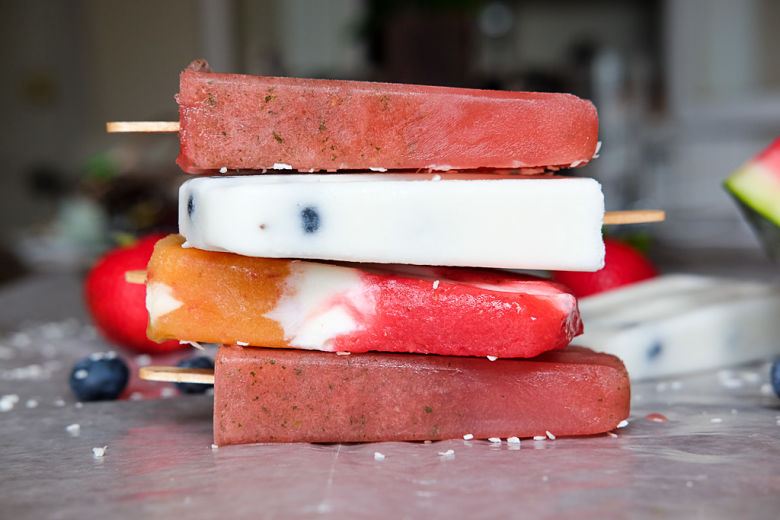 INSTRUCTIONS
Peach Strawberry Mango Yogurt Popsicles
Blender together strawberries and 1 tbsp. honey until pureed and set aside.
Repeat with peaches and set aside.
In your popsicle mold layer 2 tbsps. strawberry puree, followed by 2 tbsp. yogurt, then 2 tbsp. peach puree and repeat until full.
Make a fruit puree your last layer.
Tap the mold on the counter to let the layers settle and to remove air bubbles.
Insert the sticks and freeze overnight.
Watermelon Mint Popsicles
Blender together watermelon, mint, coconut passionfruit water, lime juice, lime zest and honey.
Pour into molds.
Insert the sticks and freeze overnight.
Coconut Lemon Blueberry Popsicles
Blend together lemon juice, coconut cream, coconut passionfruit water and honey.
Pour into molds until almost full.
Add as many blueberries as you like and fill up the rest of the way.
Insert the sticks and freeze overnight.
RECIPE NOTES
Try using whole pieces of fresh fruit for fun color and textures! For the Strawberry Peach Popsicles, my popsicle maker made three even layers of each fruit. Replace the coconut passionfruit water with regular coconut water or any other flavor. I had extras leftovers for all the purees, which can be kept in the fridge for a few days.