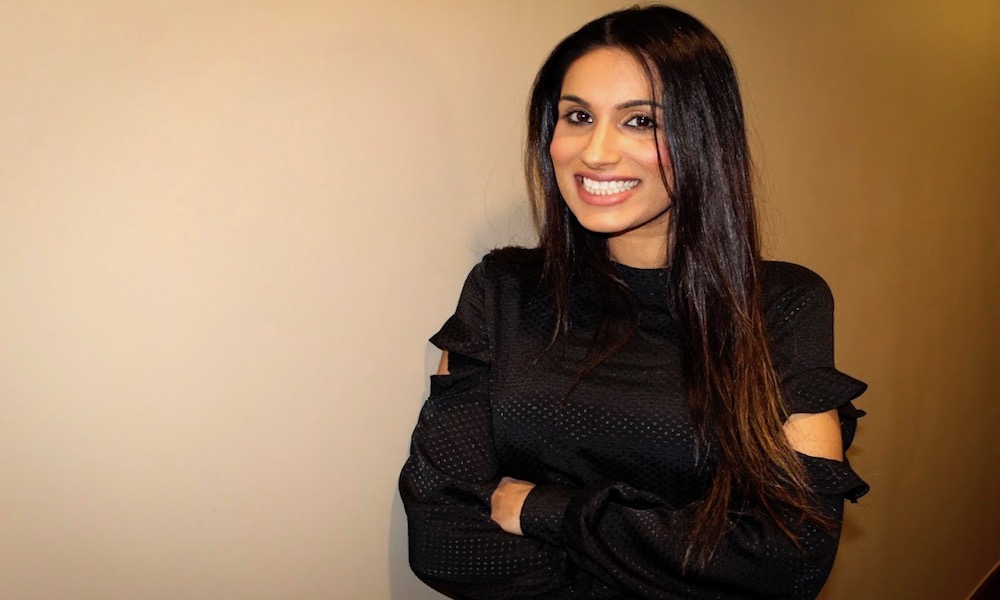 What if you found out you had a genetic mutation that significantly increased your risk of developing cancer?   
My name is Anjali Karamchandani, and I am a 32-year-old mother of four children—ages 8, 7, 5 and 2. I had always feared cancer, as I lost my maternal grandparents and aunt to the disease at a young age. When I visited a genetic counselor to discuss my family history, the counselor concluded that based on the CancerGene Risk Assessment Model, my odds of having any gene mutation were less than 1 percent; therefore, she could not justify ordering the test. I refused to leave her office until she agreed to test me.  
It was November 2016 when I received the shocking news that I was carrying a BRCA gene mutation ("the BReast CAncer gene"), which meant I had a significantly increased risk of developing breast, ovarian and pancreatic cancers. I was in complete disbelief as the genetic counselor had been so sure I would test negative. How could this be? I exercised every day, ate well, didn't drink soda, and besides my obsession with chocolate, I was healthy overall.  
The days following my diagnosis felt like months. I was overcome with depression, fear, and anger. I felt like there was a ticking time bomb inside of me that could go off at any time. Would I be here for my children as they grew up? Would I be able to witness all of the precious little moments and celebrate birthdays, graduations and weddings? Were my children, my siblings or my parents BRCA positive? I felt completely lost, and I had no idea what to do next.  
Over the next few months, I squeezed my children extra tight at bedtime, and I wrote letters for them to read should anything happen to me. I told them how much I loved them and reminded them to always take care of each other and be kind. I told them to grow up and become the best versions of themselves, and that being their mom was my greatest gift in life. I told them I would always be with them in their hearts. Hopefully, they would never need to read my letters, but the only way I could retain any sense of control was to be prepared.  
Learning I was BRCA positive sparked a flame deep inside my soul, setting into motion a series of decisions and events that would alter the course of my life. My first decision was that I was going to do whatever I could to fight for my life and be here for my children. I was NOT going to let cancer win. 
I searched online for other Asian-Indian women who had gone through a similar experience. How did they feel? How did their families react? Were they concerned about their children like I was? Did they tell their in-laws and extended family? I had a million questions but was unable to find any answers.  
I met with numerous doctors, trying to make sense of what was happening. My gyn-oncologist (gynecologist oncologist) ordered several blood tests, ultrasounds and CT scans over the next six months to determine if anything should be done at the time to reduce my risk for ovarian cancer. During that period, the level of cancer-antigen 125 (CA-125) in my blood had risen rapidly and my scans were inconclusive. When considering these factors, along with me being BRCA positive, my gyn-oncologist recommended that I have my ovaries and Fallopian tubes removed without any delay. Doing so would instantly put me into menopause 20 years earlier than the average woman, and I would begin to experience hot flashes, mood swings, insomnia, memory loss, and decreased bone density. Even so, I made the difficult decision to proceed with the surgery in August 2017, as I had to take action.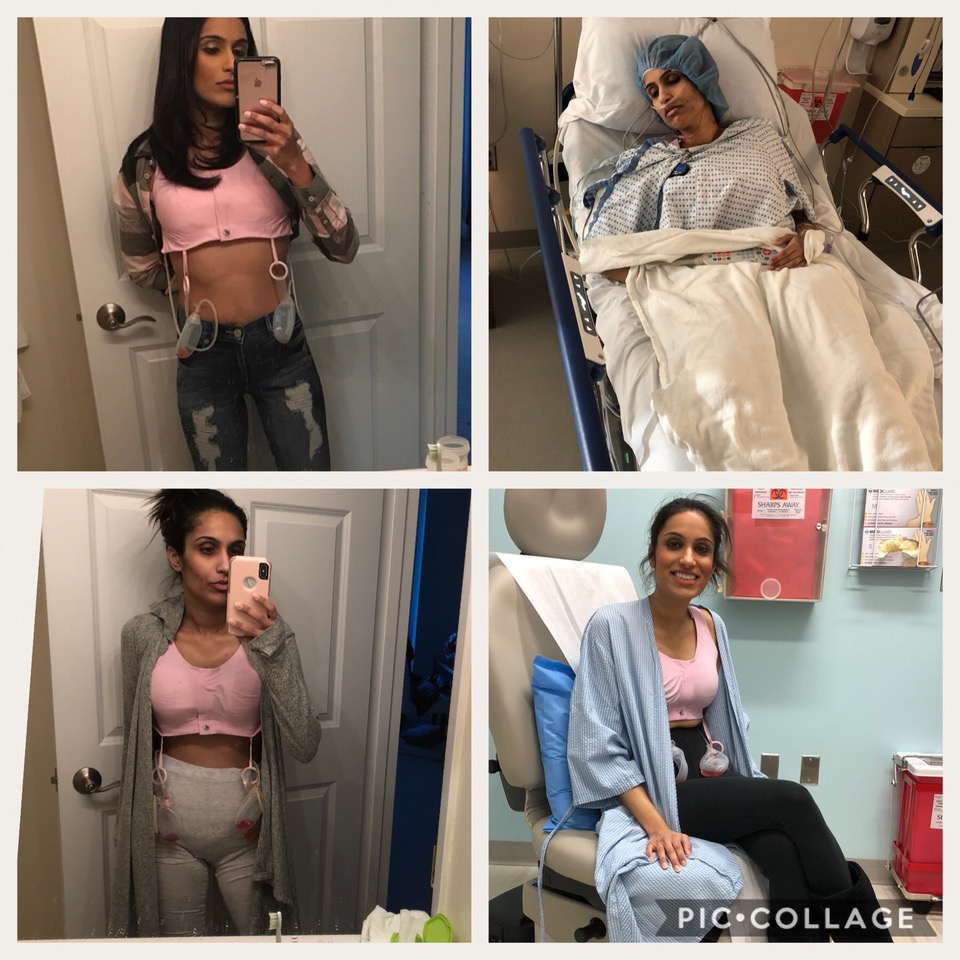 With one surgery under my belt, it was time to make a decision on how to minimize my risk for breast cancer. There were two options: 1) regular screening including a mammogram and MRI at six-month intervals, or 2) prophylactic double mastectomy surgery. My doctors and I agreed that in my situation, the best option was surgery. Losing any part of one's body is physically, spiritually and emotionally difficult. It was especially heartbreaking for me to consciously decide to remove a part of my body. With that being said, my priority was to be there for my family, and I was determined to do whatever was necessary.  
In November 2017, I underwent a preventive double mastectomy and lymph node removal at Memorial Sloan Kettering. The surgery lasted six and a half hours and I awoke to severe pain. I was not able to hug my children or raise my arms up for several days. I had no feeling in my upper arms and chest. It quickly became clear that my recovery would be much longer and more difficult than I had imagined. After spending one night in the hospital, I came home flat-chested with saline expanders implanted and two drains stitched into my sides. While the process was extremely painful and emotional, I knew I had made the right decision.
Following my mastectomy, I made weekly visits to the hospital for saline expansions. In February 2018, I underwent an exchange surgery in which the saline-filled expanders were traded for silicone implants.    
At that point I was excited to put this chapter behind me and finally get back to being the active and fun mom I was used to being, as I had missed so much time with my children through the three surgeries. Little did I know that just eight weeks later, it would become clear to my plastic surgeons that a revision surgery would be needed. That's what I underwent in June 2018.
It has been eight months since my fourth surgery and I am still experiencing a continuous dull pain in my chest as well as constant back pain. After discussing with my plastic surgeon, it seems that another revision surgery is in my near future. I am trying to stay positive and am hopeful and optimistic that my next surgery will bring me relief from pain and an increased level of comfort.
Even more difficult than going through four major surgeries in one year is knowing there is a 50 percent chance that I passed this genetic mutation on to my children. I constantly battle with this reality. I can only hope that by seeking knowledge, advocating for myself and taking action, I can set a positive example for my children. My hope is that as they grow older, they will have a wealth of resources and support at their fingertips.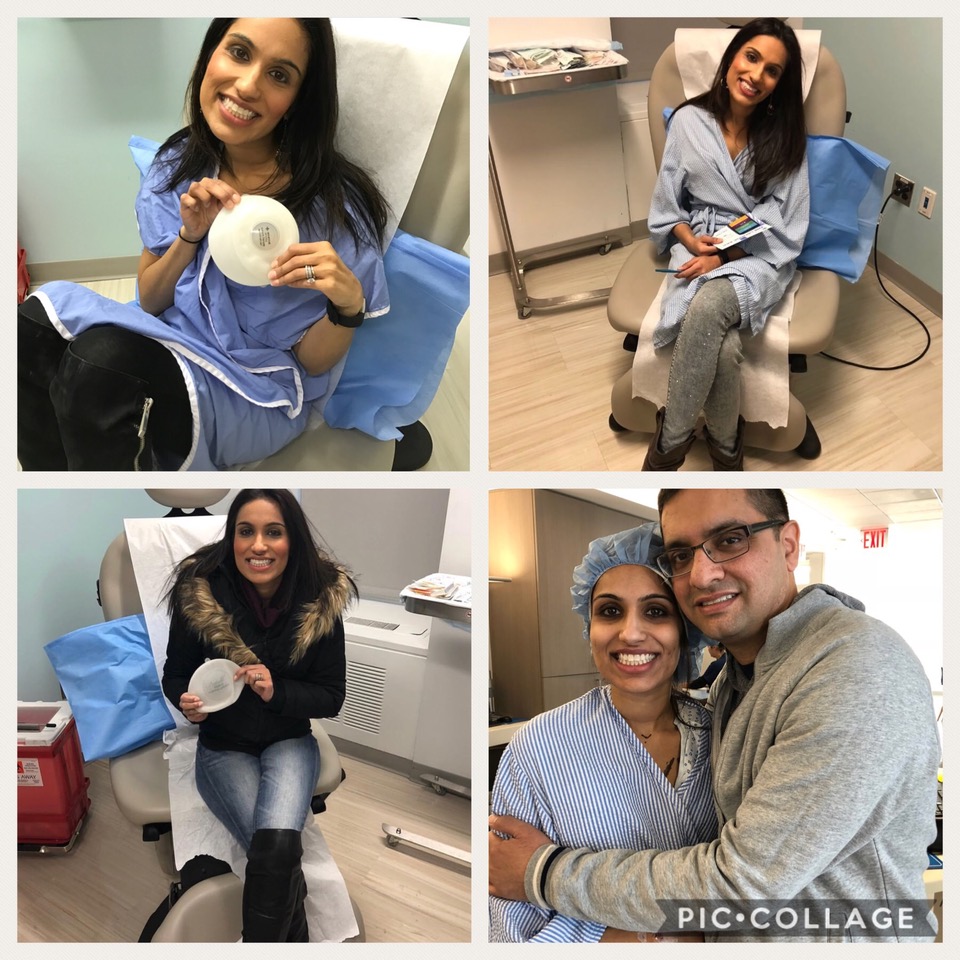 Though the last 18 months have been the most challenging of my life, they have also been the most empowering. I have been fortunate enough to meet so many amazing and powerful women who have helped me through this journey. I have learned the importance of mind over matter in persevering through challenges, and I feel so grateful to have been able to make the decisions I've made.  
I am sharing my story on Instagram (@angiesbrcalife) to raise awareness and encourage women to ask questions about their family histories and their bodies. I want to provide support for women who are going through genetic testing, surgically-induced menopause, and mastectomies so they have somewhere to turn with questions. I want to share how these circumstances affected me, my children and my marriage. And lastly, I want to remind them that as strong women, we are our own greatest advocates. 
---
The opinions expressed by the guest writer/blogger and those providing comments are theirs alone and do not necessarily reflect the opinions of Brown Girl Magazine, Inc., or any employee thereof. Brown Girl Magazine is not responsible for the accuracy of any of the information supplied by the guest writer/bloggers. This work is the opinion of the blogger. It is not the intention of Brown Girl Magazine to malign any religion, ethnic group, club, organization, company, or individual. If you'd like to submit a guest post, please follow the guidelines we've set forth here.