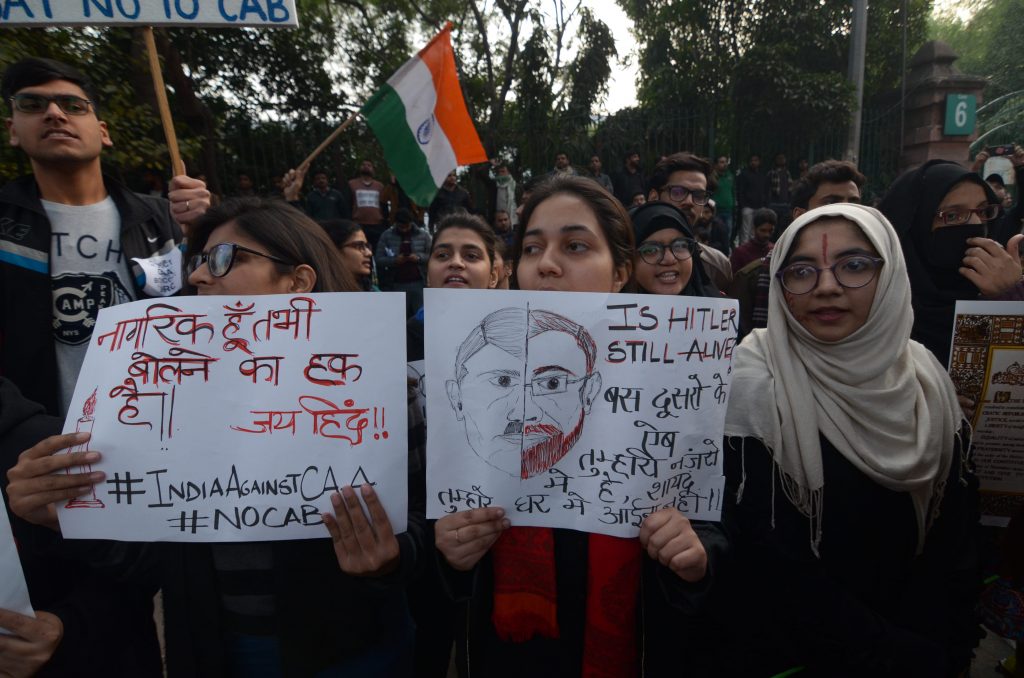 It is hardly news that India is in the midst of an identity crisis. With protesters across the nation injured and killed, telecommunications in several states shut down, and an entire segment of the population under threat of detention/deportation. The Citizenship Amendment Act has wreaked absolute havoc. The CAA gives explicitly illegal immigrants of Hindu, Christian, Jain, Sikh, Buddhist, and Parsi communities a path to citizenship. However, neglecting to make any such provisions for Muslims (15 percent of India's population). People say it violates Article 14 of the Indian constitution, which provides equal protection before the law. 
As the country faces what could become a turning point in Indian history, artists across the nation have made it clear they will not be on the side of silence. Through dance, murals, and poetry, these incredible cultural influencers are using their skill sets to remind us of India's democracy. Have a look at some of these mighty works.
1. Nikkita Banawalikar
Banawalikar is a 24-year-old Kathak dancer based in Mumbai. She recently assisted with choreography for the song Ghar More Pardesiya. In this piece, she uses a series of beautiful mudras to enact a poem written by Aranya Johar, a slam poetry creator who is among BBC's 100 women of 2019. The verse speaks of an Indian population that can only be defined by its religious diversity. Watch this spectacular piece of spoken poetry come to life through dance:
https://www.instagram.com/tv/B6XcztZhodj/?utm_source=ig_web_copy_link
2. Rishiraj Chakrabartty
Chakrabartty is a street artist with graffiti murals all over India. With a background in animation, his work strikingly juxtaposes industrial city canvases. This depiction of the motherland personified as an actual mother bearing a fallen child is breathtaking. Chakrabartty wants to tell his viewers that whenever a child of mother India falls — no matter their faith — it puts her in pain.
https://www.instagram.com/p/B6X5cPRldPF/?utm_source=ig_web_copy_link
3. Neola Gonsalves
Gonsalves is a young makeup artist based in Bangalore. She has chosen to make a strong statement with her face painted as the tiranga (tri-color) national flag. Gonsalves has masterfully depicted a bullet wound on her chest while shedding bloody tears. She appears to be indicating that the impact of the CAA is so strong it is as though a bullet has gone through the heart of the country. 
https://www.instagram.com/p/B6LEAT7hdF4/?utm_source=ig_web_copy_link
4. Prabhleen
She is a mehndi artist and Instagram blogger. In her latest work, she has chosen to portray a line from one of Faiz Ahmed Faiz's evergreen poems around her palms. The words "We Shall Witness" curve along the lines of her palms in Urdu, Punjabi, Hindi, Tamil, & English. In "We Shall Witness," Faiz assures his readers of the day oppressors will fall. Prabhleen writes that the India she grew up it sounded like all of the languages represented on her palms. 
https://www.instagram.com/p/B6VX48iJGkb/?utm_source=ig_web_copy_link
"A moment comes, which comes but rarely in history, when we step out from the old to the new — when an age ends, and when the soul of a nation, long suppressed, finds utterance. It is fitting that at this solemn moment we take the pledge of dedication to the service of India, and her people, and to the still larger cause of humanity." – Jawaharlal Nehru (A Tryst With Destiny)
An excerpt from India's first prime minister's speech compliments recent protests. He comments that as long as there is a pain in India, work will not be complete. These protests, although minuscule, can continue the conversation to seek a path of hope and social harmony.