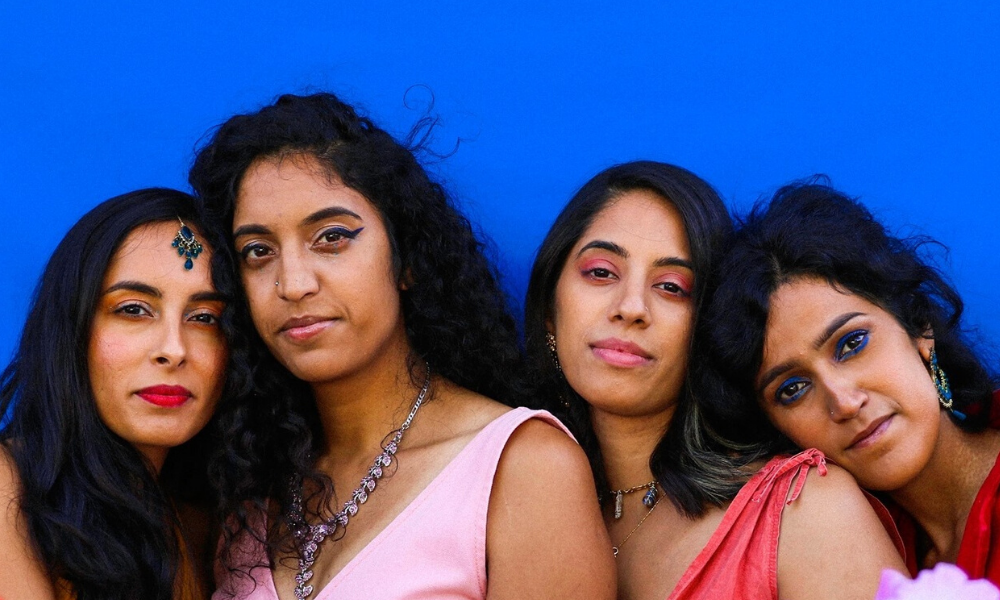 4 Brown Girls Who Write are a group of sassy British Asian women who have recently made their mark on both the poetry world and in the world of up and coming British Asian artists, helping to shape a vibrant, dynamic space in which community expression is taking on new meanings. Having released their first poetry collection, and performed to sold-out audiences at the Edinburgh Fringe, the world's largest arts festival in Scotland, with their collaborative show "The Poetry Phamily," they are now coming to London to make its second debut on 15th November. 
https://www.instagram.com/p/B385TdHn2zt/
Brown Girl Magazine recently caught up with members of the poetry collective to discuss their inspiration and working together to create something new and organic. One of the founding members Sheena Patel tells us how she came together with Roshni Goyate, Sharan Hunjan and Sunnah Khan to form 4BGWW. She describes how coming together felt natural, organic. Thinking about the exploration and exhibition of vulnerability. Patel tells us,
We thought it might be a good vibe to get people together to explore this idea, my ex-boyfriend cooked on a BBQ, we drank a lot and read to one another. I've known Rosh and Sharan since uni but we had drifted apart, Sunnah was a friend of a friend but came down as she was curious. On the night we found we resonated with one another, started a Whatsapp group which I called 4 BROWN GIRLS WHO WRITE and that's it. We wanted a space to be supportive and give feedback but we couldn't have guessed what would happen as a result of that night.
For the four girls, it is the friendship and support that's at the centre. Patel referred to the girls as "the best parts of my brain." I asked what makes working together as a group different, and whether there was something subversive about working collectively. Her response was thought-provoking.
I guess it's subversive because we are all the children of Thatcher  (former Conservative Prime Minister), Whether we like it or not – we all hustle, self promote and we live in extremely neoliberal times where the Tories in this country and the Republicans in America are trying to push for a more extreme libertarian world and we are in a hyper-capitalist economy that values individuality above all else. Yet here we are flying in the face of that, to a degree, by being a band in a way, the racism that says we're all the same by calling ourselves 4 BROWN GIRLS WHO WRITE and are trying to melt ego for a chance to heal together.
It's a different kind of challenge, trying to work together under pressure on projects that are dear to everyone in the group, like a book, and their Edinburgh Fringe show "The Poetry Phamily." Patel has described it as a learning process, understanding where to push the boundaries on issues you care about but ultimately working to protect the "delicate balance between the four of us." Their whole vibe and gorgeous aesthetic are founded on sisterhood and sharing. 
When we get ready, one of us will put something on that will set a trend for the others and we share makeup clothes and jewellery. When I came back in from being out in Edinburgh one time, I saw Suns and Sharan had raided my suitcase because they were wearing my clothes and Suns shouted 'well you wanted sisters!'
Patel describes the poetry writing process as equally about sharing and giving. 
One will write about something and that may inspire another – when we perform we often echo that process too, it's what feels right at the moment and trusting our instincts.
It's not just about the poems themselves. The whole performance is part of a system and process of giving and receiving support and love. Creating a circle shape that includes the performers and the audience is central to creating a feeling of horizontality. Patel says, 
It makes for a beautiful vibe and I think as human beings we respond to circles – it's womb-like, a hug shape, it's elemental we have had stone circles and burial pits in that shape going back thousands of years. We are all put in a pyramid system, where we are scrabbling to be at the top in competition with one another but a circle immediately levels off inequality and makes the experience democratic.
Publishing a poetry collection was a landmark moment. After performing at FEM Zine's launch in January 2018, the poets were contacted about an opportunity to publish. The process was one of collaboration and brainstorming. Their inspiration for the book came from the Faber poetry books and Reni Eddo-Lodge's 'Why I'm No Longer Talking to White People About Race." The feedback and responses to their work have been overwhelming. Patel recalled some of the best moments and memories of the journey so far,
The standing ovation at the Fringe was pretty wild and the book launch last year was a feeling of incredible freedom, even days after. However, it's probably the moment I looked at their soft faces on the boat and found creative belonging. I always feel half of a thing, and when we made 4BGWW I found a soft place I could rest with sisters I'd always dreamt of having. It still feels like we write for one another, they are the people I want to impress the most.
https://www.instagram.com/p/BqPf1mxA1Vc/
This sense of creative belonging really stood out in our conversations, and it struck me how many young brown girls struggle against expectations to follow a vocational or science-based career path, who don't get the opportunity to follow their creative drives and paths. I asked whether Patel had faced such obstacles within the community, how she overcame them and what advice she would give to others with a creative urge and a love for the arts needing fulfilment. She explained how a rebellion in her teenage years and twenties damaged her relationship with her families, but some years later, things have healed. 
I knew what was right for me and I fought for it. It was that or spiritually die and I chose my life. As for creativity: Write, write, write, write! We all have day jobs so we fit this around babies and lives and relationships but it's important to us so we make time for it. Show up basically. We all have one life so you might as well do what is true to you, whatever that looks like. Be soft and brave, be truthful. Write from the difficult places but transform your trauma, that's when it's poetry.
If you too are gutted to have missed the 4BGWW party in Edinburgh, you've got a chance to redeem yourself. The girls are bringing the showdown to London to bring even more people into the circle. You can catch 4 Brown Girls Who Write in action with the Poetry Phamily on 15th November in London, performing their sold-out Edinburgh Fringe show, followed by a night of more spoken word, stand-up, live music and DJ sets. Get your ticket here.