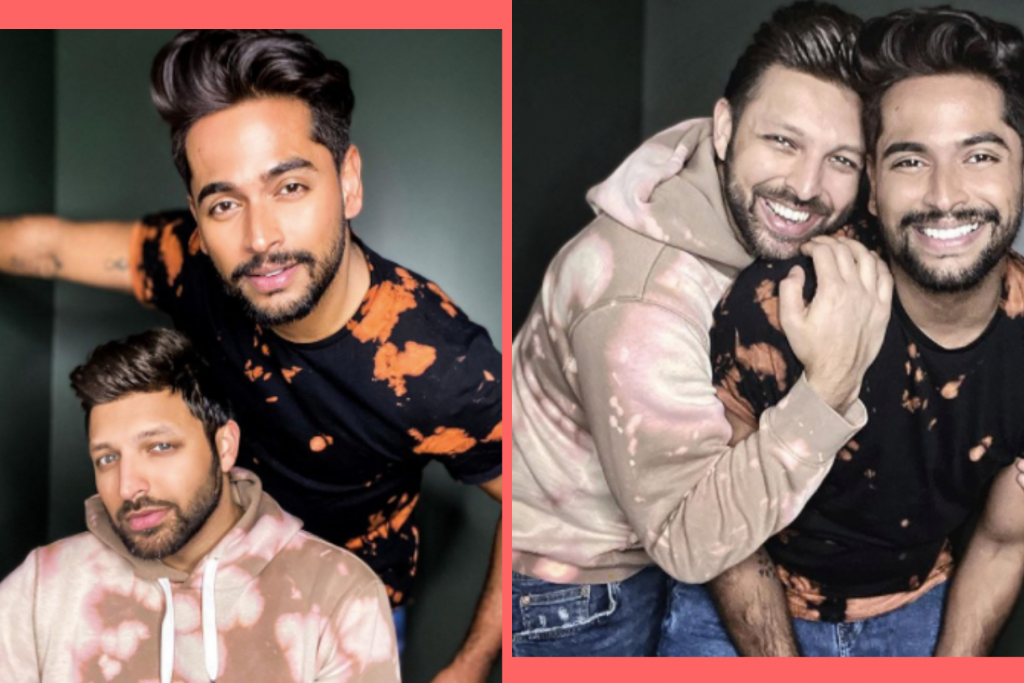 The usual date night activities — going out to eat at a restaurant, grabbing a drink at a bar, or checking out the latest blockbuster at the movie theaters — are no longer options as states announce lockdowns during the growing coronavirus pandemic. Finding date ideas to stay captivated and engaged within your relationship while navigating this new normal can be a bit challenging. Binge-watching shows on Netflix and ordering endless amounts of UberEats eventually gets old.
The good news is, it doesn't have to be that way! Just because we can't relish the typical date night activities we indulge in doesn't mean fun activities don't exist in quarantine. In fact, this is the time to get creative, explore out of the box activities to do with your partner and continue to evolve together, despite COVID-19. And here to give you the ultimate couple goals is New Jersey-based husband duo Aditya Madiraju and Amit Shah — they're taking quarantine in stride with lots of TikToks, cute at-home photo sessions and being each other's best company. 
To help you all get your creative juices flowing, here are four fun date ideas:
1. Try Out a New Recipe Together
View this post on Instagram
There's no other time like now to experiment in the kitchen. I know for myself, there have been plenty of times I look at an interesting recipe and think to myself, "We have to try this recipe out soon!" Buuuut…then I get lazy, and my boyfriend and I always end up resorting to eating out at a restaurant. It's comfortable, it's convenient, and it's always a safe bet when you're not exactly sure whether or not your dish is going to come out edible (at least in my case). But since eating out is off the table, now's the time to expand your cooking portfolio and try out a new recipe together. Cooking together is a great bonding experience for multiple reasons, and it's also a way to keep things fun and interesting between you and your partner.
For a romantic dinner, try out a recipe like this creamy mushroom garlic chicken recipe with a side of garlic roasted potatoes, along with a glass of wine. To really get in the mood, light a few candles. If a romantic candlelit dinner isn't really your thing, use this time to up your meal prep game! If you and your partner are in a WFH situation right now, having quick, accessible meals is crucial so you don't waste a ton of time each day preparing your meal during work hours. Pick a recipe for the week, then go grocery shopping and meal prep together! Who knows; maybe you'll both become meal prep experts, and be friendlier to your wallet after this pandemic is over.
2. Have a Jam Session
View this post on Instagram
If partaking in a musical duet with your partner has always been a silly idea you simply fantasized about but never thought you'd actually act on, I'm here to tell you that you just might now. With coronavirus making almost everything outside of our homes a health hazard, we're forced to look inside for entertainment. And you know something? I can almost guarantee that most of us have at least one instrument lying around the house that's been collecting dust for quite a while now (in my case, it's an 18-year-old Casio keyboard).
Use this opportunity to tinker around on your instruments —  or practice your vocal skills if you don't play an instrument —  and experiment with making music with your partner. I can't guarantee any Grammy Award-worthy music coming out of this, but it's an unforgettable, unique bonding experience that you and your partner probably wouldn't have shared together, or even thought about, had it not been for this lockdown. And who knows? Maybe it could turn out better than anticipated, you guys become Instagram celebrities overnight, end up quitting your corporate jobs, and start touring the country as a musical duo. The possibilities are endless, so dedicate an evening to having a jam session with your partner. 
3. Explore Your Local Trails
View this post on Instagram

If you thought that this time under quarantine meant you have to stay cooped up in your house, never to see the light of day for who knows how long, think again! While most places are closed right now, metro parks and multi-use trails are generally still open to the public. In Ohio, for example, nature preserves and forests still remain open, which includes state parks. And even in New York, the state hardest hit with the coronavirus, state parks remain open for a healthy nature break. This means that if you're looking to get some exercise and enjoy the pleasant weather that will be approaching us in the coming weeks, you certainly can, so long as you continue to follow coronavirus safety protocols and practice social distancing. 
Get outside and go to your local state or metro park with your partner and enjoy a nice hike together. With the spring bloom right around the corner, you're sure to encounter gorgeous views and photo ops. If biking is more your cup of tea, find a multi-use trail where you can bike together. Not sure whether or not there are trails in your area? Check out AllTrails. Just type in where you live, and it will pull up all kinds of trails in your area, with user reviews! It's like the Yelp of nature trails! Getting out in the woods, hiking, and occasionally biking is something my boyfriend and I do together quite often, so it makes me happy that this opportunity still exists for us. 
4. Have a Buddy Reading Discussion
View this post on Instagram
Do any of you have a huge list of books you've been meaning to read but haven't gotten a chance to yet? Or more likely, you've been procrastinating? Yep. That would be me. I've been saying I'm going to read a book for leisure for over a couple of months now, and I still haven't. 
Coincidentally, my boyfriend has been wanting to read a book for leisure as well. So, we decided to try buddy reading. He's all about war history and international relations, and I'm more interested in dramatic romance novels. So we decided to compromise and try reading a book that combines both of our interests and ended up picking Of Windmills and War, one of many books that are free to read in the Kindle Store if you have an Amazon Prime membership. Our plan is to read a chapter each week and have a  date to discuss what we think. Sure, it may bring you back to your grade school days when your teacher would pair you up with another student and have you discuss a book you were reading in class, but the idea definitely has merit.
Buddy reading a book is an awesome way to create stimulating conversation, keep yourself motivated and accountable, since you and your partner will have to stick to your reading goals to be able to discuss chapters, as well as keep your minds sharp as you give yourselves the opportunity to talk about something other than COVID-19, or the shows you've been binge-watching on Netflix. So pick a book that piques both of your guys' interests, and start reading away!
I hope this list provides you all with some fun, interesting date ideas to keep yourselves and your partners happy, healthy, and mentally-stimulated during this difficult time. Good luck!