Brunch is a weekend tradition for many—friends or families getting together, catching up on all the drama over a hearty meal and liberal amounts of fruity cocktails, is a fabulous time.
We have created a menu that will bring those fabulous brunch vibes—i.e. great company and eats—to your own place! What's more, we have created a menu that showcases all the colors and masalas we love to eat but perhaps do not associate with the traditional brunch.
1. Mango Bellini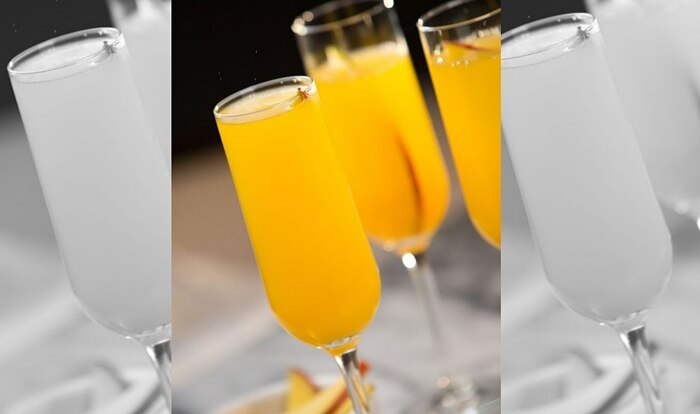 [Photo via  Pinterest]
Makes 6 to 8 bellinis
3 cups pure mango nectar (if nectar is too thick, dilute with water or juice to prevent clumping)
1 bottle champagne
Frozen mango chunks for ice cubes (about 3 per glass)
Directions
Combine champagne and mango nectar in a large jug and stir. Place about 2 to 3 frozen mango chunks at in each champagne flute. Pour bellini over chunks and serve cold.
2. Garlic Naan Drop Biscuits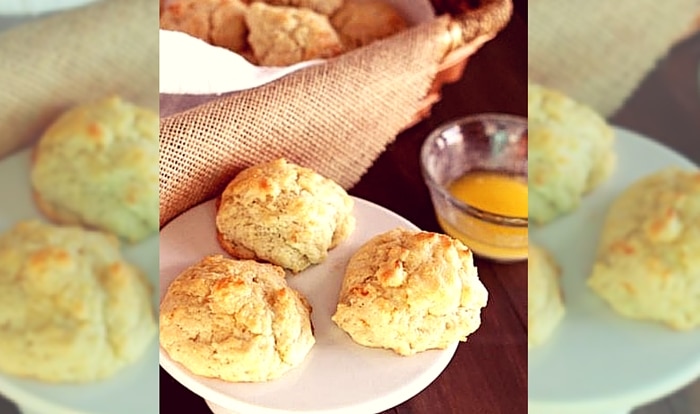 [Photo via Pinterest]
Makes 8 to 10 biscuits
Ingredients
4 cups bread flour
2 teaspoons white granulated sugar
1 teaspoon salt
1 teaspoon baking powder
½ teaspoon baking soda
1/2 cup whole milk
5 tablespoons (full fat) yogurt
2 large eggs, whites only
1/2 tablespoon minced fresh garlic
For before baking/brushing on biscuits:
2 tablespoons unsalted butter
½ teaspoon garlic powder
Directions
Prepare a stand mixer fitted with the dough hook. Place dry ingredients—bread flour, sugar, salt, baking powder, and baking soda in the bowl and combine. To the same bowl, add the wet ingredients – milk, yogurt, and egg whites. Mix dry and wet ingredients together until a soft dough is achieved.
Divide dough into two mounds. Cover both with a damp cloth and rest for 30 minutes. Preheat oven to 400 F.
Form dough into even mounds and place on prepared baking sheet. Meanwhile, melt butter with garlic powder and using a pastry brush, liberally brush each mound. Bake for 20 to 22 minutes.
3. Masala Lamb Sausage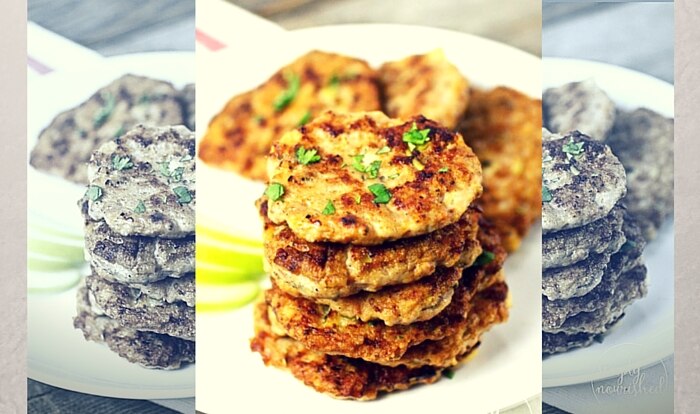 [Photo via Pinterest]
Makes 20 3-inch patties
Ingredients
2 pounds ground lamb
3 tablespoons mayonnaise
2 tablespoons whole-grain mustard
1 tablespoon low-sodium soy sauce
1 tablespoon minced garlic
2 teaspoons ground cumin powder
2 teaspoons garam masala powder
2 teaspoons fennel powder
1 teaspoon dried mint
1 teaspoon salt
3 tablespoons vegetable oil
Directions
Excluding the vegetable oil, combine all ingredients together in a bowl and mix. Mix well with your hands until fully incorporated. Form into small patties about 1/2 inch thick and 3? in diameter. Line a plate with wax paper and stack uncooked patties on top with the wax paper between each layer.
Heat vegetable oil in a large pan over high heat. Fry patties in batches. Flip after about 5 minutes and fry for another 5 to 7 minutes on the other side.
(Note: Leftovers can be stored in the fridge and reheated in a toaster oven at 350 degrees for approximately 6 –8 minutes for a quick weekday breakfast.)
4. Masala Egg Muffins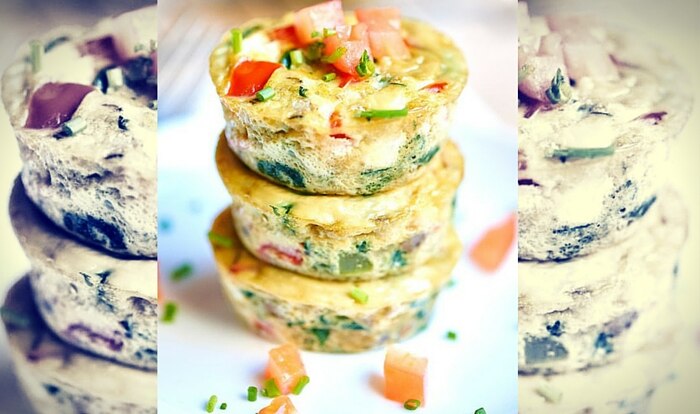 [Photo via  Pinterest]
Makes 1 dozen muffins
Ingredients
1 small tomato, diced
1 small white onion, diced
approximately 2 tablespoons chopped cilantro
½ tablespoon minced garlic (about 4 medium garlic pods)
½ tablespoon grated ginger (small 2 x 2 piece ginger)
splash extra virgin olive oil
6 jumbo eggs
1 tablespoon sour cream
1 teaspoon cumin powder
1 teaspoon salt
1/2 teaspoon coriander powder
1/2 teaspoon garam masala powder
freshly ground pepper
Cooking spray
Directions
Preheat oven to 350 F degrees. In one bowl, combine tomato, onion, cilantro, garlic, and ginger. Splash with olive oil and mix to combine.
Take a separate bowl, whisk together eggs, sour cream, cumin powder, salt, coriander powder, garam masala, and freshly ground pepper.
Spray muffin tin with cooking spray and then distribute equal amounts tomato mixture in each muffin well. Pour about 1/8 cup egg mixture over tomatoes in each well.
Bake for 25 minutes or until a wooden pick inserted in the center of a muffin comes out clean. Let them rest in the muffin tin for a few minutes before using a rubber spatula to carefully remove each muffin. Transfer to a serving dish and enjoy!
To see more of Soni's original recipes and comics, visit SketchyDesi.com.
---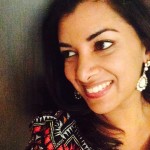 Soni Satpathy-Singh is a recipe writer and developer who resides in Manhattan. She is either always cooking or eating be it for work or simply because she loves to! She is working on her own cookbook and also recently created "Sketchy Desi" which provides daily humor, greeting cards, and apparel that celebrate brown culture. To see more of Sketchy Desi's work, visit SketchyDesi.com or stay tuned to upcoming posts on Brown Girl Magazine.