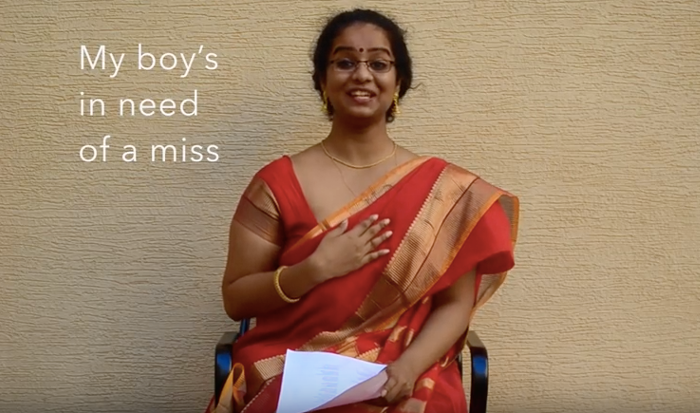 By Chhaya Nene 
This post was originally published on our partner website India.com.
Asmita Ghosh and Anukripa Elango, two seniors at the Indian Institute of Technology Madras in Chennai, created a social media wave with their music video "Be Our Pondati."
Ghosh and Elango uploaded the video as a submission for a college parody contest, Sir Mix-A-Lot. They parody Carly Rae Jepsen's superhit song "Call Me, Maybe." "Be My Pondati" when translated, means 'be our wife.' Their friend, Krupa Varghese, plays a mother on the hunt for a bride for her son.
The song is great for several reasons. We narrow them down for you:
1. Using the phrase 'aunty/uncle'
In the Indian culture, instead of using Mr. and Mrs. to address strangers, people use the words uncle and aunty. In the video, a woman who is dressed to be the aunty is the lead. It's the perfect depiction of the aunty every Indian is familiar with.
2. Simplicity
The video is simplistic, making it unique. It's in front of a beige wall with a red wedding sari. A single woman is featured with lyrics appearing in white. The video is easy to digest and that's part of what makes it effective.
3. Lyrics and Vocals
The lyrics in the song were written and sung by the two women, Ghosh and Elango, who shot the video—and they are both super creative.
The women who sing have melodious voices. They took the time to plan each step from start to finish and have done a great job at it. This speaks to their work ethic and the value of giving 110 percent to your pursuits.
4. Truth
The video speaks to a larger issue in India: the matrimonial ads and societal expectations that come with it. Of course, not all women are expected to get married and have babies right away or become eternal housewives. However, there is a sizable majority of women whose lives are expected to revolve around their husbands and their in-laws. Women are judged based on their skin color, ability to run a household, and make perfectly round 'chapathis' (Indian bread). The video also talks about thin, fair girls which speak to the issue that some Indians feel the need to bleach their skin with creams like Fair and Lovely just to be considered beautiful. It is also vastly hypocritical because often the aunties looking for brides are not thin, fair girls themselves.
Any matrimonial ads, especially the creepy Facebook propositions for wives, often depict women as property or a prize. The fact that two college students are taking a stand against these ads, poking fun at larger societal issues in India, and have made a viral hit speaks to their intelligence and also our need to consume such content. It also speaks to the fact that women have so many other opportunities available to them, such as college, education, and content creation. Marriage ads are fine—normal, even—but they need to change their trajectory to reflect the current society and need to reflect women as equals.
The son in this video is praised for his MBA, two Mercedes he owns, and shoe size 10. None of these material things are even equivalent to what the women are held accountable for. It's time to change standards that men and women are held to, and it starts with a video like this.
---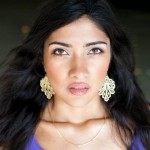 Chhaya Nene is a tenacious journalist and actress based in Los Angeles. Nene recently graduated with her Masters as Valedictorian from USC's Annenberg School of Journalism and enjoys covering all types of news beats, especially hardnews, lifestyle, art & culture. Recently, Nene worked with Sir Patrick Stewart in his new pilot 'Blunt Talk,' and with Gisele Bundchen in an internationally broadcast fashion commercial.