by Poorvi Adavi
This post was originally published on our partner website India.com.
For most of us, the word "entrepreneur" is a noun, meaning someone who starts or leads a company—like a boss or CEO.
However, the real meaning of an entrepreneur is hidden in a set of specific traits: innovation, creativity, self-motivation, growth-oriented mindset, people-centric attitude, and the ability to create value in society.
These traits can be implemented in many directions to reach various business goals, which is why we have startups of opposite natures not only surviving but also flourishing.
On one hand, there are startups with fierce policies that aggressively tout their products and services with the one-track goal of making money. And on the other end of the spectrum, there are endearing startups making a positive difference to the world unconditionally.
Sustainable startups may be fewer in number as compared to the profit-oriented ones, but the positive effect generated by startups with a business model to help society is enormous.
We live in a world filled with restrictions, yet social entrepreneurs have managed to break the mold to reach out to the have-nots of society, and, quite honestly, why not?
After all, entrepreneurship is about innovation, empathy, persistence and a vision to build a better future.
Entrepreneurs with a social eye who strive for change come from all over the world. From a small village in Kerala to Midtown, N.Y.—it seems like there is no shortage of the spirit to innovate in this world.
Let's take a look at five such innovative startups that are striving to make a difference for the global community:
1. The innovative farmer from Kerala, who built a coconut tree climbing device.
Hope met reality when Kerala native, M. J. Thomas, created a tree climbing device for his hometown, a place where trade, culture and tradition, circulate about the production of coconuts.
The inventor, popularly known as Appachan, noticed that the number of tree climbers was beginning to reduce in his area of Kerala, and they started charging ten times the fees of what they would otherwise ask. The profession began to lose its luster.
Sensing the threat this scarcity could cause to the state and to the country, Appachan started working on a tree climbing device. With his homemade device, it took only 1-2 minutes to climb a 130-foot tree versus the 4-5 minutes usually required.
In 2006, his innovation received a patent and became certified as agricultural machinery for post harvest by the National Innovation Foundation (NIF).
Apart from Indian territories, this device has been traded to countries like U.S.A., Mexico, Maldives, Thailand, Australia and Brazil.
2. WaterWheel made by a social entrepreneur from New York
When Cynthia Koenig realized the daily grind millions of people go through to collect water from far away sources, the idea of a waterwheel began to churn in her mind.
Koenig's WaterWheel allows people to roll their water into a 50-liter container versus carrying it in a 5-gallon jug.
It is estimated by Koenig that the WaterWheel can save 35 hours of water transport time per week per person, as well as prevent the physical strain that comes from balancing 40 pounds of water on their heads for hours daily.
There are plans of adding features like filtration, drip irrigation kits and a cell phone charger that uses energy created by the rotating wheel.
After receiving a $100,000 Grand Challenges Canada prize to develop the WaterWheel, Koenig founded a social enterprise company called Wello.
3. Resolving pollution and creating efficient commutes through an emerging public transport idea in India
Traffic jams and soaring fuel prices have incessantly bothered commuters in India. A few creative minds in Ahmedabad, Gujarat came up with the idea of cycle sharing.
The service is called MyByk, and with this service you can rent a bike at any bus station. For instance, you can take a bus, rent a bike at the station you where you get down, and cycle your way to your next destination.
On the way back, you have the option of dropping off the bike at any bus station in the city. It is a healthy transportation alternative that is accessible, convenient, affordable, time efficient, and, most importantly, helps to decrease pollution.
The concept of cycle sharing is growing in other Indian cities as well, such as Mumbai (Fremo and Cycle Chalao), Delhi (Delhi Cycles and Planet Green Bikes) and Bangalore (ATCAG and Namma Cycle).
4. Trying to decrease the common occurrence of iodine deficiencies in women living in India.
The bindi, which is an integral aspect of Indian culture and traditions, now has a broader significance.
The Neel Vasant Medical Foundation and Research center has partnered with Grey for Good, the philanthropic arm of the agency Grey Group Singapore, to create the "Life-Saving Dot." Through the skin, each dot delivers a daily dose of iodine to the women who wear them. Deficiency of iodine has been a perennial problem in India.
There is not enough iodine in Indian soil, consequently vegetables and fruits also lack iodine content. Due to this, children are suffering from otherwise preventable brain damage and lower IQ levels. Pregnant women can face complications, and this deficiency can also cause diseases like breast cancer as well.
The group has distributed the dots in five villages so far and hopes the iodine bindi will spread across the country in the near future.
5. Creating a solar-powered solution for the hearing impaired.
Tendekayi Katsiga, an electronics technician, launched the company Deaftronics in Botswana, which is the first company in the world to manufacture solar-powered hearing aids.
The product, Solar Ear, charges 3 batteries at once, and each battery charge lasts for 5 days.
To date, Deaftronics has sold around 10,000 units of Solar Ear in 40 African countries and positively impacted the lives of 3,000 children.
Their efforts have been well recognized and rewarded by governments of many African countries. Deaftronics has also opened a branch in Aman, Jordan and is gradually penetrating into East and West Africa.
Going forward, Deaftronics wishes to create affordable products for the deaf, employ hearing impaired people, create awareness about the hearing impaired, and train them so that they can integrate with society.
---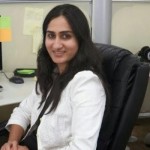 Freelance web content writer and editor in San Diego, Calif, Poorvi Adavi is inspired by observing people around her. More so, she basically likes being aware of things happening in the world. She completed her Masters in Communication from Christ University and also has a Business Management Certificate from U.C. San Diego.