"After so Long" is a poetry film created for Simha's EP, which is streaming on Spotify, Apple Music and Amazon Music. The poem was collaboratively written by Simha, a U.S. native, and Jae, who is based in India, during the 2020 lockdown. "After so Long" was recited by Simha and their parents. In 2022, I directed and produced the film through my studio, Star Hopper. "After so Long" premiered on Nowness Asia in March 2022.
This film is a worldwide collaboration among trans and queer south-Asian artists from the United States, India and Canada. It was recorded, shot and filmed during the lockdown of 2020 and 2021.
After So Long (English Translation)
Jae:
Awake at 10 am but out of bed at noon,
I want to be here where I lose myself in these sheets
Glancing through half-shut eyes
At the gold pressing past my window
The glimmer remarks on the ledge of my bed
But the voices are so loud
Like dust collecting in the corner of my room
I am unaware to why I'm still here
With the chilling doubt of the breeze…
I'm swept into lucidity After so long
Dad:
Mil rahi hoon mein aaj iske saang barso baad,
(Today, I'll be meeting them after so long)
Koi paata nahi diya tune
(But with no destination sight,)
Kya karu?
(What should I do?)
Kaha jau?
(Where should I go?)
Shayad agar mein chalne lagoon,
(Perhaps, if I keep walking)
Inn yaadon ki safar mein
(Down this road of memories)
Mujhe samajh mein ayega,
(I will find out)
Yeh rasta kahaan jayega,
(Where this road leads)
Inn aari tedhi pakadandiyon pe baarte hi jaana hai,
(Through the twists and turns of this winding roads, I must keep going on)
Mujhe mil na hain aaj uske saath,
(I wish to meet them today)
Barso baad.
(After so long)
Simha:
I feel like I'm retracing my footsteps
From these concrete stretches
To broken cement walls
Chips and cracks forge their way for new designs
I see the old abandoned buildings
That once held the warmth of bodies
Now just hold memories
Supporting the nature's resilience
In vines and moss
After so long
Mom:
Dhoondli shishe mein jaaga leli hai
(These isty mirrors have offered refuge)
Bikhri hui laatao ne,
(To these scattered vines)
Zameen pe uchi ghaas pe
(Amidst the tall grass stretching from the ground)
Lehrati kamsan kaliyaa
(The swaying little buds)
Bheeni bheeni khushboo bikhereti
(Spreading honeysuckle scent through the air)
Phir wahi mausam,
(I lose myself in reminiscing, the same season)
Wahi dil,
(The same heart)
Baarso baad.
(After so long)
Phir bhi mein chal rahi hoon aaj
(Still, I keep carrying on today)
Khudko khudse milane ke liye
(In the pursuit of my higher self)
Inn galiyo se guzarna hain aaj
(I must pass through these streets today)
Chaalte chaale jaana hai aaj
(I must keep going on today)
Kabhi hum milenge kisi mor paar
(Someday, we'll meet again, somewhere on this road)
barso baad
(After so long)
Kabhi hum milenge kisi mor pe
(Someday, we'll meet again, somewhere on this road)
barso baad
(After so long)
Credits
Poem by Simha & Jae
Produced by Star Hopper Studios
Directed by Varsha Panikar
Cinematography and grading by Tanmay Chowdhary
Editing by Asawari Jagushte
Featuring Vaishakh Sudhakaran
Music Production by Simha
Hindi editing by Rama Garimella
Recited by Simha, Rama Garimella, Annaji Garimella
English Translation by Nhylar
---
The opinions expressed by the guest writer/blogger and those providing comments are theirs alone and do not necessarily reflect the opinions of Brown Girl Magazine, Inc., or any employee thereof. Brown Girl Magazine is not responsible for the accuracy of any of the information supplied by the guest writer/bloggers. This work is the opinion of the blogger. It is not the intention of Brown Girl Magazine to malign any religion, ethnic group, club, organization, company, or individual. If you'd like to submit a guest post, please follow the guidelines we've set forth here.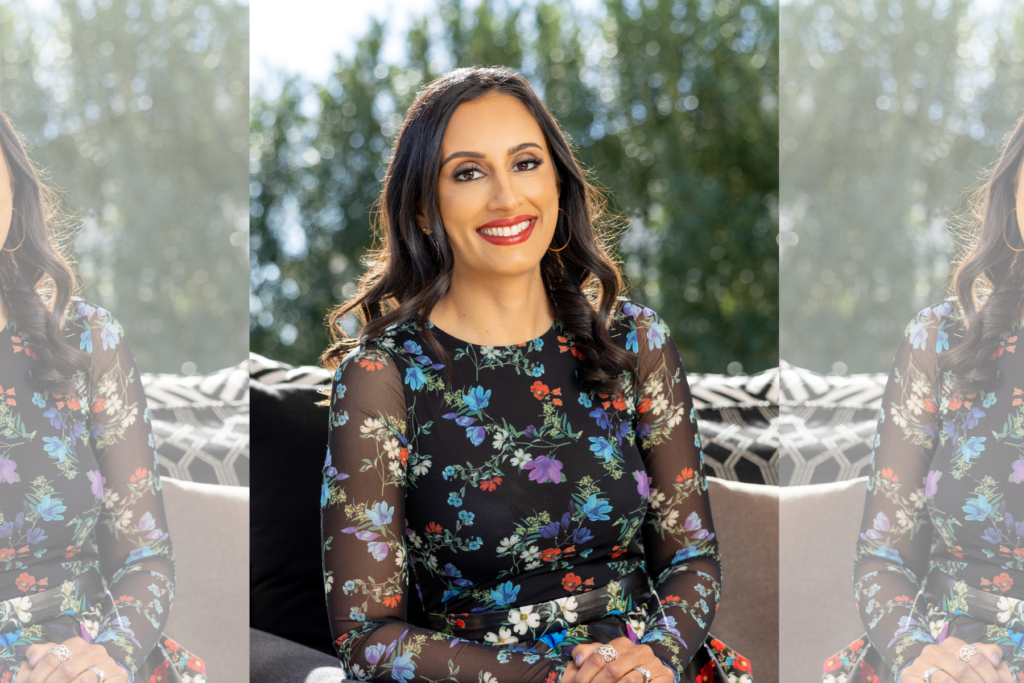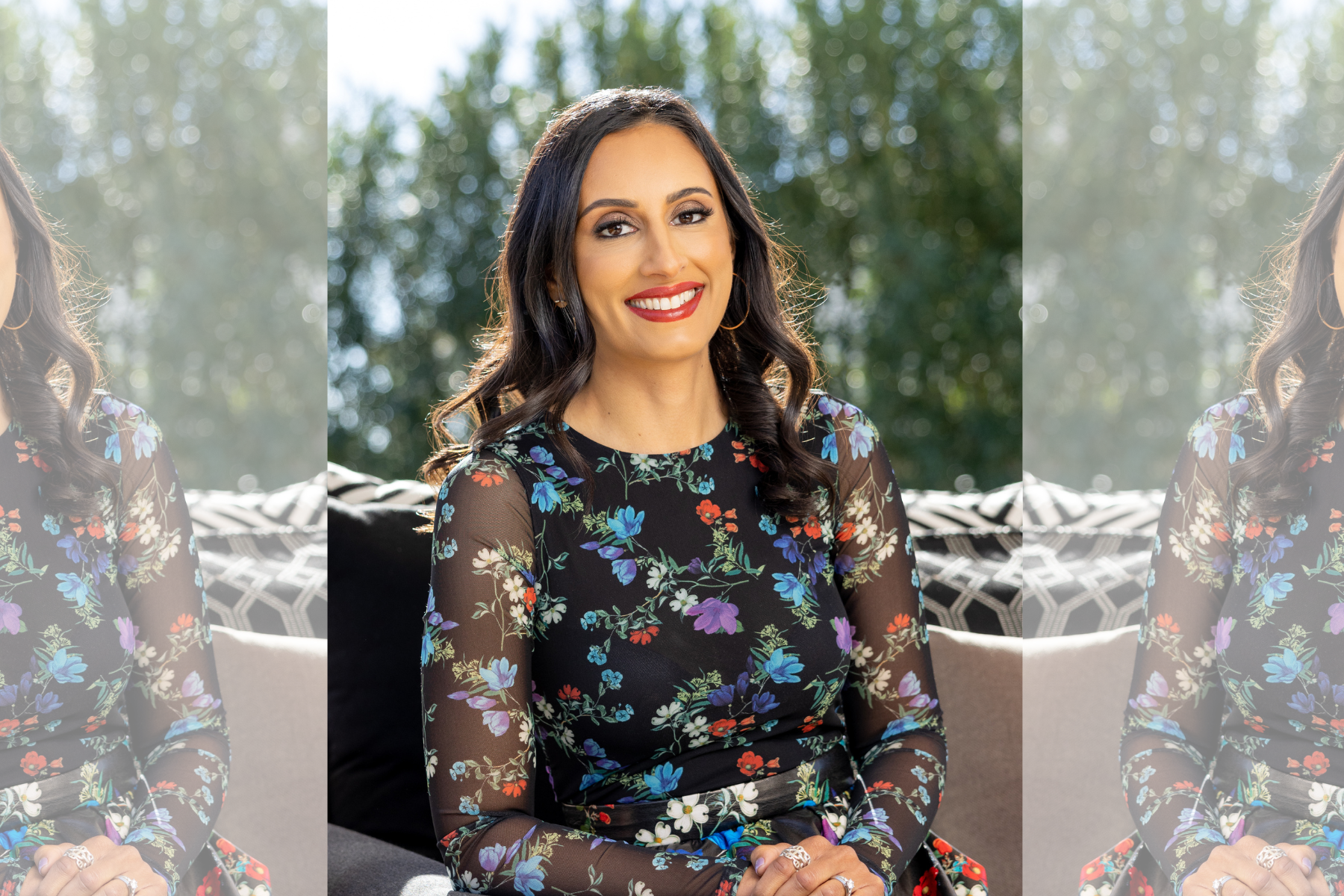 Award-winning commercial real estate and land consultant in Arizona, Anita Verma-Lallian, is venturing into the world of entertainment with her newfound production house, Camelback Productions, making her the first South Asian female in the state to do so. Verma-Lallian is a woman used to paving her own way, and now she's committed to doing it for future generations.
Through her production company, she aims to contribute towards greater South Asian representation in mainstream media with a focus on storytelling that's relevant to the community. In a conversation with Brown Girl Magazine, the real estate maven spoke about what inspired her to shift from investing in land to investing in creative dreams.
Tell us more about Camelback Productions and what your hopes are for the company?
The intention is to help communities that are not being represented in the media. As you know, there are a lot more streamers looking for content so that presents an interesting opportunity for people to tell stories that are otherwise not being told.

For us it's important to tell these stories that aren't being told, and tell them in the way that we want them to be told. With South Asians, for instance, the roles typically given are stereotypical. There are only four or five roles we are playing repeatedly. I want to show the South Asian community and culture in a different way. 
You come from a business and investor background. I am curious to know what catapulted your interest towards establishing a production company?
Good question. There were a few things that inspired my interest. I was looking to diversify the different opportunities we offered our investors. We've done a lot of real estate, so we were overall looking for different investment opportunities.  And then, at the time when I started exploring this, the real estate market was in this wait-and-see for many people. 

Everyone was sitting on the sidelines waiting to see what happens next. There was a slowdown at the end of 2022 which is when I started looking into this more. Film seemed like it was kind of recession-proof and not really tied to what's happening in the economy, which I thought was refreshing and exciting.

Also, overall, I observed what was happening in the industry with there being a push to see more South Asians in the media. The timing felt right, and I think we're moving in the right direction.
View this post on Instagram
What kind of content are you looking to create?
Good stories and good quality scripts. We are looking at all types of content — movies, docu-series, comedy shows, and reality shows. We're open to anything that has a good message. 
On a personal level, what hits home for you with this production company?
Growing up I always loved film and TV. We watched a lot of Bollywood movies because that's what we related to and I always loved that. But I did feel there wasn't a lot of representation of people that looked like me. Being able to change that — especially after having kids, and a daughter who wants to go into film — is important for. It's a contribution for future generations. It's important to me that as they grow up, they see people that look just like them.  
Is there a significance to the name Camelback?
Yes! Camelback Mountain is a very iconic mountain in Phoenix. It's one of the most famous hikes we have here and a relatively challenging one.

The significance is being able to overcome challenges and barriers. I have a nice view of Camelback Mountain and it's something I look at every day, when I'm stressed and overwhelmed. It has a very calming and grounding presence.

To me the mountains signify being grounded and not being able to be moved by external factors. That's what I want this production company to be!

View this post on Instagram
What would you advise people interested in entering the entertainment industry?
The best advice I would give someone is to align yourself with people that you know are experts in the industry; that have a good track record. Learn from as many people as you can. I learn as much as I can, talk to as many people as I can, and I study different things to understand what was and wasn't successful.
Photo Credit: Claudia Johnstone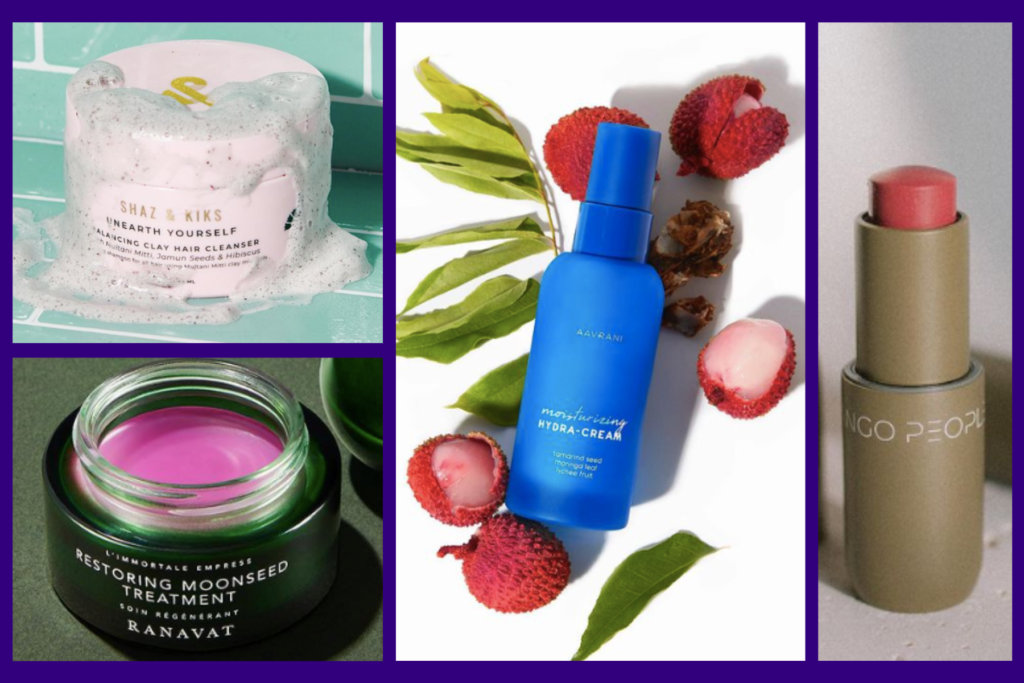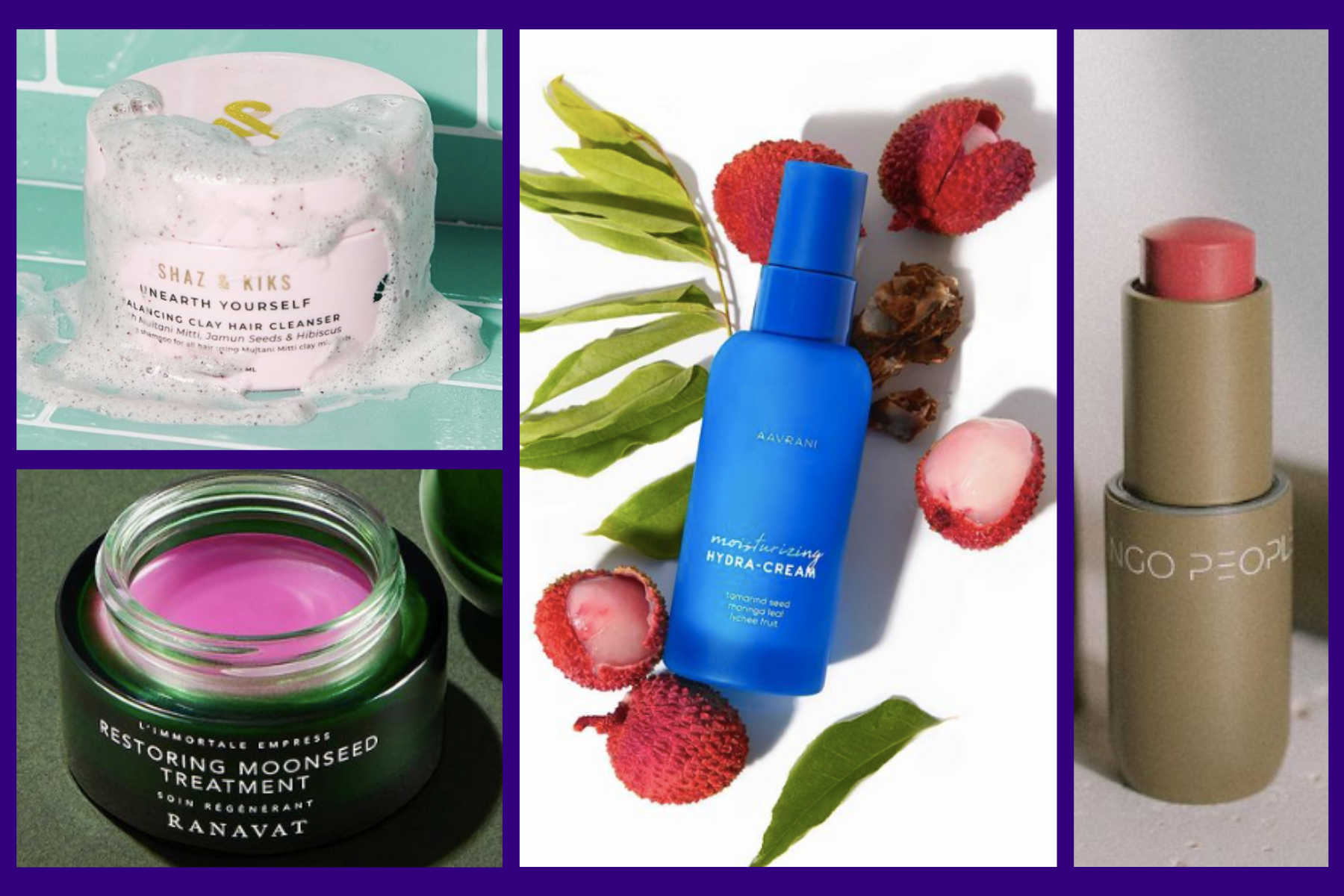 Holistic beauty trends are more prevalent than ever — that makes ayurvedic beauty brands incredibly sought-after, as well. Do you find yourself asking what your beauty products are actually made of? A lot of us even resort to food products for a skincare routine such as honey for face wash.
The term "Ayurvedic Beauty" is getting more recognition outside the South Asian world as well.
Ayurvedic beauty is coined upon the term "Ayurveda," which originated in Hindu culture as the basis of utilizing the five life forms — air, water, ether, fire, and earth — to heal the human body.
Ayurvedic beauty brands focus on using herbs and natural ingredients to create their skincare range and consumers around the world are attracted to these natural products.
Scroll down to see some Ayurvedic beauty brands founded by South Asians.
Is your skin feeling a little dry this winter? Nourishing your skin with body oil will lend it the right amount of moisture — Soma Ayurvedic's jasmine body oil can do that trick! Shop the oil, and their full line of products, here.
View this post on Instagram
If you're familiar with author and podcast Host, Jay Shetty, then you may have heard of his tea line, Sama Tea. Herbal teas provide many natural benefits. Has it been a stressful week? Try their lavender rose chamomile tea for some TLC. Check them out here.
View this post on Instagram
Know the Netflix show "Ginny & Georgia?" Loved the actress' fresh-looking skin? Sahajan Skincare is behind that glow! They're a must-try, featured in both Vogue and Elle India. See their full range of products here.
View this post on Instagram
This unique company showcases its brand with an emphasis on 'holistic.' Whether it's bad hair days or excessive shedding, not only do Shaz and Kiks provide the products to help but also break down the science behind the problem. Go on your very own shopping spree by clicking here!
View this post on Instagram
Looking for accessible ayurvedic beauty products? Look no further! Ranavat is now in Sephora. With a beauty line that covers both hair and skin, there's something here for everyone. See for yourself here.
View this post on Instagram
UMM Skincare is known for its brown sugar body scrub, made with natural ingredients, and Bakuchi oil known to improve signs of aging and hyperpigmentation. Try it for yourself by shopping here!
View this post on Instagram
Give your skin the best by adding ZAILA to your daily skincare routine! Click here and start shopping!
View this post on Instagram
This brand is all plant-powered, and we're here for it — you should be too! Check out their full range of products here.
View this post on Instagram
Are you looking for brown skin-friendly sunscreen filled with nutrients? Look no further. Inde Wild has its very own SPF 50, with natural substances such as liquorice extract and cica, and it's a mineral SPF suitable for all skin types. See what the brand is all about and shop it here.
View this post on Instagram
I'm always in the market for brown girl-friendly lipsticks, and ones that are made of natural ingredients are a huge plus. Mango People does just this with their unique lipstick colors that suit all brown skin tones. Try them out here!
View this post on Instagram
Need to swap out your shampoo for something better? Try Kama Ayurveda's Ayurvedic Hair cleaner, infused with a variety of herbs and pulses with key ingredients like vetiver, tulsi, rose, moong beans, and shikakai. They have a variety of products to choose from so start with your hair and keep shopping for more here!
View this post on Instagram
According to Forest Essentials, night time is the best time for hydration. Check out their night cream, filled with nutrients to enrich your skin. You can shop their wide variety of products here.
View this post on Instagram
A brand made for modern living, their essentials are all worth a shot! Start shopping here!
View this post on Instagram
Looking for a new face mask to try? AAVRANI has a variety of face masks and explains in detail when you should apply the mask during the week depending on your skin type. Take a look here!
View this post on Instagram
Plant-based skincare, anyone? Delhicious has got everyone covered, so click here and fill your baskets!
View this post on Instagram
Just getting into skincare and don't know where to start? PRATIMA skincare has starter sets, with basics, that every woman can use such as vitamin C serum, essential oils, and collagen creams. Grab yours now by shopping here!
View this post on Instagram
Struggling with hair care recently? Fable & Mane includes various hair oils in their collection that help grow and nourish your hair. Not only that, they have a scalp detox line as well — definitely worth checking out. See their full range of products here.
View this post on Instagram
In a world that's becoming more conscious of holistic living, embracing Ayurvedic beauty in your day-to-day is a step in the right direction, and these brands are here to help you get started.