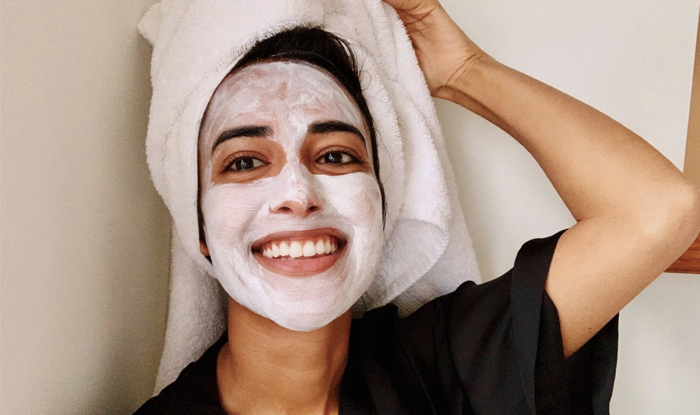 So, maybe our skincare resolutions from January haven't quite become as much of a habit as we'd hoped. But, it's never too late to renew our promises to our skin and make sure we always put our best foot forward before we ever apply a drop of makeup! (P.S. Take notes! These resolutions make for the best skincare tips!)
1. I Resolve to Clean My Beauty Blender Atleast a Couple of Times a Month
I don't know about you guys, but I NEVER take an extra couple of minutes after doing my makeup to wash the one tool I could never live without. I'll only notice how dirty it gets when I'm doing my makeup at a friend's place and suddenly become conscious of the dirty sponge that was once my beloved beauty blender. Let's keep the bacteria at bay and wash with a gentle soap around once a week — it's the least we can do.
2. I Resolve to Always Keep Makeup Wipes Next to my Bed
There are always more nights than I'd like to admit where I come home late and wake up to a pillow full of my face art, sparkles and all. By keeping wipes on my bedside table (Neutrogena ones are my fav), I'd at least do the basics of skincare. Let's keep our pillowcases from an ill fate and our skin from dullness or premature aging!
View this post on Instagram
3. I Resolve to Empty out my Makeup Graveyard and Check Expiration Dates
You may think that products last forever (they should for what we pay for them), but sadly, they don't. Products that you've used for too long could be ridden with bacteria and just not be good for your skin anymore. Why not use the upcoming new year as a clean slate? Make sure to throw out skin products that have been open for more than 12 months, lipstick that's been open for more than 1.5 years, and mascara that's been open for more than 3 months.
4. Rain or Shine, I Resolve to Wear SPF Daily
This is the one I struggle with the most. I consciously made the decision to order some skincare products last winter, that have SPF, with the intention to start wearing it every day in January. We know our melanin doesn't make us exempt, and we know that it doesn't matter the weather conditions – but for some reason, I still use those as excuses to skip this step. SPF should be a morning ritual. My favorite is by Supergoop!
View this post on Instagram
5. I Resolve to Treat Myself Atleast Once a Month
I have a drawer in my bathroom just overflowing with sheet masks, whitening strips, bath salts, etc. Instead of hoarding the skincare section of Sephora, why not make it a goal to actually use everything up? My favorite (super cheap) sheet mask is the Beauty 360 Hydrating Purifying Tissue Facial Mask. Honestly, sometimes bath bombs are better than jager bombs. Self-care is never time spent poorly!
So, those were my skincare tips and resolutions. What are yours? Feel free to take note of the ones above — skincare tips go a long way for everyone!