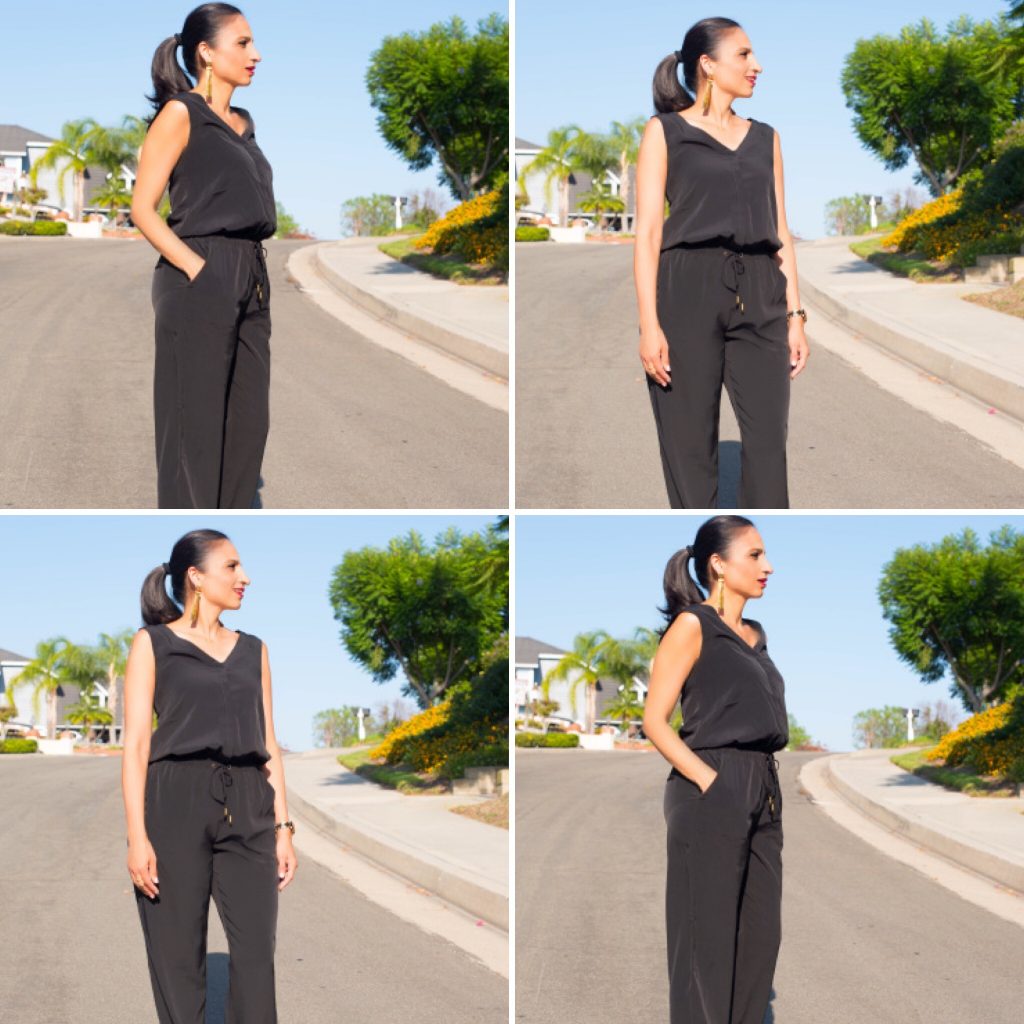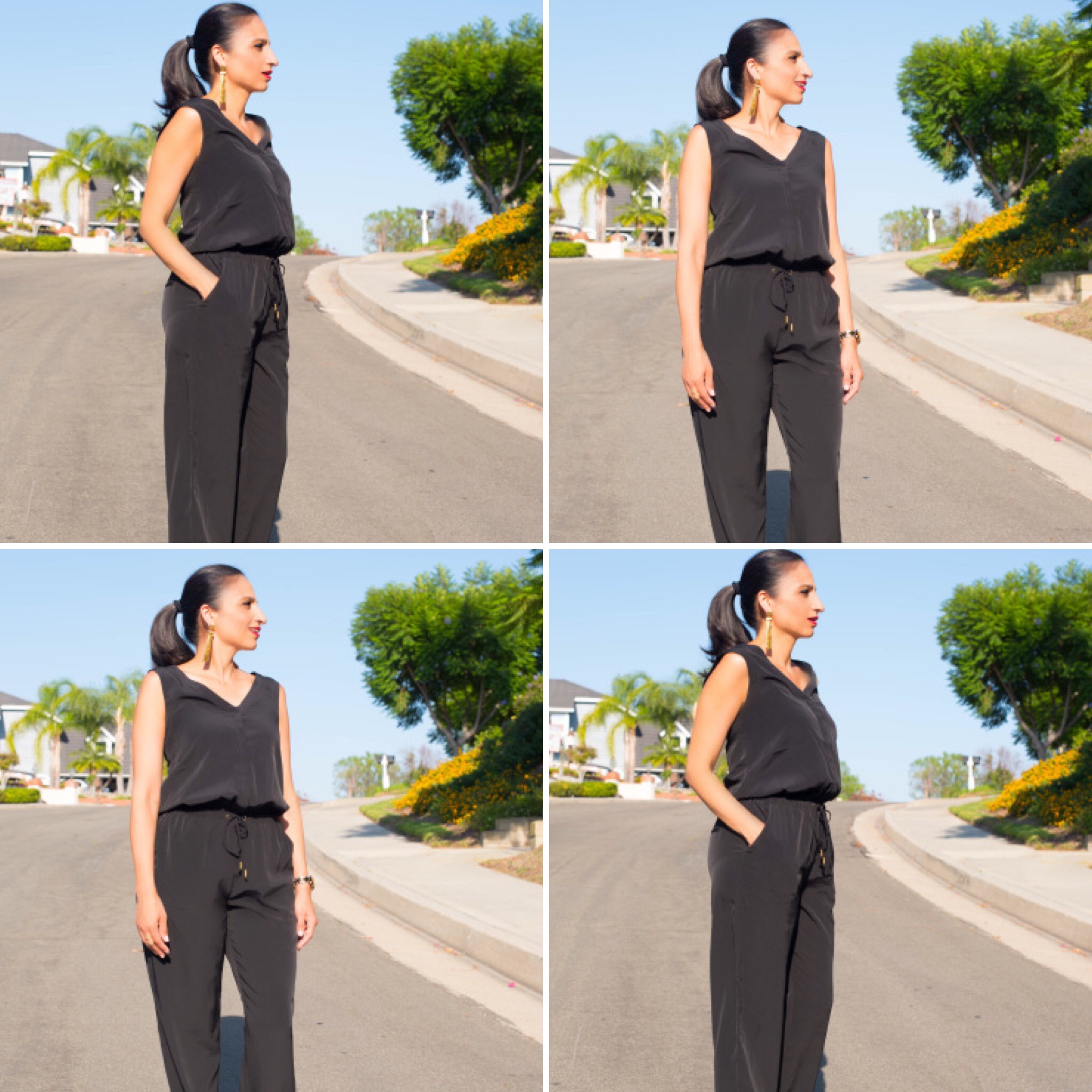 by Isha Sodhi
This post was originally posted on Isha's Verdict and is a part of the "What do I wear to…?" series. 
I am often asked the question, 'What should I wear to…?'— more in reference to everyday events such as dinners and coffees rather than special events such as weddings. One day, a dear friend suggested that I do a series on what to wear to a variety of reoccurring occasions such as "coffee with a friend after school drop-off" or "drinks with friends right after work." These are the occasions she struggles most with when it comes to clothing decisions.  And I'm sure she's not alone. Since I, too, find deciding what to wear to parent-teacher meetings can often be harder than deciding what to wear to a Christmas party!
In order for such a series to be useful, I felt that I must feature at least an element of standard wardrobe staples that can be styled differently for various occasions depending on the need of the hour.  Also given that I reside in a colder country and it gets cold during some part of the year in most countries, I will often try and feature outerwear that increases the seasonal versatility of the outfit. So what better occasion to discuss than a girl's night out, in a pretty plain jumpsuit?
A plain black jumpsuit will work wonders for a dinner date with some friends. Although jumpsuits are a tricky piece of clothing,  I find that they look fabulous when done right, otherwise (hate to say it!) but you'll stand out in a crowd for all the wrong reasons.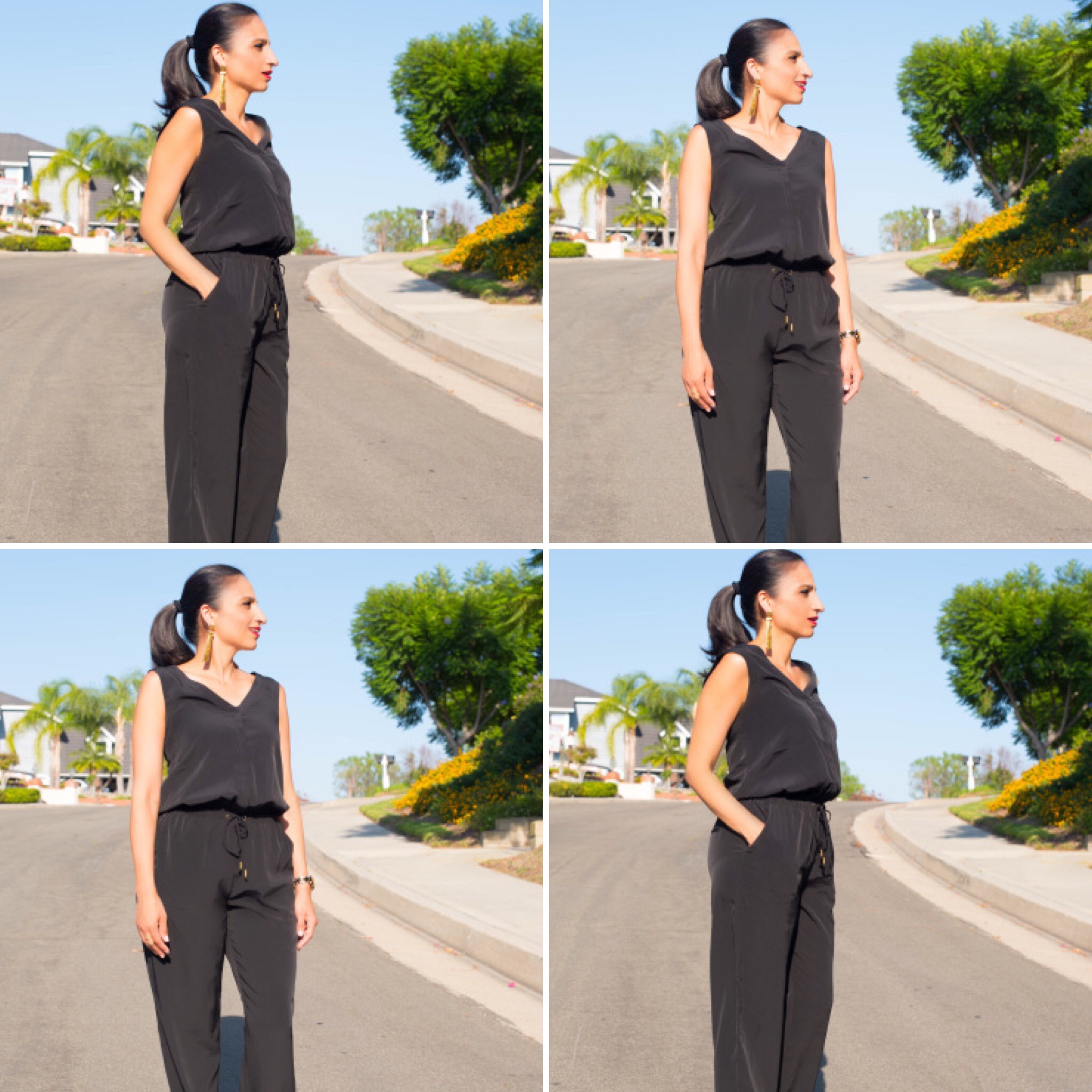 So here are five takeaways on how to wear your jumpsuit for your next girls night out:
1. Always follow the three rules of thumb:
If the leg is too long but it looks great, simply buy it and get it shortened by a tailor.
If the jumpsuit has no sleeves and is too big under the arms and chest area, make the purchase and get it taken in by a tailor (this is easy to do by hand as well and I often do it myself).
If however, the jumpsuit does not fit well around the waist area or the material pulls between the leg inseam and waist, (with a heavy heart) let it go because fixing this flaw won't be easy. It's best to leave it looking pretty on the hanger and "jump" to the next shop.
2. Pair your jumpsuit with a boxy jacket.
A jumpsuit can be dressed up or down so easily and adding an interesting jacket is my favorite way to change it up for a repeat appearance.  Here, I have teamed it with this heavily beaded, and boxy, Indian-inspired jacket that creates a great monochrome look and would keep you warm when the evening (or the air-conditioning) makes you chilly.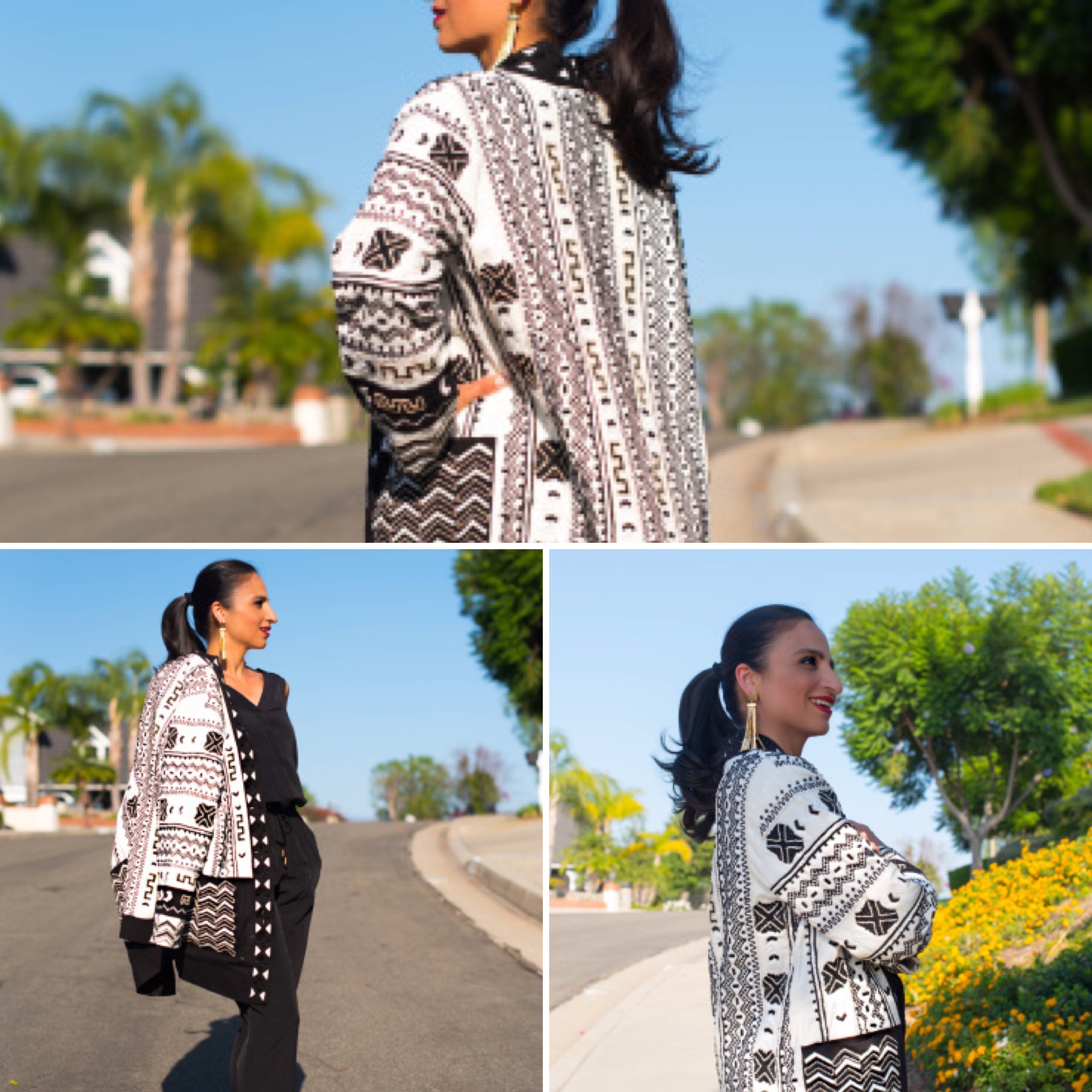 3. Make use of the best basics—black heels!
Black heels are the go to for a great evening, smart-casual look. This tip doesn't mean you can't experiment with your shoes. I have also paired this jumpsuit with flats and a shorter swing jacket in the past and still maintained a smart-casual vibe.
4. Pump it up with a plump, red lip.
Red lips and black heels are the only accessories needed to rock your plain-Jane, black jumpsuit.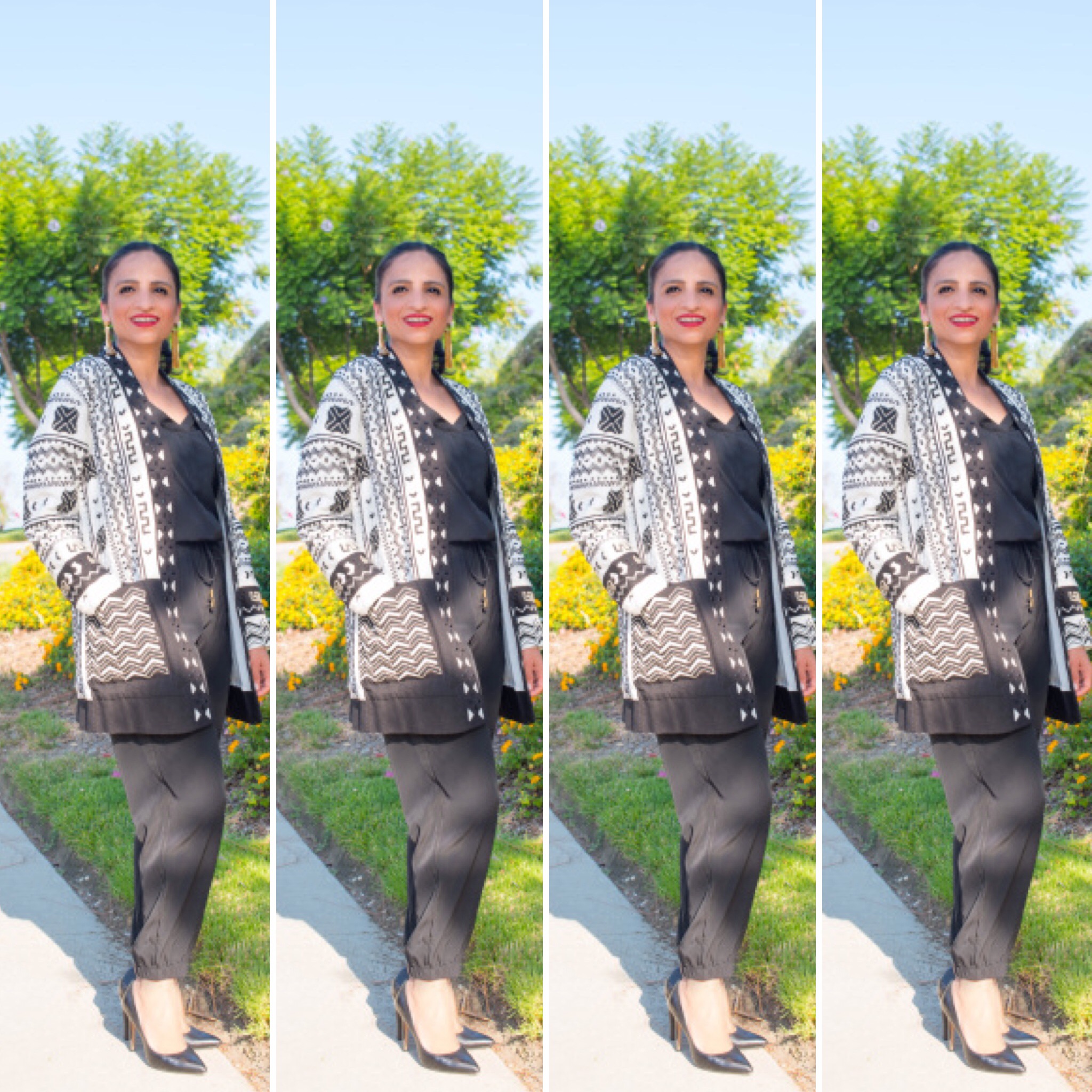 5. Never have too many drinks when wearing a jumpsuit.
It's worth trying on many a jumpsuit to find your "princely" piece.  There is, however, one problem with jumpsuits that seems unavoidable: When you need to use the facilities, the entire thing needs to come off. So ladies, be wary of the drinks you consume, otherwise we can always swear by the commonly used saying, "beauty is pain." Maybe just resort to the latter, and enjoy your evening dinner in your perfect and plain black jumpsuit!
---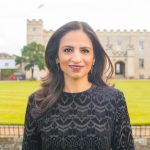 Isha Sodhi is the 40-plus blogger behind the personal style and fashion blog, Isha's Verdict. Her unique blog posts intertwine her personal life experiences with her love for all things fashion.  She combines the love of writing with her passion for style and 'lookbooks' both western and Indian clothes on a regular basis. A global citizen who has lived in Los Angeles, Mumbai, and London, Isha has a truly international appreciation of fashion and style.