by Mana Rao 
Many of us brown girls are blessed with luscious thick locks, but let's be honest. Natural and thick, wavy hair + summer temperatures = frustrating frizz.
I know I complain way too many times about walking out of my house with the sleekest hairdo and ending the day with a lion's mane. So here are five tips for you to enjoy your summer, fuss-free!
1. Hair-care starts in the shower
One way to minimize frizz is by rinsing your hair with cold water right before you get out of the shower. The cold temperature closes hair cuticles, locking in moisture from your conditioner or shampoo. This adds shine and leaves hair looking less frizzy.
2. The laundry treatment for your hair
Another way to reduce frizz is to simply take a dryer sheet (yes, the one used for laundry), place it over your hairbrush and gently brush in downward strokes! Not only will your hair be less frizzy, it will also smell fresh!
3. For that sleeked back bun
This is for the days when all you want is to rock a messy bun, without the messiness of flyaways getting in your face. To tackle flyaways and baby hairs, grab an unused toothbrush and spray some hairspray on it. Then comb back all the flyaways and baby hairs for a sleeker hairdo.
4. Protect your hair from chlorine damage
To prevent your hair from getting damaged by chlorine, wet your hair BEFORE you go into the pool. This way, your hair cuticles will soak up the non-chlorinated, clean water leaving less room for chemicals from the pool to damage your beautiful locks!
5. Care for your hair while you sleep
Last but not least, here's a tip for when you're asleep! Switch out your cotton pillowcase for a satin one and let the fabric work its magic. Pillowcases which are 100% cotton based tend to remove moisture from your hair and cause friction as you toss and turn. In contrast, a smooth surface like silk, satin or sateen prevents this friction and results in less frizz!
---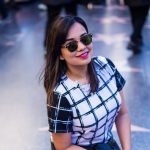 Mana Rao considers herself a Third Culture Kid (TCK) who was born and raised in Singapore. She loves having a multi-cultural background who doesn't find the need to "fit" solely into any one culture. She currently lives in Charlotte, NC and recently graduated with her masters in economics & finance. There's nothing she enjoys more than dancing and chocolate. Her latest interests include watching YouTube makeup tutorials and reading fashion/beauty articles.