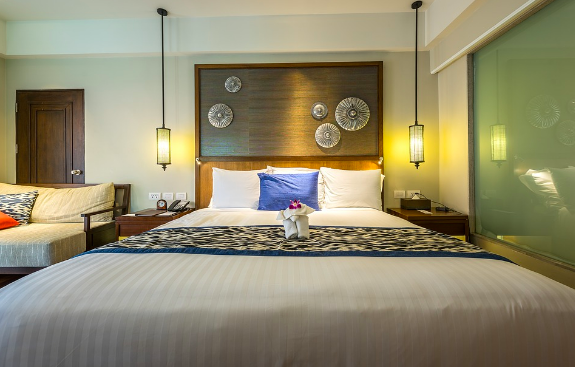 Our tips on how to create a bedroom of your dreams offer common sense advice on creating a bedroom you will love to sleep in. Not everybody has the same conception of their ideal bedroom, but our tips should help you get there with a bit of ingenuity added by yourself.
There are several factors involved in creating a bedroom, the five main ones being:
Use of space and movement around the room.

Furniture and storage (dresser, armoire, seating, nightstands, clothing rails, etc.)

Lighting and ventilation.

Flooring and walls.

Not to be forgotten: the bed and mattress.
We shall address each of these in turn.  It is important to remember that, while you will spend around a third of your life in your bedroom, the vast majority of that time will be spent in bed. While the functionality of your bedroom is important, it's appearance, freshness and ambience is just as important as the physical items it contains – perhaps even more so.
1. Use of Space
Whether your bedroom is large in area or small, one of the factors you consider is how that space will be used. Although we will be discussing the bed separately, you should make a decision on its size.  You can find standard bed sizes on the internet. This helps you lay out your bedroom plan.
If you follow the design of most hotel rooms, you will have an area for general movement and circulation. This should be between your bed and the door. The rest of the available space can be used for furniture. Do not restrict the space you have between the bed and your dressing area. Functionality is more important than appearance.
It might not be one of your options, but to make sure you have enough, you can opt for a renovation and extension. And if money is an issue, you can apply for a loan, which requires a good credit score. Learn more about credit repair companies, like this review, before making a decision on one. 
2. The Bed and Mattress
The name of the room makes it clear what your major priority should be.  The easiest way how to create a bedroom of your dreams is to choose your dream bed!  You can select from a wide range of beds, with and without headboards. However, it should be said that a beautiful headboard can make a massive difference to the appearance of your bedroom.
A good-looking bed looks great, but don't forget the mattress.  Your bedroom is not only for looks but for how you sleep. If you choose the wrong mattress for your needs, then your dream bedroom could easily become the bedroom from hell! At Inside Bedroom — they've recommended many mattresses for your needs.— they've recommended many mattresses for your needs. Visit and select the mattress that will give you the sleep of your dreams in the bedroom of your dreams.
3. Furniture and Storage
If you have a large bedroom then you will be able to furnish your bedroom more comprehensively than in a small bedroom.  Check out your available space, leaving room for moving about and dressing. You will then know what space is available for furniture.
Your bed should be your first priority. Choose your preferred bed size then lay out the dimensions on the floor – or the bed itself if you already have it. Then you can work out what other furniture you can fit in. Do not use the space you have set aside for dressing and moving around.
There is a wide range of bedroom furniture available online. Most bedrooms need a dresser fitted with a mirror, and an armoire or wardrobe for hanging clothes – unless you are lucky enough to have a walk-in dressing room! Nightstands (bedside tables in the UK) are almost mandatory. They can be used for your drinks and your bedtime reading material. Seating may not be such a priority, but there is a good selection of sofas and chairs available that can be used in bedrooms.
Fundamentally, decide on the furniture you would like, and then prioritize it to fit into your bedroom. We would all like all of the above, but sometimes it is not possible. So choose what must have, then add to that if space is available.
4. Lighting and Ventilation
When you create a bedroom of your dreams, you should think of the lighting and ventilation.  Individual night-lights by or above each side of the bed helps to read at night without needing the general room lighting to be on. You can separate each side with a shade if you wish.  This type of lighting also enables you to switch off the lights without having to get out of bed. Dimmer switches are better than simple on/off switches and also help to enable you to read without disturbing your partner.
Ventilation is also important, particularly in summer when it can get very hot.  This is particularly true in the southern states of the US and in Australia, Africa and South America.  Your windows should be able to be opened – but use a screen to keep flying insects out.
5. Flooring and Wall Decor
Most people prefer a carpeted bedroom. It is easier to walk on with bare feet than varnished floorboards. However, if you like floorboards, then you can use rugs to make the surface more comfortable to walk on. Floorboards are easier to keep clean than carpets, and a combination of boards and rugs is a good compromise.
Your choice of wall décor is either paint or wallpaper. This is an easy choice to make because when you envisage the bedroom of your dreams, you should find it easier to put your ideal décor into practice.