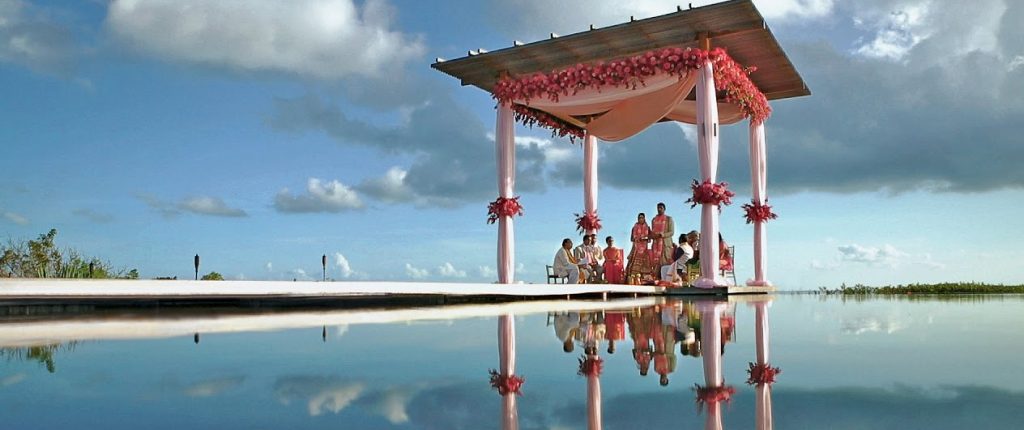 The following post is brought to you by well-known event and wedding planner Sonal J. Shah of Sonal J. Shah Event Consultants. They invite you to submit information about your wedding and would love to meet you for a complimentary consultation to learn more about your wedding plans. Sonal's team is available globally. 
South Asian Weddings exude a sense of exotic vibrancy, flair, and elegance. Because this occasion is so monumental in the South Asian culture, many opt for a full-fledged destination wedding, inviting their guests to jet-set with them to celebrate their love story. Whether you are considering a serene beach getaway or an adventurous mountaintop, you are bound to find a dreamy location perfectly suitable for your wedding day.
Here are our top five destinations for South Asian weddings in 2019.
1. Paris
Love is in the air! The City of Lights is characterized by an undeniable atmosphere of romanticism. What better destination to tie the knot then the very city of love? From luxury, high-end hotels to enchanting streets of history, Paris offers the perfect backdrop for every taste and style.
2. Switzerland
For the bold and adventurous, Switzerland will have your heart. Encapsulated by panoramic views and snow-capped mountains, a Switzerland wedding will make you feel like you're tying the knot on the top of the world.
3. Portugal
Known for its seemingly endless strips of sandy beaches, delicious varieties of cuisine, and open-air of glorious sun, Portugal boasts some of the best qualities for a destination wedding. With hidden jewels like the royal city of Sintra, Portugal is the perfect location for those craving some unconventional glamour.
4. Italy
Lake Como, Italy: Peppered with pockets of five-star luxury, a dramatic nature-filled backdrop, as well as Renaissance-inspired architecture, Lake Como checks off all the boxes of one's wish list for timeless elegance behind a backdrop of subtle beauty.
Amalfi Coast, Italy: The coast where the magical blue sky seems like a fairytale and the limoncello liquor is to die for, the Amalfi Coast has it all. A popularized favorite for its indisputable beauty and iridescent waters, the Amalfi coast has become a go-to for couples around the world.
5. Greece
The picturesque cradle of history, Greece is the crux of insurmountable beauty. From Santorini's iconic white villas to Athens' cultural treasures, Greece is the ideal locale for those looking for a mix of romance and wanderlust.
6. Turks and Caicos
From world-class beaches and turquoise waters to the luxury resorts and delicious restaurants, it's a wow-worthy wedding destination (to say the least). Even better? The direct flights make from the USA land you in the island of paradise in two hours. Not to mention, it is known for its sunny skies and consistent temps (70s and 80s year-round).
---
Sonal J. Shah started her career in wedding planning 15 years ago in the city that never sleeps, none other than the Big Apple. She has planned over 1,200 weddings and received hundreds of glowing testimonials from her many, many happy clients. She is a perfectionist, a dedicated workaholic, and most of all she loves her brides. With her caring personality and a keen eye for detail, she creates luxurious and flawless experiences for all of her couples and families. Sonal and her amazing team are innovators and trendsetters who make wedding planning a stress-free process.
Her company strives for a memorable and one-of-a-kind wedding that is truly unforgettable. With a focus on strong vendor relationships, Sonal's mark on the wedding industry is unlikely to fade. Seven years in the making, her first book, The Complete Guide to Planning the Perfect South Asian Wedding, was published at the end of 2013. Her love and dedication to her clients have made an impact on each of her former and current couples. Her favorite motto is: "It's all in the details!"