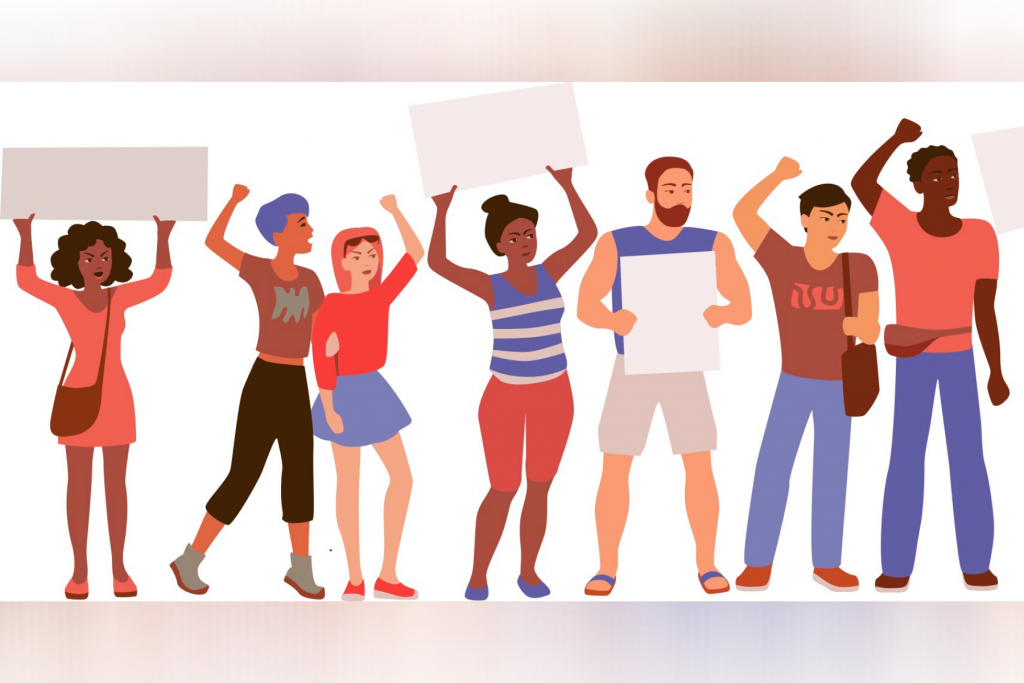 Now more than ever, there are reasons to be angry. The lives of Amhuad Arbery, Breonna Taylor and George Floyd were wrongly taken away from this world despite being in a pandemic. As we continue to preach how we are all in this together during this unprecedented time, I hope we can act in solidarity with the Black community.
The first week of June marked the 36th anniversary of the Sikh Genocide. Remembering how our community was brutally killed and tortured should carry weight into what is happening to Black America today. We must get involved in advocacy now, not just for our community but for the lives of marginalized communities of color that count on our solidarity to be educated and responsive to injustice. Given this, it is important to acknowledge South Asian advocacy groups who are promoting solidarity during this crisis.
Here are seven organizations that all South Asian voters should be following right now. Please note that while each organization may be headquartered in a city, they are all available digitally through an online community. 
Founded in 2016, DFP is an organization for South Asians who politically identify as progressive and are looking to mobilize their efforts with other like-minded progressive individuals. Each year they focus on specified pillars their organization believes in. This year, DFP Board Chair Nisha Ramachandran says they will continue having difficult conversations within the Desi community about important topics, like addressing anti-blackness, disability justice, and LGBTQ equality. Given how pivotal 2020 is, DFP has increased political engagement both digitally and communally. While they have not endorsed a Democratic presidential candidate, they have endorsed local state senators running for office in the Virginia area including Ghazala Hashmi, Qasim Rashid, and Suhas Subramanyam. 
Follow – if you are looking for advocacy centered around conversational learning and debate or if you are primarily interested in racial justice. 
https://www.instagram.com/p/CAyTsZTFHOt/
CAPAL's mission is to empower Asian American, Native, Hawaiian, and Pacific Islander (AANHPI) youth to pursue a progression in civic engagement and politics. They provide a plethora of opportunities for youth ranging from scholarships and internship programs to leadership conferences in D.C. Their programs focus on connecting AANHPI youth with resources, networks, and connections to not only better change their local community, but also obtain the skills necessary to create national impact. 
Follow – if you are looking for ways to enhance your leadership and organizing skills in politics, I would recommend looking into CAPAL. 
DRUM is a "multigenerational membership" that works to empower and advocate for low-income South Asian and Indo-Caribbean immigrant workers and youth in New York City. They aim to hone in on five pillars to activism: base building, leadership development, policy campaigns, alliance building, and institutional building. They provide comprehensive local and national programs and campaigns that outline social issues pertaining to the South Asian community. With past involvements in campaigns ranging from racial profiling to immigrant justice, DRUM has prominence in both local and national advocacy work. Alongside working on campaigns, DRUM also provides legal and community services for immigrants. They also provide a South Asian worker center that works to build leadership skills of low-wage workers in service industries, with a primary interest in immigrant women retail workers. DRUM also runs monthly clinics to advocate for fair wages, workers' rights, and better working conditions. 
Follow – if you are looking to get involved with a worker's rights or grassroots organization implementing a tangible movement. 
https://www.instagram.com/p/CBlcenqgGUI/?utm_source=ig_web_copy_link
Equality Labs is a multimedia platform aimed to use community research, political activism, social justice art, and technology, to promote issues in the South Asian Community. They speak out against the caste apartheid, Islamophobia, white supremacy, and religious intolerance. Equality Labs disrupts the typical racialization of South Asians by emphasizing how historic oppressions of caste systems have rendered the multifaceted identities of South Asian culture. This organization is truly intersectional in their work, advocating for spaces where women, nonbinary, and trans folks can be leaders to help elevate the community. Some of the programs they focus on include "stop genocide in India," "South Asian power building," "Digital Security," and "Justices for Muslims Collective." These programs not only provide a comprehensive breakdown of each issue, but some also include toolkits to know your rights and organize movements within your community. 
Follow – if you live in an area that lacks South Asian activism. I recommend looking into Equality Labs, they truly are a great digital resource providing interdisciplinary resources for one to initiate local movements. 
https://www.instagram.com/p/CBoU8ClAR9U/?utm_source=ig_web_copy_link
SAALT is one of the most comprehensive and educational advocacy organizations a South Asian could follow. From action alerts to blog posts to policy changes, SAALT provides a holistic overview of everything you would need as an advocate. It provides programs supporting detained immigrants, legal aid networks, and even hosts national South Asian summits. Whatever you are passionate about, whether it is gender equality, civic engagement, or racial justice, SAALT has resources for you to take action. A unique component of this organization is its "Rapid Response" program. In conjunction with Justice for Muslims Collective, SAALT has created a volunteer + legal aid network to combat potential immigration raids. You can sign up on their website to be a translator or legal counsel. In addition to providing a plethora of media resources and toolkits, SAALT also has a national directory of South Asian organizations. If you are looking to enact local change, look to their directory to find a South Asian group in your region.
Follow – if you are new to advocacy and want a comprehensive overview of news and activism relating to the South Asian community. 
Founded by civil rights activist and lawyer Valarie Kaur, Revolutionary Love is a movement fighting social injustices by reintroducing love as a public ethic. With a background in fighting against Sikh prejudice, Valarie integrates Sikhism into activism by pledging to turn to empathy as an activist tool. In 2017 she gave a TEDTalk on how when we use love towards ourselves and our opponents, love becomes revolutionary. Revolutionary Love has digital multimedia resources and toolkits on how to reframe our activism to be more empathetic to others, even those we disagree with. Most recently, Valarie has written the book "See No Stranger," a memoir and manifesto of revolutionary love, which includes her life's work as an activist. 
Follow – if you are looking for new ways to reframe your activist work from a new perspective or if you are a faith-based organizer. 
https://www.instagram.com/p/CBrFxSogQ6r/?utm_source=ig_web_copy_link
The Sikh Coalition is an organization working to protect the rights of Sikhs to practice faith without fear. They have initiated community, classroom, and court efforts to promote the history and culture behind Sikhi faith. Some of their work includes creating safe schools, ending employment discrimination, empowering the community, raising the Sikh profile, and working on legal cases and policy initiatives. In light of COVID-19, the Sikh coalition has mobilized to help the community. For instance, they have provided a healthcare guide that you can provide your doctor to share culturally relevant information about Sikhi if you need to seek medical treatment, a summary of the first and second federal relief package (the "Families First Coronavirus Response Act"), information about different state unemployment, Medicaid, and welfare programs, including an up-to-date listing of such benefits for each of the 50 U.S. states, a Sikh Coalition Kid's Corner, which is a virtual learning series for children and their classmates featuring literature, music, and art workshops, and suggestions for safe volunteer opportunities, including blood banks, food donations, and more. Check for volunteer opportunities near you. This is just a small example of some of the work they have done in response to COVID-19, for more insight follow them at www.sikhcoalition.org. 
Follow – if you are interested in finding ways to take direct action in response to COVID-19, want to stay informed about COVID-19, or need related information translated in Punjabi.  
https://www.instagram.com/p/CBCAsaKF2Yb/?utm_source=ig_web_copy_link
These organizations work on-and-off the election cycle to amplify South Asian voices in local, national, and global politics. It is often hard to navigate where the South Asian diaspora fits into U.S. politics and advocacy, especially when we are often coined as a homogeneity. Personally, I believe it is most effective and powerful to support and uplift existing South Asian organizations that work to promote civic duty. These organizations are multidisciplinary in their dedication to shedding light on issues housed in the U.S. and back home. It was difficult to find a diverse location range of South Asian advocacy organizations as most were housed in popular cities, so in addition to these organizations, I urge you to research local ways to organize your South Asian community not only for this upcoming election but for advocacy in general. Our voices will not be represented unless we create spaces for ourselves. This year it is crucial to keep your South Asian friends and family accountable to their civic duty, so vote, advocate, and stand up for others.