by Soni Satpathy-Singh – Follow @SketchyDesi
Before we share our list with you to coo over, let's set some expectations. We know, you want your mehendi night to be Instagramable. You want it to inspire henna hashtags galore. We get it.
You've been eyeing those Pinterest boards of the ridiculously cute henna hand cookies, re-configuring your budget, and justifying paying for such a delicious detail. No judgment here.
Then you get to thinking that you could, perhaps, make them yourself. But before you purchase a hand-shaped cookie cutter and bust out the rolling pin, tally up how many people will be attending your mehendi. Are you going to have time and sanity to bake and decorate cookies for your own mehendi?
Hopefully,  you have a cousin of a chachi who's niece's brother-in- law's neighbor creates these henna delicacies and will give you the convoluted desi hookup.
Regardless of whether or not you buy these from someone, get someone to make these for you, or you make them yourself, here are a few inspirational cookie designs.
P.S. Bride, we advise you don't try and make these yourself. It's a huge undertaking. You'll need a "hand." ;-)
1. The Best Hand Job. Ever.
[Photo courtesy: Pinterest.]
These are everything. They are goals. Cookie goals. Henna goals. Life goals. All. the. Goals.
Created by Erin Heflin from Whip It Good Cookies.
2. Mehendi Inspired Spice Cookies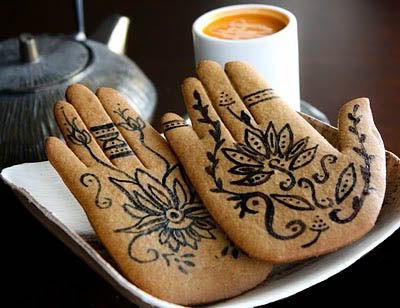 [Photo courtesy: Pinterest.]
These are so damn pretty and the instructions are so damn approachable that you may almost, almost, be tempted to make these yourself. But don't take on too much. Outsource this to your cousin with the steady hand. Get the recipe and piping instructions from Sprinkle Bakes here.
3. Cutest Friggin' Cookies Ever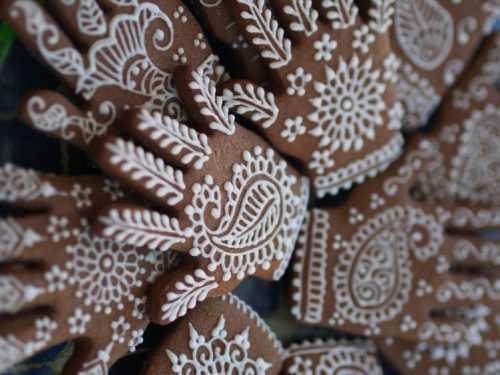 [Photo courtesy: Pinterest.]
Okay, technically that's not their real name. But, it may as well be. These cookies were once available for purchase from Henna Lounge. However, on their website, they write that their edible confections are no longer for sale but they "are leaving the page up for you to be inspired by." They even offer a mehendi cookie tutorial video. To watch it, go here.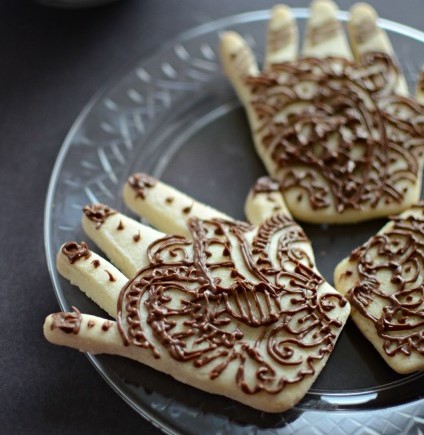 [Photo courtesy: desifiesta.com.]
A buttery hand-shaped cookie with chocolate piping. Hells yeah! See, I'd be too busy eating these while the other women would be getting their actual mehendi done. Ha. More for me.
Get your hands on the recipe from Desi Fiesta here.
5. Appropriation Cookies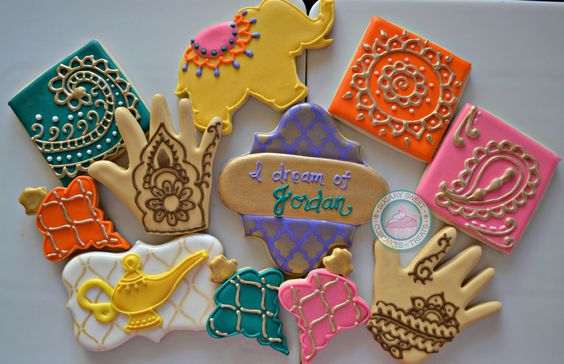 [Photo courtesy: Pinterest.]
Alrighty, Sugary Sweet Cookie, I'm giving you the side eye for naming these cookies "Bollywood Styled." Like, what does that even mean? Did Amitabh Bachchan make these? No? Then, you can't call them Bollywood styled. And the lanterns. Really, girl? But, I'll be honest, despite the mix up with Aladdin, and a good dose of appropriation, I'm feeling those li'l henna hand cookies. I see you, henna hand cookies, in the midst of all that other stuff, I see you and I love you.
6. Wedding Cookies
[Photo courtesy: bigmamasugarcookies.com.]
These colorful, whackadoo cookies make me happy. The sun-shiney colors would brighten any mehendi party, even those with the real depressed, weepy ass brides, you know the ones.
Created by Big Mama's Sugar Cookies.
7. Creative AF Cookies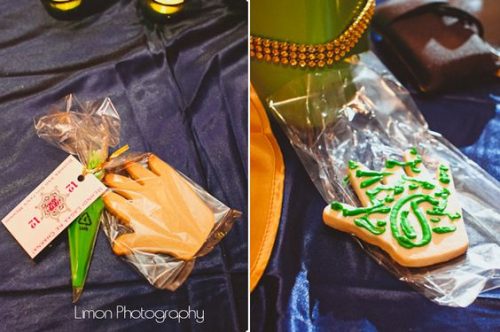 Add mehendi to a henna-like tube, pack with a plain hand-shaped cookie, and voila, you have the perfect favors! These cookies come chock full of creativity and hullooo, your guests do the work. Let them ice their own damn cookie. Brilliant!
To see more of Soni's original food articles and comics, visit facebook.com/sketchydesi.
---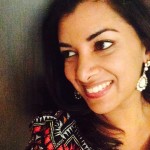 Soni Satpathy-Singh is a recipe developer and content writer who resides in Manhattan. She is either always cooking or eating be it for work or simply because she loves to! She is working on her own comic cookbook as her alter ego "Sketchy Desi." Stay tuned to upcoming posts on Brown Girl Magazine.