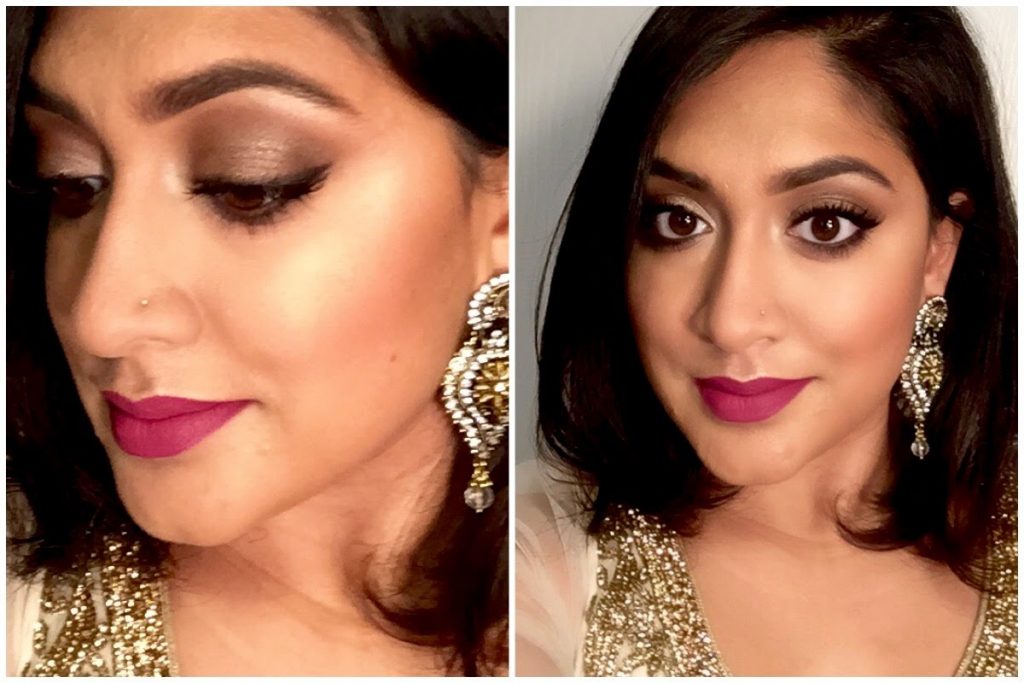 It's no doubt, desi wedding season is in full swing. Your calendar is booked with your best friend's destination wedding,  your cousin's wedding in India and your second cousin's wedding a week later. But looking picture perfect during the wedding and all the festivities that come with the big day is a challenge because of the many hours you spend dancing, running around and snapping selfies, eventually ruining your makeup. But we've got the tips and secrets to applying makeup for your next wedding.
And for more daily beauty tips and ideas, follow Sapna on Instagram and Twitter! 
————————————–
Products Used: 
(Apply moisturizer, eye cream + primer before for best results.)
FACE:
Make Up For Ever HD Foundation #153
NYX Dark Circle Concealer – Medium
Kevyn Aucoin Sensual Skin Enhancer- SX07
Laura Mercier Secret Brightening Powder
Bobbi Brown Skin Foundation #7
Anastasia Beverly Hills Contour Kit – Light/Medium
MAC Cosmetics Mineralized Blush – Warm Soul
Urban Decay All Nighter Setting Spray
EYES:
NYX Infinite Shadow Stick- Bronze
L'Oreal Infallible Eyeshadow- 660 Bronzed Taupe
MAC Eyeshadows – Cork, Espresso
Urban Decay 24/7 Eyeliner – Bourbon
Inglot AMC Gel Liner #77
Ardel Glamour Lashes #102 Demi
LIPS:
Rimmel Lip Liner – Spice
NYX Soft Matte Lip Cream – Prague
————————————–
Here's BG Sapna's to-do's and not to-do's when getting ready for your next big desi wedding. 
1. Never wear any products containing SPF because moisturizers, serums, primers or foundation with titanium dioxide can create flashback in photos, better known as a white cast that doesn't match your skin. Surprisingly, this is the only time I won't stress the importance of SPF.
2. Experimenting with eyeshadow or trying to achieve a more pigmented look after applying? You may notice what you see in the pan may not always look the same once applied, but there's an easy fix for that. Use eyeshadow primer! You can either double your face primer as an eye primer or buy a specific product catered to eye priming or use a good concealer, but make sure to set it with powder. This will increase the longevity and produce a more vivid color payoff for those long nights of partying.
3. Do not use powder meant for HD. While these white "translucent" silica textured powders are amazing at smoothing the skin and giving you that truly flawless skin, it flashes back. We've seen these mistakes all over red carpets and it's not pretty! Keep these exclusively for days you won't be photographed. (The infamous Make Up For Ever's HD High Definition Powder is a prime example.)
4. Whether you're part of the bridal party or a guest, chances are your makeup is applied and worn for hours on end. To combat the shine, you may experience on areas of your T-zone, use blotting papers, easily found at any drugstore. This is with guarantee removal of oil/shine and your makeup will not budge while you blot with a light hand. Applying additional powder to mattify the shine is not only transferring bacteria but it's adding more product on the surface to mask the problem. If in a pinch, run to the nearest restroom and use a clean piece of toilet seat cover as it essentially is the same material and does the trick.
5. Whether they are tears of sadness or tears of joy, we all tend to cry and become emotional at weddings. But, the last thing you want is mascara running down the face you worked so hard to put together. Waterproof mascara is your answer. Thank me later.
6. Setting spray is crucial to the longevity of makeup on any skin type.  Regardless of what season you're attending the wedding festivities in, these weightless sprays aid in keeping your makeup crack-free, from settling into fine lines and from fading. Leaves makeup on flawlessly by using technology to lower the temperature of makeup on your face. Pretty cool, I know! My favorites are Model In a Bottle, Urban Decay All Nighter and Skindinavia's range.
7. Try to find daylight to double check the way your makeup looks before stepping out. It can be easy for makeup to go so wrong and be applied too heavily and/or not blended in well.