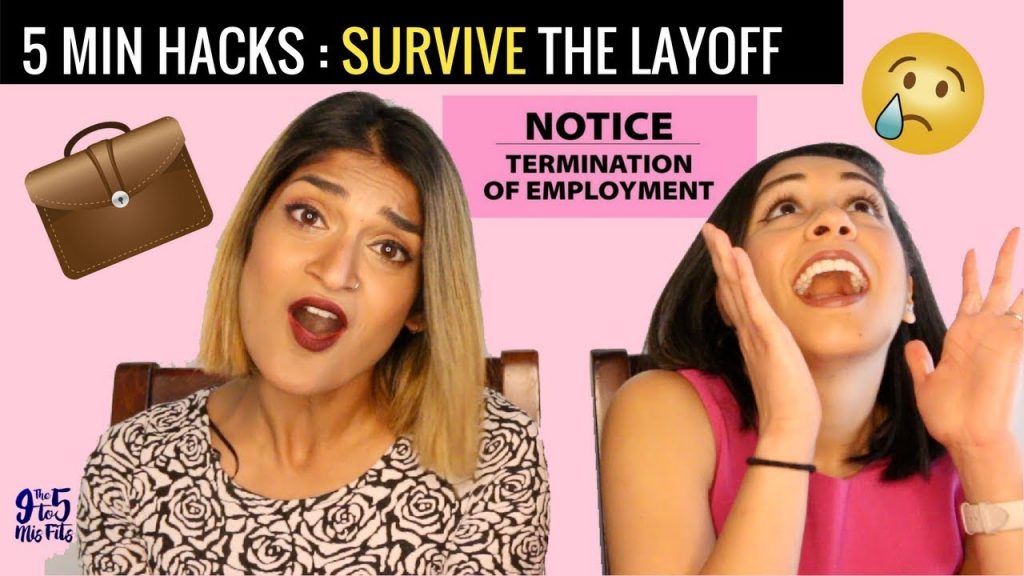 Newsflash: Getting laid off is NOT the same thing as getting fired! I know, that still doesn't make you feel any better. Getting laid off triggers a mix of emotions – anger, betrayal, embarrassment, feelings of worthlessness, loss of identity. Hell, you even go through the 5 stages of grief. And if you're Desi, there's a whole other level of shame and stigma you have to encounter.
But it is possible to bounce back and clap back at the "log kya kahenge" chorus.
Here are 7 ways to effectively deal with a layoff.
We've broken these down by Emotional, Financial, and Career stuff.
Let's start with the most overlooked one …
EMOTIONAL STUFF
Layoffs bring on some strong emotions because they're so sudden — there's no transition period. Your confidence also takes a huge hit because you feel like it's somehow your fault. If you were just smarter or worked harder to prove yourself, this wouldn't have happened to you.
It's important to take the time to process your feelings. But, here are a few things to keep in mind …
It's Not Your Fault
Here's how The Texas Workforce Commision defines layoffs — "Layoffs are due to lack of work, not your work performance."
A layoff doesn't mean you got fired. It's a business decision your company made. Educate your friends and family if they try to shame you for it.
Talk to People
It's easy to go into a shame spiral and avoid people altogether. But isolating yourself actually makes things worse. There are good people in your life who will rally around you and help you through this phase. And we all know at least one other person who's been through it themselves. Seriously, getting laid off is not a huge scandal, so don't be afraid to tap into the power of community.
FINANCIAL STUFF
I know we said to take the time to process your emotions, but there are 2 other things you need to figure out pretty immediately — Health Insurance & Unemployment Benefits.
Figuring out Health Insurance
You have a few options:
1. COBRA: This is offered through your previous employer and tends to be expensive.
2. ACA (Obamacare): A large number of plans to choose from and has a few low-premium options. Side note, if you don't want the A-holes in Washington to repeal the ACA, make your voice heard and VOTE this November!
3. Being a dependent: If you have the option of getting on your spouse or parents' plan, take it, you lucky bug!
4. Buying Direct: You can actually go directly through an insurer like Blue Cross Blue Shield. Of course, this can get hella expensive, so be aware.
Apply for Unemployment Benefits ASAP
Don't let pride or negative emotions get in the way of this. You have to act fast. Know your options. Are you eligible? If so, how much are you eligible for? And what is it contingent on? In some cases, you may have to maintain a spreadsheet of jobs you're applying to or taking mandatory classes.
Your "career transition" will most likely be handled by a company like Lee Hecht Harrison. Look through all the paperwork they provide and attend info sessions.
Severance Package
In the event of a layoff, you're most likely going to receive a severance package for a few months' pay. Yay, you have a safety net. Now, don't go spending it all! Also, don't go chasin' waterfalls. I dunno … it just fit.
Personal Finance
Yes, this part sucks. It's scary to look at your bank account when you have no money coming in. That was me every month! But don't do what I did and wait 6 months before paying your credit card bill. Yes, that happened. It's way scarier to see a mountain of debt than to see a little bit each month.
Be aware of what financial shape you're in, make a budget, and cut unnecessary costs. By the way, we have some totally doable budgeting hacks in this video. I would also recommend reading Ramit Sethi's book, I Will Teach You To Be Rich. I know, the name sucks. But it's an approachable way to start managing your finances beyond just cutting down on lattes.
PRACTICAL/CAREER STUFF
What do most people do when they get laid off? Stack those resumes and bombard the online job boards, amirite? That's what we were always taught to do. But, guess what — that's really BAD advice. You need to get a few things in order first.
Add Structure to Your Day
After a layoff, you're completely thrown off by the sudden lack of routine. What do you do with your day now? It's so tempting to become one with your couch and have the Apple TV remote surgically attached to your hand. But, resist the temptation!
The best thing to do is to function like you would at your previous job. Maintain a routine — wake up at a set time, shower, get out of your PJ's and into normal clothes. Most importantly, get out of the house! This is especially important if tend to watch a lot of Netflix or hang out in the kitchen all day.
Stop Using Outdated Techniques
Most people start job hunting immediately after getting laid off. Partly because it's required to qualify for unemployment benefits. Plus, you may have a visa or financial constraints that make it necessary to find another job ASAP. But if all you're doing is hitting up every online job board from Day 1, you've already lost. Why?
For one, everyone else is doing it. During mass layoffs, there are so many people vying for the same jobs. How are you differentiating yourself by going the online route?
Secondly, you're still making yourself vulnerable to future layoffs. If you're blindly applying to any job that's out there, you're not taking the time to research the company or the culture. So you may be going from one dead-end job to another without even knowing it.
Be deliberate in your search. Consult the experts. Read books like this one. Or watch videos like this that bring your job search into the 21st century.
Network
No, that doesn't mean asking your dad's friend's nephew's girlfriend to forward your resume to her company HR. Networking is all about building meaningful relationships. It takes time and requires you to beef up your active listening and people skills.
So how do you even find people to network with? A few different ways.
LinkedIn search: Search for people within your profession who work at a company you're interested in, or even better, went to the same school as you.
Networking events: Hate the idea of large, impersonal events? No problem. There are plenty of smaller, more intimate options. Check Eventbrite, Meetup, or even Facebook Events to find cool business-related stuff in your city. Do this every week! There are also events for specific minority groups, women, creatives, etc.
Ok, you've now narrowed down a few people through the methods above. Now what?
Conduct informational interviews: Ask people to sit down over coffee (which you will, of course, pay for as a way to thank them for their time). If they're remote, ask for a quick phone chat.
When conducting the informational interview, show interest in them. Ask about their career path and how they go to where they are now. Also, insights they may have on an industry, company, or specific job. There's so much insider info to be gained here — stuff you wouldn't find on the interwebs.
Just remember, this conversation is about information gathering only. This is not the time to ask them for a job. Would you ask someone to marry you after the first date? No! You are not Priyanka Chopra and Nick Jonas … or Justin Bieber and Hailey Baldwin … or Ariana Grande and Pete Davidson … wow, this is happening a lot lately.
In any case, don't come off as thirsty. (I just learned what that meant … thanks, Insecure!)
CONCLUSION
Unemployment is a scary, messy, confusing time. Pavi and I have experienced it first hand, multiple times. But that's what motivated us to create The 9to5 MisFits community — to show everyone else that you're not alone.
Hopefully, you took away something important or actionable from this post. Or maybe you have something else to add from your own experience. Either way, we'd love to hear it. So give us a shout here. And just know that you've got this!
---
The 9to5 MisFits are a YouTube duo made up of 2 best friends, Pavi Dinamani and Namrata "Nammy" Sirur, who happened to be unemployed at the same time for different reasons. Realizing that there was so much comfort in having a "buddy" to navigate this uncertain phase with, they decided to give others a virtual buddy in the form of their YouTube channel and create a support system and encourage an open and honest dialogue about unemployment.