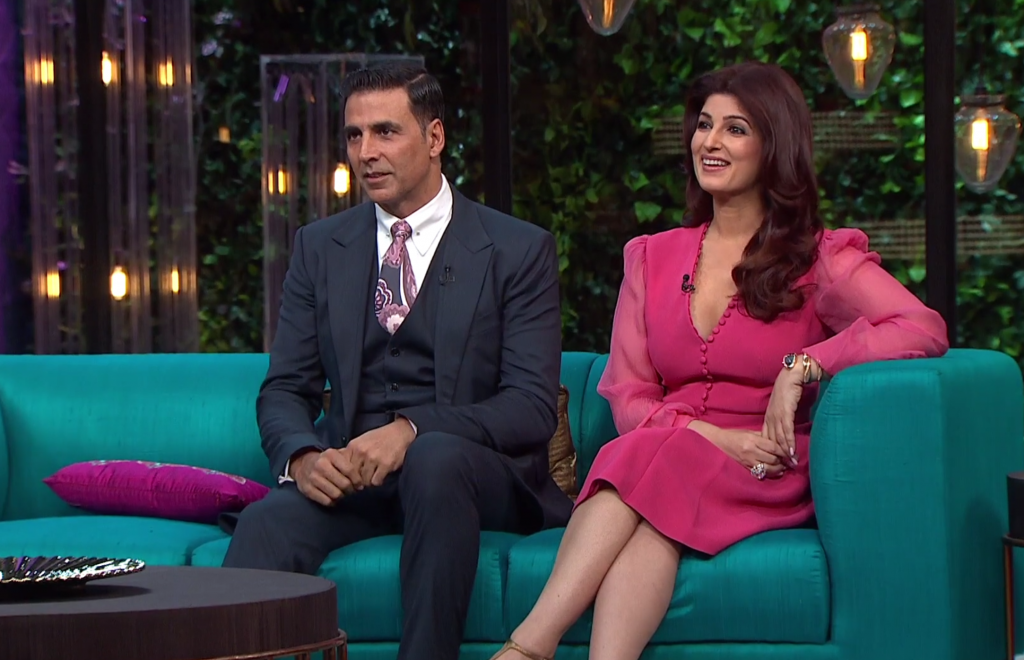 On a recent episode of the infamous 'Koffee With Karan,' Twinkle Khanna, aka "Mrs. Funny Bones," sat down with famed Bollywood actor and husband Akshay Kumar to get grilled by her childhood friend Karan Johar. The normally private couple, that rarely attends social Bollywood gatherings and award shows, was quite candid in revealing some of their most honest thoughts about love, marriage, and their Bollywood colleagues.
As we already know, Twinkle "Tina" Khanna is an absolute badass who isn't afraid to share her true thoughts on any question that may be thrown her way. Also the author of a new collection of short stories titled "The Legend of Lakshmi Prasad," here are some of her shining moments from the show (sorry, spoilers ahead)!
1. When She Called Out India for its Double Standard on "Lewd Behavior"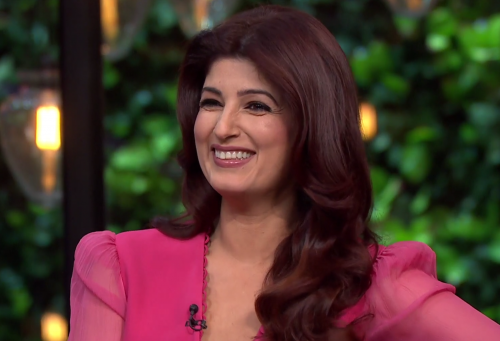 Khanna and Kumar were involved in an incident where the two were at a fashion show; the former was in attendance while the latter was the show runner. Seeing it fit (no pun intended) that Kumar was strutting a pair of Levi's "Unbuttoned" jeans, Kumar found it spontaneously comical to ask his wife to unbutton the top button of his jeans. While speaking on the matter, Khanna clarified that she was in reality mortified and reluctant to do it but gave in as her husband had adamantly insisted. "It was only the top button. The next day, he was receiving his Padma Shri and I got a call from mom saying that police was looking for me because of this act," she said. She added that people in India pee on the wall of police stations with their "danglers" out all the time, but it was she who got arrested and had to pay a 500-rupee bail!
2. When She Made Fun of Herself as a Teenager
During the show, the audience was indulged with the details of Johar and Khanna's friendship which began way before their Bollywood careers. Much to our surprise, Johar admitted to having a child crush on Khanna! Yes, you read that right. Khanna laughed while adding the crush was mostly due to the moustache she was sporting at the time in addition to, as she put it, "a testosterone level of 11." Needless to say her witticism pointed towards Johar's yet to be confirmed sexuality. These types of uninhibited comments were exactly what we anticipated from our valiant Mrs. Funny Bones!
3. When She Wasn't Afraid to Make Sexual Innuendos
The beloved Rapid Fire round saw the return of Johar's Khan obsession when he asked Khanna what her husband has that the three Khans (Aamir, SRK and Salman) do not. Much to our surprise, Khanna simply replied, "extra inches." Although she claims she was talking about Kumar's shoe size of 12, we know there was definitely an alternate meaning to that statement. In addition, we loved that little remark she made towards Johar about Fawad Khan (which caught him really off guard)!
4. When She Revealed the Truth About a Lasting Marriage
Kumar and Khanna have had one of the longest lasting relationships to come out of Bollywood, and for good reason. It's a no brainer that the two balance each other out extremely well and the interview gave us the opportunity to see that. Khanna claims that while her husband is quiet and calm, she is the loud one with a "short fuse" in the relationship. Furthermore, the author, in all her candor, gave free rein to how their relationship began; who would have thought what she intended to be a "casual 15 day fling" would evolve into a 15 year marriage? She noted, "If you're getting married, you should know why you're getting married." We love a girl who wasn't afraid to try out a casual romance (at first)! Their story gives us Brown Girls all the feels!
5. When She Spilled How She and Kumar Broke Social Norms
Probably one of the funniest anecdotes Khanna shared was one in which she had told her mother, the evergreen Dimple Kapadia, that she had intended to marry Kumar upon also quitting Bollywood. What ensued resulted in a laugh riot, because Kapadia had supposedly heard through the grapevine that Kumar was allegedly not straight! Kapadia suggested her daughter to live with Kumar for one year before she made a final decision to which Khanna obliged. This is pretty shocking since this occurred over 15 years ago, and premarital, live-in relationships, are predominantly considered taboo in India even today!
6. When She Showed Us What a Progressive Parent She Is
Kumar and Khanna together have two kids: 14-year-old son, Aarav, and 4-year-old daughter, Nitara. Johar, being in their inner circle of friends, asked the couple about the relationship they have with their kids, especially about Khanna's "crazy" relationship with her son. "I talk about everything—we talk about drugs, we talk about sex, we talk about all sorts of things because when that time comes that he [Aarav] actually needs someone to talk to, I hope that he'll pick me because I've kept those doors open," she said. We couldn't agree more!
7. When She Admitted Acting Wasn't the Right Fit
If there's anyone who can put a Bollywood celebrity on the spot for his or her acting abilities, it's Karan Johar. He did exactly that to Khanna, who did not find much success at the box office. Nevertheless, Khanna wasn't hesitant to admit that as far as her acting went, "I was just not good at what I did. I was terrible, and I didn't want to be there. I didn't have the aptitude for it…all I wanted to do was come home." It was refreshing to hear someone accept what they saw as flaws and failures with full honesty.
8. When She Teared Up After Kumar's Surprise
One of the biggest surprises of the show was Kumar's performance of Frank Sinatra's "Strangers in the Night" for his wife. As soon as Khanna teased that Kumar is just a typical romantic, Karan admitted that her husband had been planning a surprise for her for the past month. Accompanied by musician Raghav Sachar, Kumar proceeded to serenade Khanna (and Johar) with the classic hit, which became "their song" during the beginning of their budding romance in Calgary. This heartwarming gesture brought twinkles (bad joke) of tears to Khanna's eyes. Awwww!
Be sure to check out this episode of 'Koffee with Karan'! And look out for our upcoming reaction to KWK's latest episode featuring Ranveer Singh & Ranbir Kapoor!
[All Images courtesy: Screenshot/Star World & Star World/Facebook]
---
Tina Lapsia is a graduate of the University of Connecticut and studied political science and economics with a minor in Spanish. She is passionate about politics, feminism, and women's rights, and wrote her senior thesis on the impact of the 2012 Delhi gang rape case in India. Tina is a fervent Bollywood fan and dance enthusiast; when she's not listening to Hindi music, you can find her dancing to it. She aspires to have a career in public service in the future.